The End of Millionaire Chess?
GM Maurice Ashley has had an eventful year with the Grand Chess Tour (U.S., France, Belgium), the Millionaire Chess African tour (Kenya, Madagascar and South Africa) and the Chess Olympiad in Baku, Azerbaijan. From his posts on Facebook it was clear that the Brooklyn-based Grandmaster had developed a new vision. Then… less than a month from the third Millionaire Chess Open, co-founder Maurice Ashley posted a stunning announcement on Facebook:
The reaction to this post was swift and hundreds of comments followed. The idea of the Millionaire Chess has had its strong supporters and ardent detractors, but what has resulted is an honest conversation about the chess circuit in the U.S. While there were some innovative ideas being tried and touted, the ultimate drawback is the lack of readiness of the chess community to try anything different from the current model.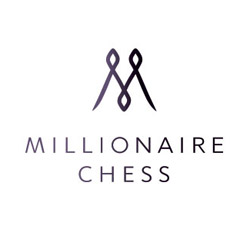 While the first two tournaments attracted 550+ players, the numbers were far lower than anticipated. The MC concept added an element of class with nice touches. Despite this, it has been a hard sell to the sponsors which are not exactly clamoring to connect with chess, on any level. With the U.S. winning the Olympiad and the World Chess Championship coming in November, this should be an opportunity to make an aggressive pitch to corporate sponsors.
Unfortunately, the gold medal team got little attention in the national media and chess continues to struggle for attention. All we got was a debate on whether the U.S. team imported their talent or not. No welcoming party at the airport, no celebration by the chess community and of course, the excitement has subsided already.
The narrative of a successful team beating 165 other teams seems to have gotten lost behind a rather dubious notion that the U.S. got the medal the easy way. Despite the sterling effort and growing excitement in U.S. chess, sponsorship seems unmoved and franchises like Millionaire Chess have to consider their losses.
Nigerians at the inaugural Millionaire Chess Open.
Nice touch at MC1!
Amy Lee and Maurice Ashley present a triumphant Wesley So with the winner's check. Photo by Paul Truong.
Was there a beauty pageant happening at MC2? No… these are chess players!
Photo by David Llada.
Hikaru Nakamura enroute to his victory at MC2.
At MC2, you could input the result of your game through the wristband.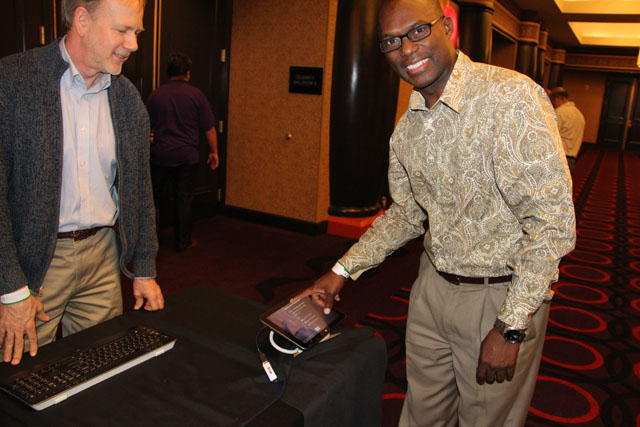 When they got it to work, it's easy as 1-2-3.
Photos by Daaim Shabazz (unless otherwise stated).
So what did the Millionaire experience yield? It appears that the idea has introduced a number of ideas such as satellite qualifiers in the U.S. and in Africa, opening breakfast, Millionaire Monday concept, video contests, water service, automated recording through RFID technology and chance to win $1,000,000! Who can forget the red carpet promenade, massage chairs and comedians. Well… maybe the last one we'd rather forget! The game show… fun, but probably a no-go.
---
"I had given MC and chess every possible effort.
I left nothing undone."
~Amy Lee
---
With perhaps the last edition of the Millionaire Chess, Ashley has stated that he will focus on promoting chess in a number of other ways and cited his experience in Africa as an example. Nevertheless, the third Millionaire Chess Open will begin on October 6th and it is a concept with a "big idea," but perhaps in a sport with small aims. Players may not believe that chess deserves such a big stage and that it should remain as a weekend hobby with no professional pretense.
Amy Lee revealing the $1,000,000 panel in the MC Square contest.
Photo by Mike Klein.

However, heaps of gratitude should be extended toward Amy Lee in supporting the chess vision. She told The Chess Drum, "I had given MC and chess every possible effort. I left nothing undone. Every single (winner) got paid every single penny over last 3 years." As it were, MC seems to have run a cycle similar to the tournaments trying to carve a niche in market of conservative customers.
Hopefully one day, the chess world will revisit some of the ideas of the Millionaire Chess franchise. It took a visionary leader like Maurice Ashley and a tireless organizer in Lee to achieve the standards in the trilogy of tournaments. A chance to win $1,000,000 by choosing a square? Wrap your head around that one! That being said, we have MC3 coming. Come be a part of history! If this is the last one, let's go out with a bang!
Thanks Maurice and Amy!
Reflections of the 2014 Millionaire Chess Open
Reflections of the 2015 Millionaire Chess Open