Eugene Brown
WARNING: Review may contain spoilers! 🙂
When watching "Life of a King" one anticipates another "rags-to-riches" story that is typical of this genre of films. The only issue was… this wasn't one of those films. Eugene Brown was not a rags-to-riches story as the community stalwart has never been motivated by riches.
However, his story is rich with lessons of life and proof that life is not over after a bad mistake. Such as in life as in chess. You make a mistake… gain your composure, acknowledge the mistake, stabilize your position, make an alternative plan and execute! This movie was full of those metaphors and lead actor Cuba Gooding characterized Brown's challenges magnificently.
The movie starts off with chess being thrust in the forefront as Brown plays game after game (between cells) against his mentor "Searcy" played by Dennis Haysbert, an actor known for his distinctive resonant voice. On the eve of Brown's release from a 17-year sentence, Searcy gives him a hand-carved black king as a permanent symbol of life's lessons. He tells Brown, "Take care of the king. Everything else follows." Chess has become such a common metaphor for the "chess is life" theme and civic chess organizations such as Big Chair Chess Club, Besomeone, Inc., Hip Hop Chess Federation and Words, Beats & Life all share this vision.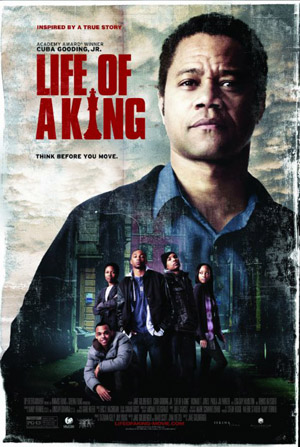 Brown gets out of prison only to be smacked by the reality of life itself. Back in "Chocolate City" (Washington, DC), he is not only rebuffed by companies hesitant to hire ex-cons but initially rejected by his estranged children Katrina (Rachae Thomas) and Marcus (Jordan Calloway). Katrina eventually warmed up as did Marcus… much later.
Throughout the film, Brown uses his knowledge of chess to navigate his social relationships. He turns down money and a "business opportunity" with former partner-in-crime, Perry (Richard T. Jones). In the past, Perry was someone who looked up to Brown, but now had built a successful crime business. In fact, Perry had lured Clifton (Carlton Byrd) and Tahime (Malcolm Mays) as street dealers… or "pawns".
Brown had landed a custodial position with the Maud Alton High School, but on a whim was asked to stand-in as a detention officer when the students ran amok over a beleaguered teacher. Immediately, Brown was tested as he walked into a room of chaos. In a tense moment, Clifton challenged Brown in a tense stare-down… one in which Brown won. From then on, he won hearts, especially that of his beloved charge, "Peanut" (Kevin Hendricks).
Peanut was an inquisitive student who was looking for positivity and immediately latched onto Brown. Tahime was also impressed with Brown, but kept his tough outer shell to conceal his softcore. However, Brown had seen something in Tahime… a gift for chess. This was demonstrated as Tahime got bored with Brown "chess is life" speeches, sat down, and proceeded to brutally checkmate one of the other detention students. Brown was stunned.
---
"Take care of the king. Everything else follows."
---
Brown had begun to win the heart of his daughter Katrina who was a pre-law student but was still rebuffed by Marcus after a visit to the juvenile lockup. How could Brown be successful at winning the hearts of his detention students, but not those of his own children? It was a question Brown kept searching for.
Brown gained an unlikely ally in Alton's Principal Sheila King (LisaGay Hamilton) after an unfortunate technical error in his application. She supported his chess vision outside of the school. The launch of the "Big Chair Chess Club" became a gem in the community and it appeared that the momentum was going in the right direction.
The iconic board of the Big Chair Chess Club.
Brown then challenged the students and encouraged their participation in organized tournaments. Unfortunately, his top chess student Peanut was killed in a botched robbery attempt and his best friend Tahime witnessed his last breath. After this devastating tragedy, Tahime revealed his soft core and immediately sought mentorship from Brown. He also began to take a more serious interest in chess.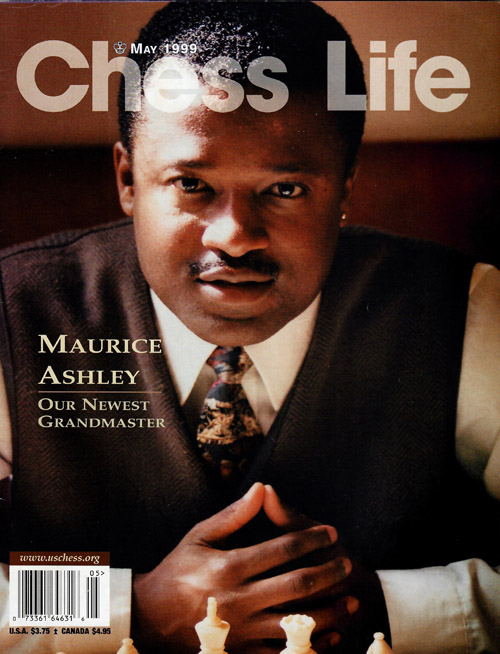 It was perhaps apropos that Brown invoked the name of Maurice Ashley, the first African-American Grandmaster. The point was to dispel Tahime's false notions of chess as a "white game". Still struggling with peer pressure from Clifton to do crimes for easy money, Tahime barely escaped a prison sentence. It was determined he played no role as accomplice in another botched robbery. As if karma was working, Clifton was jailed and his boss Perry abandoned him. Bad moves. Bad consequences.
Tahime had a troubled household with a drug-addicted mother and her abusive boyfriends. Chess became a refuge despite his mother's discouragement. Tahime forged her signature to play in a tournament and waltzed through the field undefeated, but was disqualified when the illegal signature was discovered. Instead of standing up for Tahime and attempting to appeal the decision, Brown went on a radio interview and surprisingly supported the organization's ruling. Brown remembering his own folly on the job application, reflected on the lesson and went on the side of truth.
After losing his dedicated student "Peanut",
Tahime became the center of Brown's attention.
Tahime would enter another open tournament with tougher competition. If you watch closely, you'll see Brown in his trademark checkered cap as one of the directors. Tahime was up to the challenge and tied for first place only to meet the top seed player named J.T. Gaines (Blake Cooper Griffin). In a tense Armageddon battle, the two fought valiantly and after the game, there was an unexpected response from the audience. After the tournament, a member of the National Urban League, even approached Brown about Tahime's college aspirations.
"Life of a King" is a story that is common to those of us in the Black community. We have recently heard of "Queen of Katwe" and "Brooklyn Castle"; however, many of these stories go untold because there are few outlets to highlight these accomplishments. Of course, The Chess Drum is one such place, but this movie will go a long way in bringing to light the fact that chess has brought social capital to impoverished communities around the world.
Brown continues his mission, but now lives in North Carolina.
In the January 2014 edition of Chess Life, it was reported by Jamal Abdul-Alim that Gooding said he had no knowledge of chess. Nevertheless, he feels that a movie on Ashley would be an important event! While these movies are indeed important, the stories are not heard often enough. Great effort that is worth a look!