Chess Adventure in Vietnam



When one travels abroad, there is always the apprehension that comes with being in an unfamiliar place. What is even more challenging is understanding the intricate history of the host nation and how that history has made it what it has become. Vietnam is a nation of many different legacies and there are many treasures in its borders.
The U.S. has the sordid history of the "American War" (as it is called in Vietnam) and this is the main reference point that Americans have with the odd-shaped country. With the war lasting from 1956-1975, there has been quite a few documentaries, plays and movies about the famed conflict. Most of these are produced in the west and most (not all) offer a narrow perspective. Having seen most of the war movies including "Saving Private Ryan" (World War II) and Vietnam era cinema such a "Full Metal Jacket," "Deer Hunter," and "Platoon", it was time to see the country first hand. During a trip to Vietnam, one definitely gets a more balanced depiction of the war, or at least another point of view.
This trip was part of a faculty development tour by the University of Wisconsin and the University of Hawaii as part of the Center for International Business Education and Research (CIBER). The idea is to provide exposure to professors in order to internationalize the curriculum. CIBER receives federal funding from the U.S. Department of Education with various organizations providing support.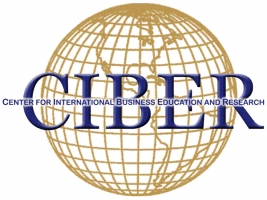 The trip to Vietnam was about 20 hours in total with a connecting flight in South Korea. Finally landing in Ho Chi Minh City on January 3rd, I was met with the early morning crush of traffic as my driver explained a bit about the illegal cabbies and the rickshaws. One of the things that is most evident is motorbike traffic. This is the predominant mode of transportation and the entire transportation system is centered around its use. It is practical and economical, yet dangerous.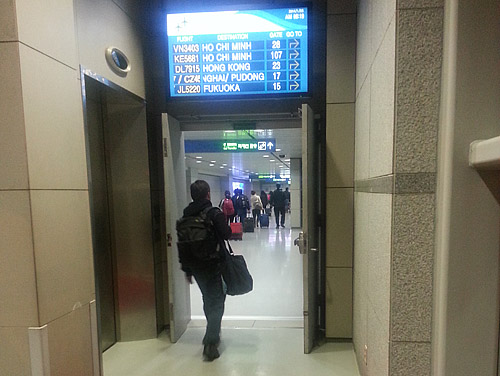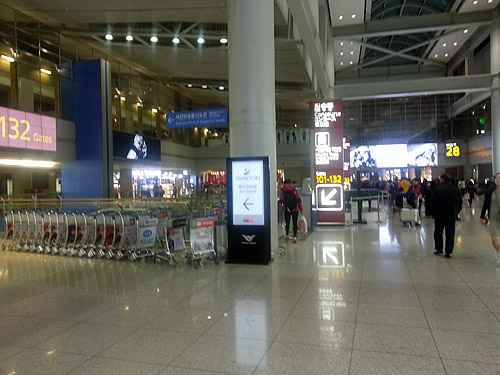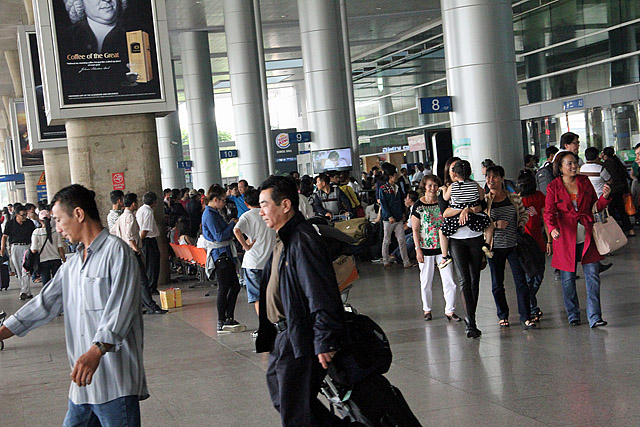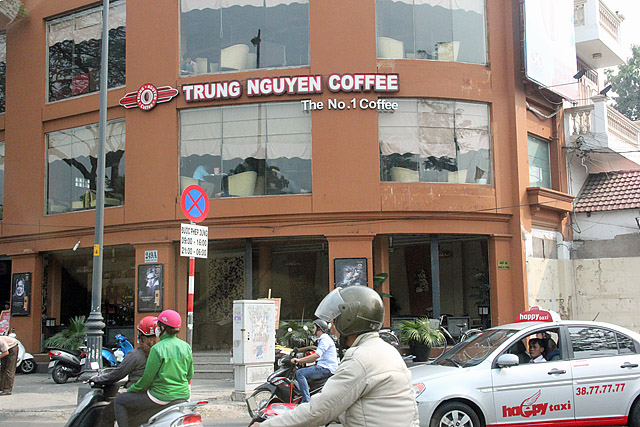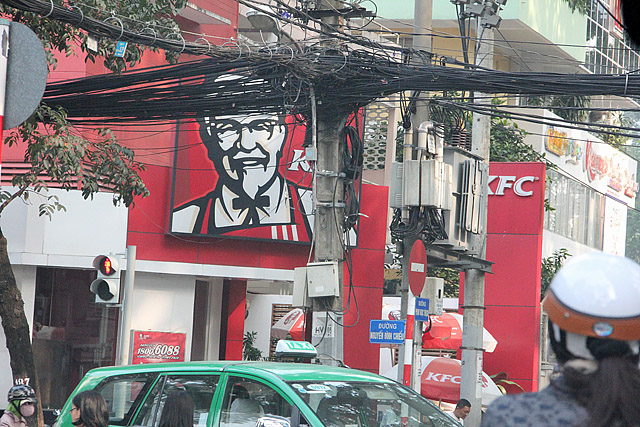 (top to bottom, left to right): Exiting airplane in South Korea; Korea's modern airport; Charlie Brown Cafe (named after American cartoon character); black sesame snack; arrival in Vietnam; crowd waiting at Vietnam Airport; Motorbikes buzzing like bees; Trung Nguyen Coffee… #1 coffee in Vietnam; KFC and a lots of telephone wires!
Moving through a foreign country is always exciting… the energy, the architecture, the busy people and business sector. My Canon EOS was put to work as there was soon a staccato of shutter clicks in the cab. I arrive at my destination for the week, the Majestic Hotel which is in an ideal location and a tourist haven. Being from Chicago, bustling cities with a lot of traffic pose no problem. My first night in Vietnam, I walked 20 minutes to a vegetarian restaurant named Thien Duyen Ben Thanh. Vietnam has a population predominately Buddhist, so the vegetarian options were plentiful.
First dinner in Vietnam… sauteed garlic spinach and lemon grass and chili tofu. Was delicious! The restaurant was Thiên Nguyên (or called Thien Duyen Ben Thanh): 159 Calmette Street, Nguyên Thái Bình Ward.
After dinner, "Rabbit Proof Fence" was on my viewing list.
I visited the War Remnants museum to see the "American War" as told be the Vietnamese… very moving and even chilling. Many of the exhibits were not for the squeamish and clearly showed the barbarity of war in full detail. The most horrific was the birth defects of children affected by Monsanto and Dow Chemical's "Agent Orange", a dioxin-based herbicide. The next day my colleagues would arrive and we did a number of site visits which included Cargill and Kai Bottlers (vodka) and a couple of investment companies.
Me and fellow professors also went to the Reunification Palace, the site of where the Vietcong forces barreled through the gate with a tank to claim victory of the South Vietnamese government. Lots to see in Vietnam and I enjoyed the "AO Acrobatic" show, a production recounting the Vietnamese history. I had not seen any chess, but made contact with the chess community by posting on the Facebook page. I left Ho Chi Minh City with a sense fulfillment and friendship.
Enjoying coconut water with two vendors. Tasty! 🙂
A flight into Haiphong and then an overnight stay at Halong Bay was idyllic!
We flew into Hai Phong and drove to Halong Bay which was my favorite part of the trip. This area is peaceful and scenic with imposing rocks dotting the river. We took boat ride and the experience was surreal. Spending a night on the boat and waking to a tai chi class was a unique experience. Ahead was a four-hour trek to Hanoi. I would meet the chess community only an hour after arriving at Hanoi's Sofitel Hotel. I had been in constant contact with Zeus Ng (Sunday Chess) and Lê Van Le and they met me at the hotel at 4:30pm. It was a cordial meeting and we chatted briefly after the introductions.
Le Van Le, Daaim Shabazz, Zeus Ng at Sofitel Hotel in Hanoi, Vietnam.
We had a driver who knifed us through the dense traffic as Hanoi seemed to always have an electric feeling. This was my first look at the nation's capitol and it was as close as I had ever been to the congestion of the side streets. As we snaked our way through the streets, there was an "organized chaos" to the flow of traffic. Vietnamese use the motorbikes for transporting objects (large and small) and sometimes several people! Unlike the gigantic SUVs seen in America, these economical vehicles buzz through traffic with amazing dexterity like swarm of bees.
We finally arrived a short distance from the club and upon exiting we saw two men playing xiangqi or Chinese Chess, the national board sport. A few feet further I saw men playing blitz on the storefront. One of them was a National Master, Pham Xuan Dat. I was the obvious guest that evening and I was introduced to a number of players.
Daaim Shabazz vs. Phan Xuan Dat, 0-1
After a relaxing a bit I sat to play a couple of games against the National Master. Granted, I don't get a chance to play very much chess, but I was determined not to embarrass myself. The first game was a Vienna Game where I tried to create positional pressure, but ended up creating weaknesses and lost pawns without compensation. The second game was a bit more interesting.
Shabazz with Nguyen Khánh Lâm.
In a Benko Gambit 5.b6 variation there was a typical position but after an error I had to give up an exchange. It turns out that I had developed full compensation with pressure on the dark squares. Suddenly I had an initiative against the white king and won back the exchange. White's position crumbled and I had evened the match. My last game was against Nguyen Khánh Lâm, a young man whose spirit had not been taken away by his disability. It was a pleasure to play him.
The game was a Rossolimo Sicilian and despite my inaccuracies (and even a blunder), was able to secure the point. The result was irrelevant as far as I was concerned. There was a very cheerful atmosphere at the club and the warmth of which I was received was overwhelming. After the games, I gave out souvenir pens with The Chess Drum logo and we took several photos to commemorate the event. This was a memorable day for me and will go down as a historic day!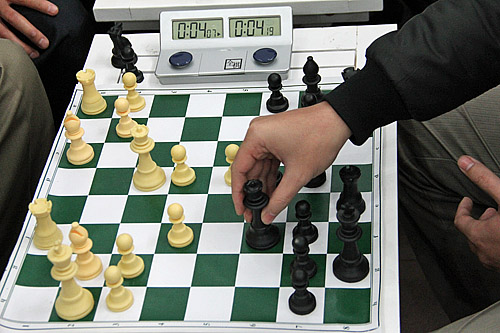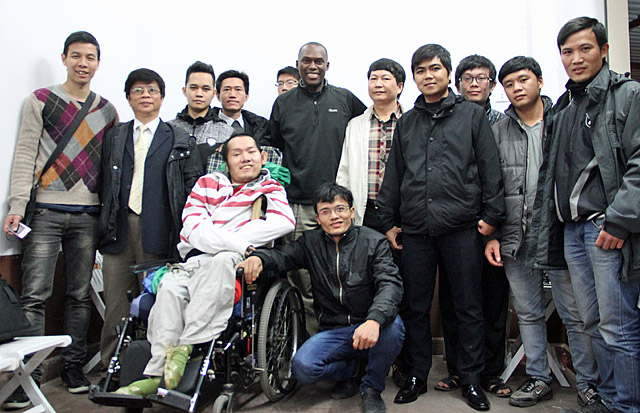 Photos from the Thanh Long Dao Ky Chess Club.
I have visited chess communities and clubs in Bahrain, Jamaica, England, Kenya, Qatar, Trinidad, the Bahamas, Cuba and Ghana. There is always a cheerful spirit in these environments. It was humbling to see the appreciation from the Vietnamese. I particularly enjoyed the game with Nguyen Khánh Lâm (though not my best) and the dinner afterwards. There were approximately a dozen players that attended the dinner at a wonderful restaurant, Tam Thanh Tiem. It is reputed to be one of the best in Hanoi and Vietnamese certainly have perfected vegan/vegetarian cuisine. There were a variety of vegetarian dishes and Zeus made sure he ordered a wide sample. It was delicious!

Dinner with Vietnam chess community at Tam Thanh Tiem in Hanoi.
After dinner, I conducted an interview with Pham Thanh Trung who runs the website for Thanh Long Dao Ky Chess Club. I was unaware that my phone had run out of memory only seven minutes into the 16-minute interview. I left my digital recorder at home and decided to rely on the phone. The lesson is to never use a phone when you have a dedicated device. Horrible. Here was a synopsis of the interview with Mr. Trung.
When asked about Vietnamese chess there was a lot of optimism about the growth, but of course there is not as much development as Asian nations China and India. Chess is played widely although Chinese chess is more popular. The top players are Le Quang Liem (who is studying at Webster University, USA), Nguyen Ngoc Truong Son who resides in Hanoi and Dao Thien Hai. However, Mr. Trung stated that there is a lot of success at the junior level.
GM Le Quang Liem
at 2012 Olympiad in Istanbul, Turkey.
In terms of the women, there is a good amount of activity and the country boasts a strong international presence. Vietnamese women have won success at Asian Team Championships and last year placed 1st at the 4th Asian Indoor & Martial Arts Games in Incheon, South Korea. Hoang Thanh Trang is a successful Vietnamese player who emigrated to Hungary with her parents at age 10.
However, the biggest accomplishment thus far has been Le's international victories and Vietnam's success in the Asian Team Championships. In fact, one of the tour guides in Ho Chi Minh City stated that there was Le had very little national recognition until he won two strong tournaments (Aeroflot 2010 and Aeroflot 2011) and is the current World Blitz Champion. What was interesting was that the Vietnamese Olympiad team is chosen by the Vietnamese Chess Federation.
Then there were questions posed to The Chess Drum. First there was a question about the purpose of the trip. I mentioned that I was in Vietnam as part faculty development tour by the Center of International Business Education and Research (CIBER), but of course one of the dual purposes of a chess aficionado is to visit the chess community.
Professors from American universities assemble for a walking tour of Vietnam. Some were impressed that I was meeting with the chess community during the trip. Of course!
There was a question concerning chess in America and the "Fischer Boom" and of course there was a reference to Hikaru Nakamura and the hopes that such a boom would resurface. I closed by saying that it is my hope that I return to Vietnam and that I wish all the best to the future of Vietnamese chess. It was truly a humbling visit.
My delegation stayed several days in Hanoi visiting local businesses and cultural sites (including the Ho Chi Minh mausoleum) and enjoyed the spirit of the Vietnamese people. I was honored by the hospitality of the chess community and one day I shall return.
Photos by Daaim Shabazz.