Howard University Chess @ 2023 Pan-Ams
Howard University trekked to Seattle for the 69th Pan-American Intercollegiate Tournament just after New Year's. The event attracted 84 teams from more than 40 universities to compete in the annual tradition dating back to 1946. The Howard "Bison" has received media attention after rejuvenating the club after almost a 20-year hiatus. Last November, the Washington Post covered a story about their fundraising efforts for the tournament.
Howard University at the 2023 Pan-Am Intercollegiate Chess Championship in Seattle
Photo by Howard Chess Club
In Seattle, the usual powerhouses were on hand, including teams like defending champion St. Louis University (SLU), seven-time champion Webster University and two ten-time champions, University of Texas-Dallas (UTD) and University of Maryland-Baltimore County (UMBC). The University of Toronto (six-time winner) was the only international university. There were schools of many sizes, from different conferences, public and private, but Howard was the only HBCU, an acronym for "Historically Black Colleges & Universities."
Howard Bison at the 2023 Pan-Ams
In the first year of the Pan-Ams with a reserve section (under-1800), Howard (A-team) came in a respectable 8th out of 38 teams with 4/6 match points. They beat UTRGV (F-team), Portland State U. (B-team), Western Washington U. (A-team), University of Pennsylvania (B-team). They lost only to Duke (B-team) and Princeton (B-team), both higher rated than Howard.
Howard University (Team A)
(L-R) Goodness Atanda, Lawrence Custis, Samir Acharya, Malcolm Wooten, Malik Castro-DeVarona
Howard (B-team) finished with 1.5/6 match points. They opened with a draw against UTRGV (E-team) and lost consecutively to Arizona State (C-team), Texas Tech (C-team), USC (C-team), Baylor (B-team) before beating UTRGV (F-team).
Howard University (Team B)
(L-R) Ryan Harris, Naomie Baptiste, Lloyd Davis, Iyanla Savage, Cassidy Sparks, Miles Matterson
Jerald Times told The Chess Drum that it is high time for an HBCU to take its rightful place among chess powerhouses. Of course, that would take a tremendous amount of investment in time and energy and a rebranding of chess to the Black community. It just so happens that many Black players have used chess as a platform for greater academic and professional success. Chess looks excellent on the resume. In fact, last October, the U.S. Chess Federation hired Howard chess alumni Emanuel London as their IT Project Manager.
Howard Chess in Perspective
Howard is an interesting story because it is a prestigious member of a collection of institutions known as HBCUs. These were educational institutions founded in the 19th century after slavery emancipation to provide higher education for Blacks when options were limited. Howard was founded in Washington, DC, in 1867 and is known as one of the premier HBCUs with an esteemed alumni base. There are over 100 HBCU institutions (of various sizes) around the U.S.
Chess on "The Yard" as Howard club members battle on a glow-in-the-dark chess set featuring school colors, red and blue.
Howard had activity in the early 2000s with the help of International Master Oladapo Adu, Dr. Kimani Stancil, and National Master Charles Covington. Back in 2019, Howard student Sultan-Diego Sulayman reignited the chess club, and they have participated in the last three years. He recently passed away, but his legacy lives on. In 2021, they place 45 out of 59 teams, winning the top under-1400 prize. In 2022, it was a year of rebuilding, and Howard (A-team) came in 52nd out of 57 teams.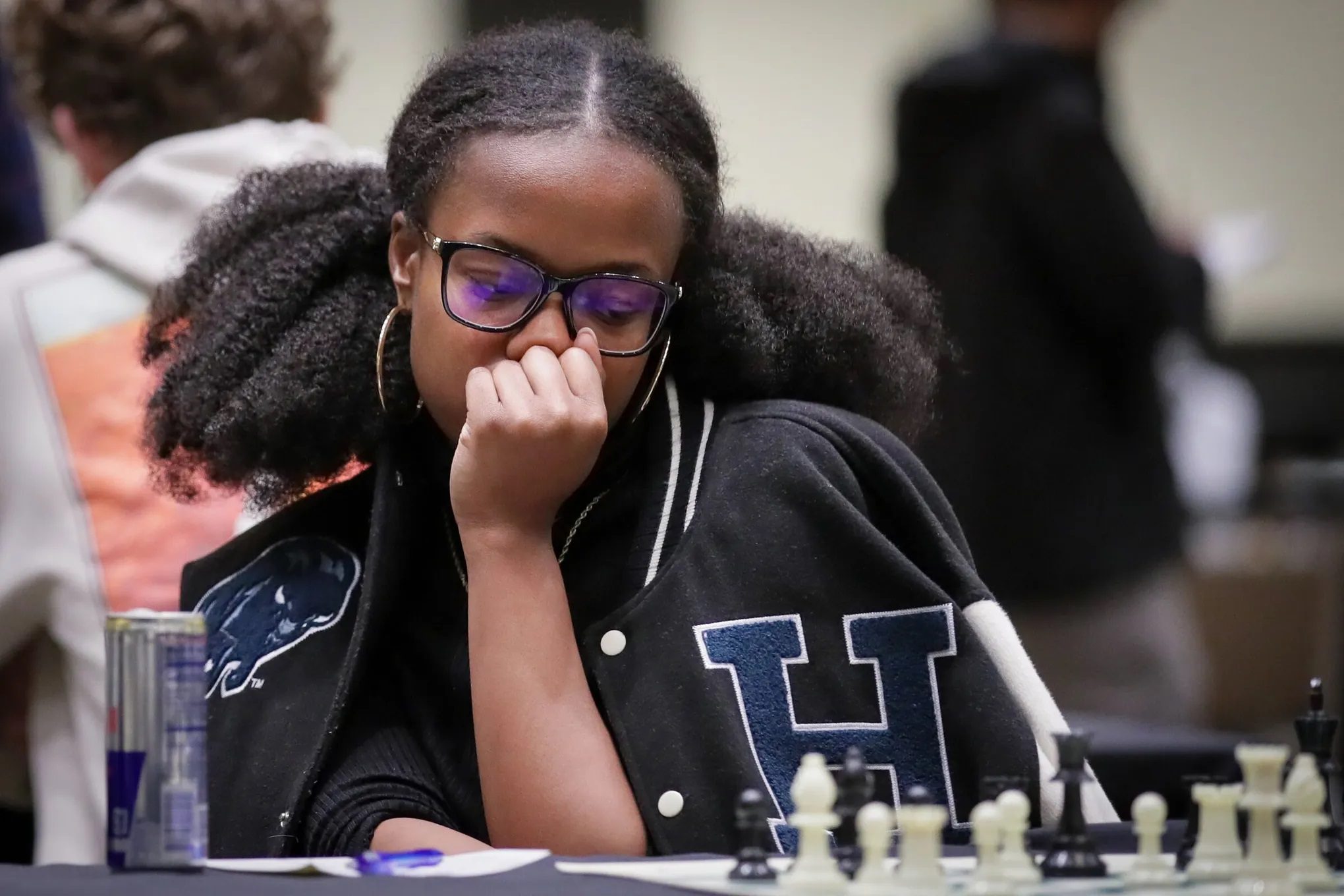 Howard's Cassidy Sparks at the 2023 Pan-Am in Seattle
Kevin Clark/The Seattle Times
This year, they enlisted the services of FIDE Master Tani Adewumi and National Master Jerald Times after a recommendation by DC-based journalist Jamaal Abdul-Alim. Abdul-Alim had been in close contact with Nisa Muhammad, the Howard Chess Club faculty advisor, and arranged a Pan-Am fundraiser featuring a glow-in-the-dark lawn chess set. A Washington Post article covered the fundraising event, and the GoFundMe campaign raised more than $7,000.
DC journalist Jamaal Abdul-Alim serves as an unofficial advisor for Howard Chess
Photos by Astrid Riecken/The Washington Post
HBCU Chess
As far as chess is concerned, HBCUs have very little chess activity apart from a handful of schools. In the past, schools like Howard, Florida A&M University, Grambling University, Hampton University, Morehouse College, Morgan State University, Norfolk State University, Tuskegee University, and North Carolina A&T have had chess activities at one time or another. Despite this, there is often a lack of consistent mentorship.
The schools that do attract players from chess-playing states may be hard-pressed to find an advisor who knows anything about chess. If there is such a faculty he/she may not be active in the chess community and will not understand how to integrate formalized activities into the club. Recently, North Carolina A&T hosted GM Maurice Ashley in Greensboro to share his passion with the Black community. These activities will provide inspiration and encouragement, but they are not nearly enough to spur any lasting initiatives.

"Chess at America's HBCUs," The Chess Drum, 15 November 2006
The above essay outlined some challenges of creating momentum for chess at HBCUs. The challenges are varied, but it is related to the relatively low numbers of Black players in competitive tournaments across the U.S. There is no natural pipeline for chess players to attend HBCUs. However, notable players like FM William Morrison (Morgan State) and IM Stephen Muhammad (Tuskegee) attended. Jerald Times suggests an HBCU Chess League and HBCU Championship.
Future Prospects for HBCUs
How do we ignite interest in HBCUs? Traditionally, interest is spurred by having a local master give a lecture and conduct a simultaneous exhibition ("simul"). These are good gestures in the short term, but it requires a core of dedicated members to convert that energy into something that will capture the imagination of the student body. Due to fierce competition for the attention of a college student, chess has to battle its portrayal as an activity for the socially awkward.
One of the challenges is getting chess players with tournament experience to attend an HBCU. It may require savvy marketing at national tournaments to promote HBCUs by wearing paraphernalia and "being seen." Many talented Black high school students are often steered away from HBCUs due to distorted information from counselors. However…
Black students' higher rates of satisfaction at HBCUs over Black students at non-HBCUs is an acknowledgment that despite the challenges facing HBCUs, they still deliver positive experiences and build great pride among their graduates.

~ Bryan J. Cook, "Black Students Find Greater Satisfaction Attending Historically Black Colleges and Universities," Urban Institute, February 18, 2022.
There is no question that HBCUs struggle with resource issues and lack the chess scholarship appeal, but there are so many intangibles that make them such a supportive environment and an excellent fit. Some opt for chess scholarships from some of the schools mentioned above. What this writer has found is that these students find the adjustment in these environments a great challenge. Perhaps HBCUs can represent a pipeline for player recruitment and retention while providing platforms for academic and chess excellence. Howard's participation in this year's Pan-Am serves as an inspiration for these ideals.