Kenya's Bernice Wambui gives "Gift of Chess"



"Chess is not just a game. Facing the board means making decisions and dealing with obstacles. We learn life skills from the game."
Bernice Wambui is helping bring chess to some of the most impoverished parts of Kenya. What is more impressive is her charisma and leadership. Reminiscent of Uganda's "Queen of Katwe," 11-year-old Bernice started chess at age six, and it has taken her to several countries already, including the Republic of Georgia. According to the story in Kenya's Daily Nation, she talked about her beginnings.

It all started when I went to a children's home in Gatundu on my 10th birthday. I taught the kids how to play chess and I notice they were really eager to learn. Later, I saw a Nigerian humanitarian called Tunde Onakoya and my mother and I reached out to him online. He introduced us to Russel Makofsky, one of the director from the Gift of Chess, a US based charitable organisation that distributes free chess board around the world. Russel then introduced me to Her Move Next, a global girl's club that mentors girls in chess.

~Bernice Wambui on how she started her mission
.@thegiftofchess , today visited the Ruiru Children's Home and gave chess lessons to the children. pic.twitter.com/z2EwVU0luJ

— Bernice Wambui (@BerniceWambui22) January 9, 2023
It is interesting to note how her connections resulted in another noble mission. Tunde Onakoya's Chess in Slums (Nigeria) has been featured on these pages. His collaboration with Gift of Chess (New York, USA) resulted in MIT student and National Master Tyrone Davis III traveling to Nigeria to distribute sets and provide chess instruction. That connection led to Bernice becoming a Global Youth Ambassador and distributing 1000 chess sets to schools and homes in impoverished areas. She reached as far as Samburu and "Bangladesh" in Mombasa.

It's such a wonderful story to see someone so young with a humanitarian spirit. Bernice will set an example for other youth and perhaps start a movement. Kenya had already been working toward expanding chess through Chess-in-Schools. The notion was reinforced with Fred Sagwe walking 165km promoting chess for SDGs, leading to a debate in Parliament! To continue the narrative, Bernice as a youth ambassador is a much more convincing argument since she is proof of the merits of chess.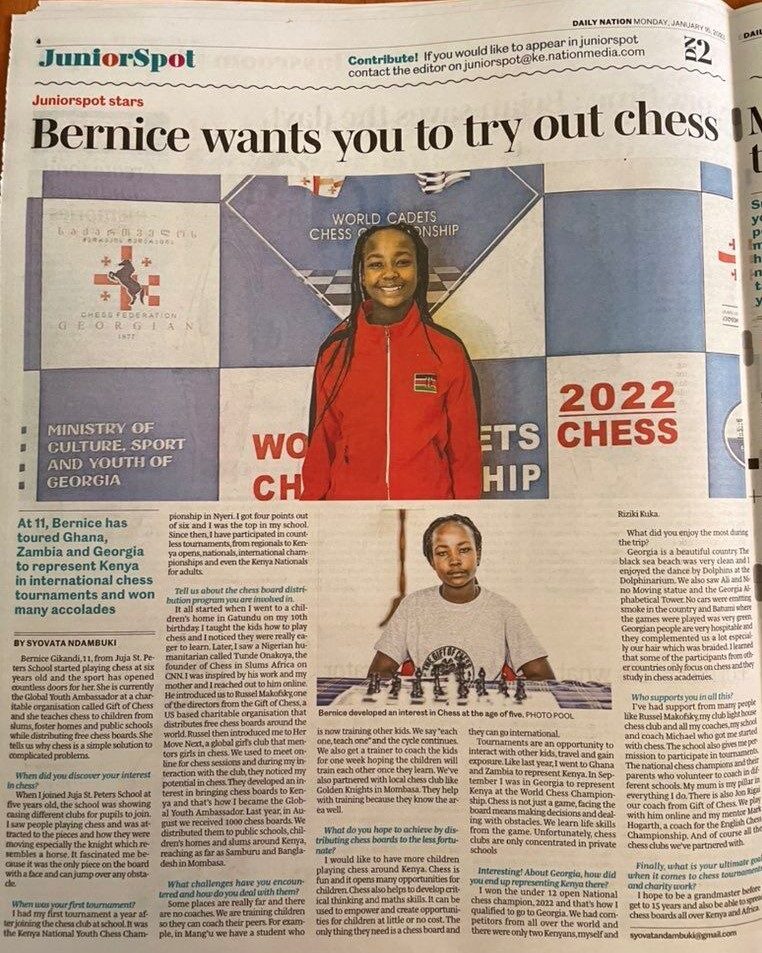 Let's hope Bernice continues with her chess mission of being a Grandmaster but also making a mark as a chess ambassador. It may be cliche to compare her to Uganda's Phiona Mutesi, but there are many similarities. Bernice Wambui will probably be more like Mutesi than Beth Harmon of "Queen's Gambit," but either way, she is poised to be the next role model of Africa.
Follow Bernice Wambui @BerniceWambui22
Video by Mobile Journalism Africa