Black History Month 2022-Day 15: Ashley & Muhammad
In 2003, Maurice Ashley and Stephen Muhammad joined the roster of participants of the prestigious U.S. Chess Championship, the hallmark of American tournaments. It is a chance for glory and to be included in the annals of history along with the list of luminaries whose plaques now adorn the World Chess Hall-of-Fame museum in St. Louis. Incidentally, Ashley later got a plaque of his own at the Hall of Fame.
Maurice Ashley in action at the 2001 National Open in Las Vegas.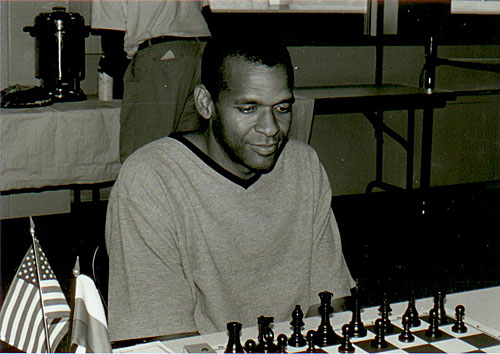 Stephen Muhammad competing at a 2001 St. John's Invitational.
Photos by Jerry Bibuld
After a 90s decade of boring episodes with countless draws, the tournament was in trouble in the early 2000s as the U.S. Chess Federation scrambled amidst a rough financial position. In 1999, the Seattle Chess Foundation stepped in to host the tournament in Seattle, Washington. A year later, the organization was rebranded as America's Foundation for Chess (AF4C) with Erik Anderson and Seattle Grandmaster Yasser Seirawan as the driving forces. AF4C hosted the event until 2006 before deciding to focus on scholastic initiatives.
The format of the U.S. Championship changed with hopes to revive the public interest. In 2002, the Seattle Chess Foundation expanded the field to include 56 players with both men and women competing in the same field. Larry Christiansen would take the overall title with Jennifer Shahade took women's honors.
The next year the championship would return to Seattle with a rising star on the horizon in 15-year old International Master Hikaru Nakamura. The tournament would also have an African-American duo of GM Maurice Ashley and FM Stephen Muhammad. Ashley qualified at the 2002 Foxwoods Open followed by Muhammad who qualified a month later at the 2002 Chicago Open. Muhammad had also earned his second IM norm at the 2002 World Open. It was a historic breakthrough!
---
With Ashley at the 2003 U.S. Chess Championship in Seattle, Washington
The Chess Drum traveled out to Seattle to track both players and to report on their progress. There was an air of festivity and both were the subject of pre-tournament interviews. Ashley had been riding on a wave of success with wins at Foxwoods and the King's Island Open.
GM Maurice Ashley
GM Maurice Ashley vs. IM Ronald Burnett (Round 5)
Photo by Jerry Bibuld
Round 1: WFM Olga Sagalchik – Ashley, 0-1
Round 2: Ashley – GM Alexander Yermolinsky, ½-½
Round 3: GM Alexander Goldin – Ashley, ½-½
Round 4: Ashley – IM Hikaru Nakamura, 0-1
Round 5: IM Ron Burnett – Ashley, 1-0
Round 6: GM Anatoly Lein – Ashley, ½-½
Round 7: Ashley – IM John Watson, ½-½
Round 8: Ashley – NM David Pruess, ½-½
Round 9: WGM Elena Donaldson – Ashley, ½-½
Score: 4/9
FM Stephen Muhammad
FM Stephen Muhammad vs. GM Alexander Ivanov (Round 1)
Photo by Jerry Bibuld
Round 1: Muhammad – GM Alexander Ivanov, ½-½
Round 2: GM Joel Benjamin – Muhammad, ½-½
Round 3: Muhammad – IM Michael Mulyar, 1-0
Round 4: IM Benjamin Finegold – Muhammad, ½-½
Round 5: Muhammad – GM Sergey Kudrin, 1-0
Round 6: Muhammad – GM Alexander Yermolinsky, ½-½
Round 7: IM Varuzhan Akobian – Muhammad, ½-½
Round 8: GM Larry Christiansen – Muhammad, 1-0
Round 9: Muhammad – IM Boris Kreiman, ½-½
Score: 5/9 (IM norm)
It was an exciting moment for the Black community who were following the tournament closely. Of course, the tournament did not go as expected for Ashley and he missed a big chance here against Hikaru Nakamura.
However, he carried himself as a statesman who certainly knew the importance of the moment. In a ChessBase interview before the tournament, Ashley stated,
"I feel like I've already won, just coming in the door. If I'm the first, what that means is that there's going to be a second, and a third, and a fourth. That I'm very pleased about."
He was exactly right as Muhammad joined him in 2003 and participated in the next two. International Master Emory Tate played in 2006 and National Master Charles Lawton played as a wildcard in 2009.
GM Maurice Ashley and IM-elect Stephen Muhammad conversing
after completion of the 2003 U.S. Championship.
Photo by Daaim Shabazz
Muhammad got his third IM norm with three rounds remaining. He turned in a 2629 performance and narrowly missed a GM norm. I wrote in the post-tournament report,
Muhammad was especially proud of his win over GM Sergey Kudrin, but also set afire the board against IM Michael Mulyar (a Drum favorite). The Columbus-based player/trainer will now seeking invitations to GM norm events.
Take a look at this gem against Mulyar!
This is not the end of the story. At the end of the tournament, we had gone for dinner and arrived back at the hotel. Muhammad was still energized from his strong result and clinching the IM title. He wanted more action. Muhammad called up Ashley on the phone and invited him to get some "lessons" in blitz. I heard Ashley on the other end yell, "Ohhhhhhhhh!" It was on… we met in Muhammad's room and I was the only witness to this bruising 28-game battle.
Both players were out for blood with Muhammad touting a 3000 blitz rating on the ICC (then as "phasor") and Ashley being a battle-tested gladiator battles from the Black Bear School of Chess." They previously played a mini-blitz match before the Wilbert Paige Memorial where Ashley came out on top.
Cage Match!
There was definitely mutual respect as they traded blows. I remember a sequence where Muhammad mated Ashley beautifully in a time scramble (with queen and knight) slamming the mating queen for emphasis. He started doing a little dance while seated. Music was thumping in the background.
Ashley came back with a vengeance taking the very next game after which he delivered mate and did his own dance. Despite the action, I fell asleep being totally exhausted. Notice the timestamp on the photos below. I woke up to catch the last bit of the match. Both played to a 14-14 deadlock. Exciting stuff!
Memorable Blitz Battle! Muhammad vs. Ashley
Photos by Daaim Shabazz
All in all, it was a great trip and a few of us got to share in the special moment. Willie "Pop" Johnson (Ashley's long-time mentor) made the trip to lend his support. It was a great experience to walk the streets of Seattle with both of these legends and just take in the historic moment. Hopefully, more of these moments are coming!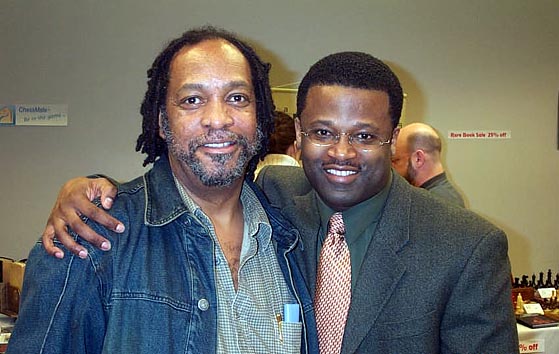 Willie 'Pop' Johnson with GM Maurice Ashley
Photo by Daaim Shabazz
Photos by Daaim Shabazz