Dr. Kimani Stancil @ FSU Colloquium
Most of us would never be able to understand the science of material composition for everything from pharmaceuticals to space rockets and thousands of other commercial and industrial products. Dr. Kimani Stancil does. Recently he told me he would be in Tallahassee, Florida to make a presentation as part of the Florida State University polymers and gels as a guest of the biochemical engineering department.
While a lay person would never understand the terminology, it was clear that this is important work in developing materials that may somehow revolutionize future designs in a number of products. What was more important to me was that I was watching a friend (and big supporter of The Chess Drum) discuss his passion outside of chess. We rarely get a chance to see fellow chess players discuss their professional work or see them in action. It was impressive indeed and shows that chess can certainly help shape minds in positive ways.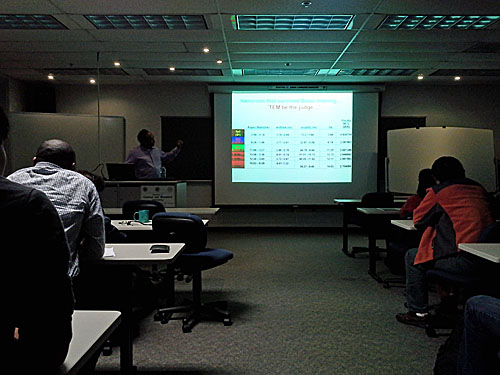 Dr. Kimani Stancil presenting on the topic, "Understanding the Strcuture and Behavior of Polymer Gels as host for nano solutes – a photonics recipe." The lecture took place at Florida State University in Tallahassee, Florida. Photos by Daaim Shabazz.
# # #
Dr. Stancil earned his Ph.D. in Physics from the Massachusetts Institute of Technology in 2002 and served as a post-doctoral fellow at Lawrence Berkeley Laboratory. He then took a position at Howard University in 2008 where he is now an Assistant Professor. Dr. Stancil competed in the National Denker Tournament for High School Champions in 1989 and went to chess power University of Maryland-Baltimore County.
Kimani Stancil (right) playing (now GM) Fabiano Caruana at the 2004 World Open (1-0). Photo by Daaim Shabazz.