Morrison, Colas annotate in Chess Life
FM William Morrison has traveled a long rode. From the streets of Brooklyn through the "Black Bear" legend to the battle grounds of War Memorial Plaza in Maryland, the player known as the "Exterminator" has made a mark with his powerful play. Yet he has also inspired with his mannerable and humble persona. At the 2016 World Open, he scored 6.5/9, an IM norm, his 3rd of record.
After the tournament, he told The Chess Drum that he had earned the IM title. However, he was still trying to verify his norms and recount his rating history. His IM title application is being filed. It has been a long journey for Morrison who helped GM Maurice Ashley in his own journey to Grandmaster. Morrison mentioned that he is striving to reach the same lofty goal in the next couple of years.
Josh Colas playing the legendary William "The Exterminator" Morrison at 2011 World Open. Both recently annotated games for the October 2016 Chess Life magazine for the 2016 World Open. Both earned IM norms. Photo by Daaim Shabazz.
In the last round of the World Open, he faced seven-time U.S. Women's Champion GM Irina Krush in a must-win for the norm. He told The Chess Drum that he had been working on the c3 Sicilian and had come up with some home-cooking. In the following game (which was published in October 2016 issue of Chess Life), he annotated his norm clinching win for a World Open feature by Jamaal Abdul-Alim.
Analyzing the win over seven-time women's champion GM Irina Krush.
The game came to an abrupt ending after 29.Nf5! exf5.
The Exterminator was pleasantly surprised!
Photos by Daaim Shabazz.
Interview with FM William Morrison (5:58 minutes)
FM Josh Colas has been making progress since he days as a promising scholastic player. Now a freshman at Webster with one GM norm and one IM norm, he desires to earn his GM title before he graduates. He will certainly have ample opportunities. In the game featured below, he toppled GM Gergely Antal after being in a totally losing position.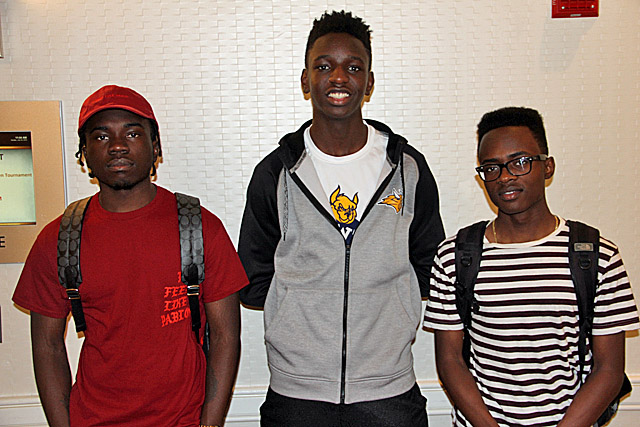 Webster University's New York "Dream Team" FM Justus Williams, Shawn Swindell, FM Josh Colas at 2016 World Open. Photo by Daaim Shabazz.
Interview with FM Josh Colas (9:04 minutes)