2022 Chess Olympiad: Closing Ceremonies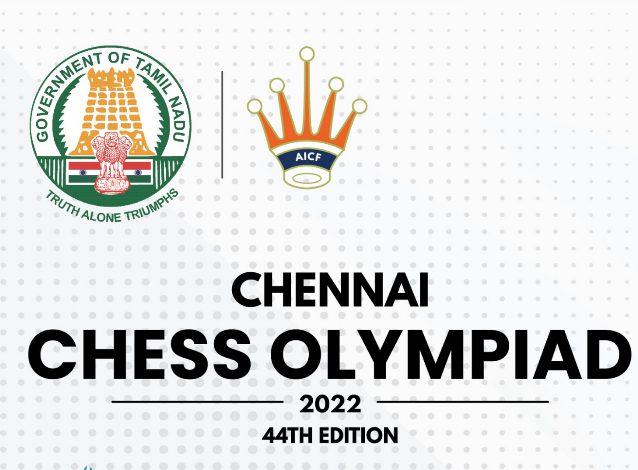 Uzbekistan proved that a new chess era has unfolded. The closing of the 2022 Chess Olympiad happened with an exciting future ahead. As the generations of players drop from elite status or retire, new stars are rising. This reality was on full display when Uzbekistan and India 2 stood on the medal stand with the gold and bronze medals. It was amazing to see teams of teenage players dominate for most of the tournament.
Nodirbek Abdusattarov being congratulated by Viswanthan Anand
Photo by Lennart Ootes

1st BOARD (INDIVIDUAL)
Uzbekistan's Nodirbek Abdusattarov (silver) and India's Dommaraju Gukesh (gold)
Photo by Lennart Ootes
Youth, Experience, Team Spirit
The main story apart from the Indian stars was Nodirbek Abdusattarov who was shown in a viral video (12 million views) beating world's top player, Magnus Carlsen. This was before R. Praggnanandhaa beat Carlsen twice! Carlsen pronounced that he would not play unless someone like Alireza Firouzja was the next challenger. True to his word, he decided not to defend his title when Firouzja did not perform well at the Candidates tournament.
Gabriel Sargissian, now 38, was his opponent's age when he became a pillar of medal-winning Armenian teams. Photo by Lennart Ootes
It appears as if the younger generation has arrived. It is no surprise that many of the medal recipients are less than 25 years of age. While chess is becoming more youthful, teams like Armenia have shown that a mix of energetic youth, veteran savvy, and team spirit can make up for a shortage of elite talent. Several teams were more talented, but few were as spirited and determined as Armenia. According to team leader Gabriel Sargissian, a silver medal is more than what they could've dreamed of.
India: The New Chess Powerhouse
There are also a couple of side stories with India 2 doing a tad better than India 1. It points to the fact India has created a vibrant culture and the competition will be fierce in the coming years as players like Viswanathan Anand, Pentala Harikrishna, and Krishnan Sasikiran pass the torch. Dommaraju Gukesh, Nihal Sarin and R. Praggnanandhaa have received a bright spotlight and came through under pressure.
R. Praggnanandhaa bronze medal performance is a sign of things to come.
Photo by Lennart Ootes
Chess24 commentator Lawrence Trent made the call during the first round broadcast by saying that India 2 would do better than India 1. That was true, but just imagine… in 2024, the Olympiad will be in Budapest, Hungary and India will field only one powerful team. They may be the favorites! The secret to India's success has been an organic chess culture and support from the government and the private sector. Most of all, when you have the legacy of a world champion, setting a great example.
Medal Standings (Open)
GOLD-Uzbekistan


SILVER-Armenia



BRONZE-India

The Year of the Woman
The woman's section missed the presence of Russia and China, but the traditional powers rose to the top. The Ukrainian team has been occupied with the Russian incursion which has devastated the country. This victory will carry a much wider symbolism for Ukrainians.
Ukraine's Anna Muzychuk with a triumphant gesture after winning gold medal.
Photo by Lennart Ootes
There were many interesting side notes of the 2022 Olympiad including Dronavali Harika's playing seven rounds while nine months pregnant. She is such a delightful character and her stable presence on the Indian team has led to this first medal for the women. Of course, the new generation of players in this tournament were highlighted by India and Kazakhstan. India's Vaishali Rameshbabu won a bronze medal and stood on the podium with her brother, probably a first. Zhansaya Abdumalik and Bibisara Assaubayeva will be fixtures on the women's circuit for many years.
Praggnanandhaa and Vaishali… siblings who shined in front of hometown Chennai
Photo by Lennart Ootes
Zhansaya Abdumalik and Bibisara Assaubayeva (left) lead Kazakhstan to battle against Slovakia.
Photo by Lennart Ootes
There was an interesting event held during the Olympiad to recognize women for their service to chess. Those who have been active in chess will already know the role that women have played in chess… from directing, to organizing, to coaching, and the to being the everpresent "Chess Mom." Some continue to serve the chess community after their children have stopped playing!
One may recall women like International Arbiter Carol Jarecki who was a long-time arbiter at the highest levels. She remained involved after her talented son, John Jarecki stopped playing competitively. She was a tremendous role model and took great pride in the success of women's accomplishments at the Olympiad.
Photo by Mark Livshitz
Quality is Important!
Moving forward to Budapest, Hungary for the 2024 Chess Olympiad, we will continue the theme of women in chess. We don't have to think for a long time to realize that one of the most successful chess experiments was executed in Hungary with the Polgar sisters: Zsuzsa, Judit, Zsofia. It was a fantastic representation that women could excel at chess if given the right conditions. The debate may not be about the quantity of girls playing more than the quality of the environment.
Judit Polgar (8.5/12) receiving team silver at 2014 Chess Olympiad
Photo by Daaim Shabazz
Judit Polgar was a top ten player at a time when there were a lot fewer girls and women playing than now. What made the difference was the environment created by her parents. Thus, increasing numbers is a necessary, but not sufficient factor in the success of girls. There were 13 girls/women competing in the Open. Some of them were in federations with low numbers overall. Let's hope in Hungary we will see more competing at the highest levels.
Among the top active players, Pia Cramling has shown longevity over the years. An Olympiad titan, she often made spectacular scores. In her nine Olympiad appearances on the women's team she has scored 9/11 (1978), 11/14 (1982), 10.5/13 (1984), 12.5/14 (1988), 8.5/13 (2004), 8/9 (2008), 10/11 (2014), 8.5/11 (2016) and 9.5/11 (2022). In her four appearances on the open team, she scored 7/11 (1990), 7.5/10 (1992), 5.5/9 (1996), and 4/8 (2000).
In 1978, Pia Cramling (aged 15) at Buenos Aires Olympiad. In 2022 at Chennai Olympiad, she scored 9.5/11 for her third gold medal, previously winning in 1984 and 1988. Photo by Bill Hook
Pia Cramling – en OS-hjältes hemkomst https://t.co/5LvVN6LtMZ August 10, 2022 at 03:39PM

— Swedish Chess SSF (@SwedishChessFed) August 10, 2022
Medal Standings (Women)
GOLD-Ukraine


SILVER-Georgia


BRONZE-India

The only travesty of this Olympiad imo? That Angola didn't win best dressed in either the Open or Women section… I thought their uniforms were the best I have ever seen at any event. ?
Pictures by @LennartOotes, Mark Livshitz and Stev Bonhage for @FIDE_chess pic.twitter.com/PBsiMhGCSE

— Fiona Steil-Antoni (@fionchetta) August 10, 2022
Most will agree with Fiona!
Photo by Mark Livshitz
Video by Tamil Nadu (DIPR)