NFL football players battle on chess.com
Chess.com hosted a $100,000 blitz championship that featured six NFL football players. BlitzChamps was announced a month ago with great anticipation. Back in 2020, chess.com featured a blitz battle between Wu Tang Clan members RZA and GZA.
The online platform has made chess opponents more accessible and there are a multitude of different tournaments around the world. Many carry on certain themes and even celebrities become involved. While NFL football players like Shaun Alexander, John Urschel and Le'Veon Bell have been known chess aficionados, this is the first tournament of its kind.

The field includes:
Larry Fitzgerald (retired)
Kayvon Thibodeaux (New York Giants)
Amari Cooper (Cleveland Browns)
Will Davis (retired)
Chidobe Awuzie (Cincinnati Bengals)
Arik Armstead (San Francisco 49ers)
Split into two groups of three, the participants played a double round-robin where the top two finishers progressed to the championship bracket, while the lower-ranked players gain entry into the consolation bracket in which they will vie for redemption.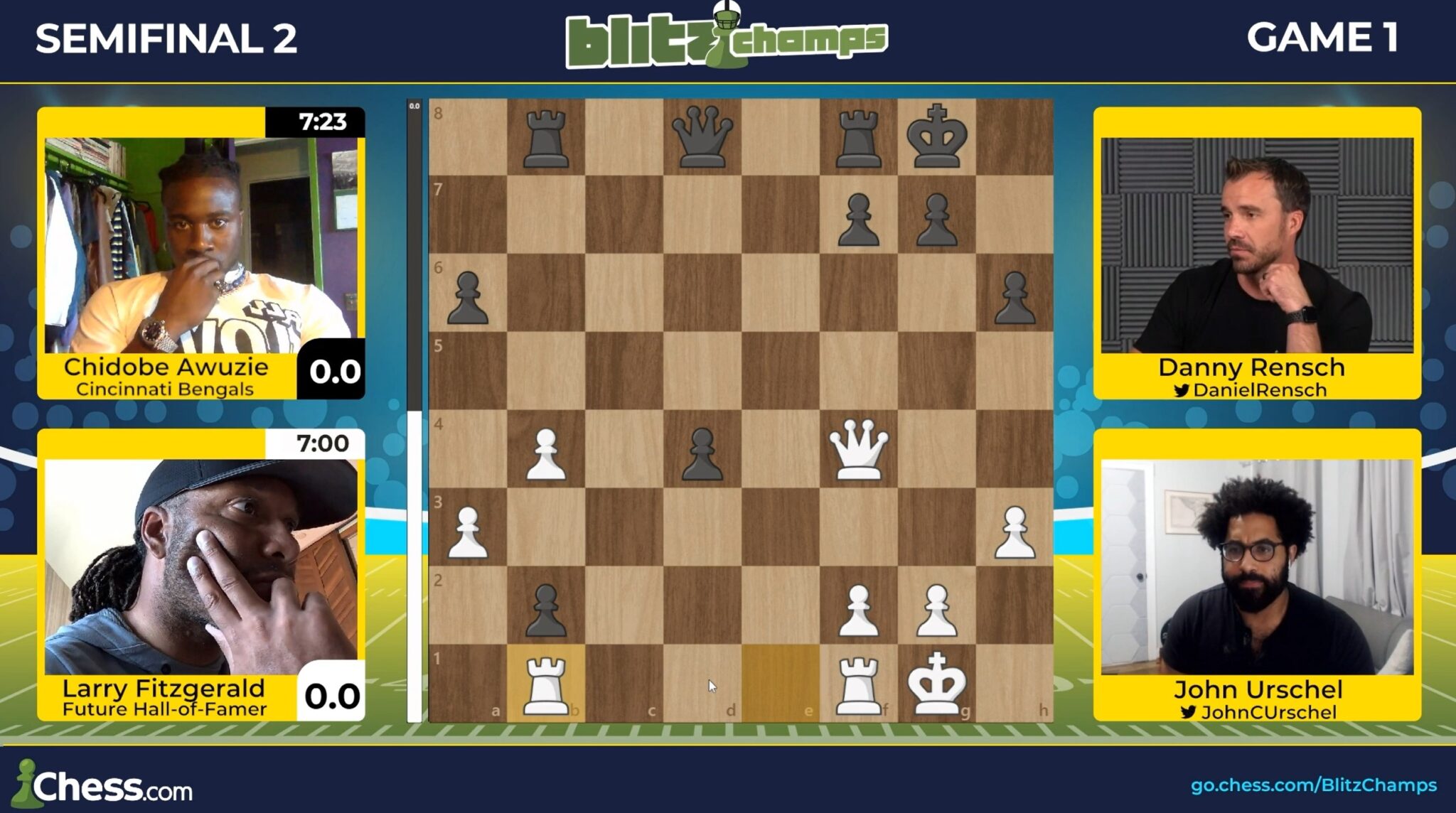 The novel thing here is that most NFL/chess fans will be pleasantly surprised because there may not be the expectation that pro football players would find good moves. The chant from commentator IM Danny Rensch and John Urschel was "Will he find it?!"
During the games, these players were locked in and had obviously put some time in before the tournament. Chido's mother wave to the audience with a beautiful African dress. Priceless.
Danny Rensch says that an NBA event is in the works!
NFL BlitzChamps – Day 1
NFL BlitzChamps – Day 2
Videos by chess.com
Announcement: https://www.chess.com/news/view/chesscom-announces-blitzchamps