2022 Trinidad & Tobago International
Trinidad & Tobago hosted an exciting international invitational won by Dutch Grandmaster Robby Kevlishvili, who suffered one loss in nine rounds. The island nation has had a history of hosting international tournaments to give local players a chance to raise their level of play and to earn FIDE titles. Trinidad & Tobago Chess Federation President Sonja Johnson felt this tournament was an organizational success.
In the early 2000s, there was a novel tournament called the Caribbean Chess Carnival hosted by the Trinidad & Tobago Chess Foundation (separate from the federation) attracting players from various countries. Between July 1-8, 2022, the national federation held a Masters tournament attracting three Grandmasters to the Hilton Conference Centre in the capital, Port of Spain.
There were actually two 9-round tournaments: 10-round robin invitational and an Open tournament rated under 2200 FIDE. The event featured two tournaments: the 10-player round-robin invitational Masters and the Open tournament (for players rated U2200). Both tournaments were played at FIDE time controls of 90 minutes with a 30-second increments.
The three Grandmasters competing were Robby Kevlishvili (Netherlands), Juan Borges Matos (Cuba) and Alonso Zapata (Colombia). The field was loaded with local FIDE masters, seven in total including nine-time champion, Ryan Harper. Kevlishvili won with a sparkling 8/9 losing only to Harper, who took joint-second with Joshua Johnson on 6/9.
GM Robby Kevlishvili
Twenty-one year old Keviishvili is of Georgian ancestry but represented the Netherlands in many European tournaments as a youth. Having received training from Merijn van Delft and Ivan Sokolov he improved steadily and earned GM norms at Grenke Open (2018), Czech Open (2020) and Vandoeuvre Open (2021). He is currently a student at St. Louis University (SLU) in the U.S.
Ryan Harper posted on his win against Kevilishvili which was a Sicilian Najdorf where the black badly mixed up the move order and did not survive the opening. Impressive crush by Harper!
Opening choice was inspired by Hikaru Nakamura after his game against Firouzja and after I watched his recap video that gave me some more ideas, since I did not get to play Bc4.

~FM Ryan Harper on win against Kevilishvili
FM Ryan Harper with his 2nd place medal
FM Joshua Johnson
Apart from this sole blemish, Kevlishvili convincingly won the Masters section scoring 8/9 points. Veteran Colombian Grandmaster Alonso Zapata lost to Harper, Johnson and FM Kevin Cupid.
GM Alonso Zapata – FM Kevin Cupid reached the above position after 46.Kh3. This was a serious error. Cupid pounced quickly with 46…Ne2! The point is that on 47.Qe3, black can still play 47…Qxf3!! since 48.Qxf3 fails to 48…Ng1+! After recapturing the queen (with tempo) on the next move, black can attack and win the b-pawn.

The finals standings (Masters) are below: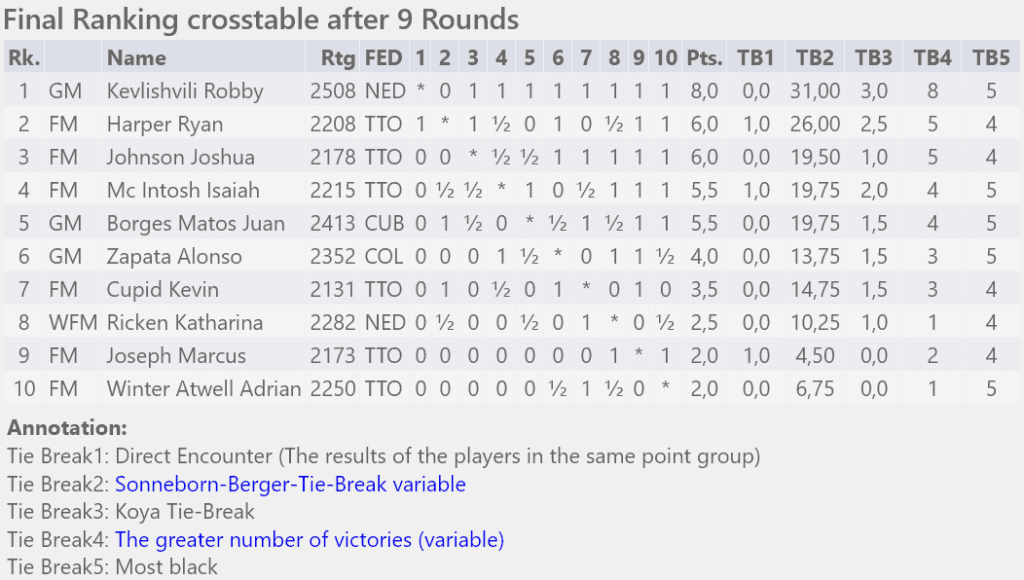 Open
Patrick Terhuven of Germany triumphed in the Open tournament scoring a dominant 8/9 points. Former Olympiad member Ravishen Singh was second on 7.5 points and Emar Edwards and Kishore Ramadhar tied for joint third place with 7 points.
Blitz
In the Blitz event, Kevlishvili got a perfect 9/9 followed by Johnson (7.5/9), and Cupid (7/9). The top female was Jennika Lynch who ended with 5 points. The top Junior was 11-year old Kyan Muradali who scored 5.5.
International Arbiter Rohan Waite of Barbados was the Chief Arbiter.
Photos by Trinidad & Tobago Chess Association
Results (Masters, Open)
Games (Masters, Open)
Recap on TV6 (Trinidad)
Photos of 2022 Trinidad International (Masters & Open)
Photos: https://www.facebook.com/media/set/?set=a.5532919530063482&type=3