Daniel X Jones bags Master's title!
National Master Daniel X Jones
Photo by Nathan Kelly
Daniel X Jones is known best as one of the pioneers of the Chicago Chess Blitzers (CCB) and the National Blitz League (NBL). For the past few years, Jones and a contingent of Chicago chess players have staged a number of team matches against various cities. The most popular activities of the CCB have been the cage matches pitting two equally-skilled players. It has been an ongoing initiative to ignite quickplay chess around the country and also to provide training for those who are seeking to play at a higher level.
Prior to his emergence in chess, Jones was homeschooled for the first year of high school, but graduated from Rich East High School where he was on the wrestling team and also studied karate. In addition to holding a purple belt in VSK Jiu Jitsu, he has a black belt in karate and runs the Lions Paw Karate And Chess Academy on the southside of Chicago (742 W 79th St, Chicago, IL 60620). Chess and martial arts have a symbiotic relationship, both being a battle of wills. Chess can be considered a "mental martial art" as the focus required in both disciplines is apparent.
This past weekend Jones achieved a long sought-after goal by earning the U.S. National Master title this weekend at a #Quest2Master event. The event is part of a series giving "Experts" or Candidate Masters a chance to earn the coveted title. Jones' rise was the subject of a profile here on The Chess Drum. In this event, he scored 6.5/7 (one win by forfeit) earning a whopping 60 rating points and reaching a post-tournament rating of 2207. Jones is now a certified "double master."
In a post tournament interview conducted by organizer Nathan Kelly, Jones talked about his feat as a sense of "relief." When asked about his 1.f4 repertoire, he affirmed his confidence in his preparation. Much has been made of his "Muhammad" opening and whether it is an original idea. However, Jones talked about the personal wrinkles that he has included in the "Bird" family of systems.
People (a lot of times) mistake it for other things which kind of gives me some initiative. If they know it, they attach Bird theory, or other openings as opposed to what I'm actually playing. A lot of times it gives me an edge.
Jones is an adherent to faster time controls, but of course, it is very different from classical or rapid formats. He got into trouble against Matthew Pullin and JJ Lang, but kept his discipline, held strong and won both games. He had a tough battle against Jimi Akintonde, a game ending in a tactical slugfest in favor of Jones. In fact, he only gave up a draw in the six games played. The game against National Master Akhil Kalghatgi had a lot of twists and turns, was well-played, but ended peacefully.
Days after the tournament, Jones posted the clinching game of the title and tournament. It has been a long time coming. What makes the accomplishment interesting is that since 2017, Jones had only played in six tournaments in the slower time controls. Perhaps he has found it to be more strategic in choosing tournaments to play in. There are times when players are 20-30 points from a particular title and in their haste, begin playing in tournament after tournament only to lose a boatload of rating points and end up with a sense of regret.
GM Ashwin Jayaram of India was recently interviewed on ChessBase India and mentioned how it took him eight years to get his 2500 rating from the time he got his three norms. He mentioned in the interview that he was simply playing in too many tournaments without much of a plan. He also became fixated on rating points and when he was unable to break through, became very frustrated. GM Amon Simutowe went through a similar tribulation. Of course, getting the Grandmaster title is an entirely different beast, but the challenge of completing any personal goal has a deep psychological aspect.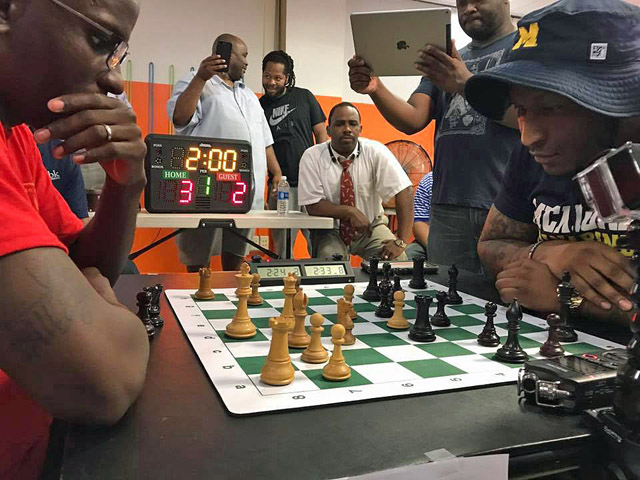 Jones takes on NM James Canty III in blitz battle!
Photo by Nathan Kelly
Known by his online moniker "GodDanielX," Jones played in his first tournament at Tuley Park in 2001 and cut his teeth on the events held by the legendary Thomas Fineberg. He continued to play work on his game, but gained a reputation for blitz. He first eclipsed the 2000 rating in 2014, but had his eyes set on the Master's title for quite some time. Mission accomplished!
Hopefully Jones will be able to test himself against stronger opposition on a regular basis. He is now training his eyes on the FIDE Master title. Of course, his most loyal support group is his wife Zoraida and children Isaiah, Malachi and Samaya. Of course, the Chicago chess community is celebrating his accomplishment and will certainly inspire others to put in the time to achieve their goals. Congratulations!
Video by Nathan Kelly (Chicago Chess Blitzers)