Chess Reflections in Black History (2020)
In the U.S., each February we celebrate the accomplishments of prominent figures in the African Disapora. Dr. Carter G. Woodson, a man of prodigious intellectual standing, was the innovator of the idea in 1926. He attended venerable institutions such as University of Chicago, the Sorbonne and Harvard University and penned the classic, The Miseducation of the Negro in 1933. Starting as "Negro History Week," it became a month-long commemoration of excellence, renamed "Black History Month."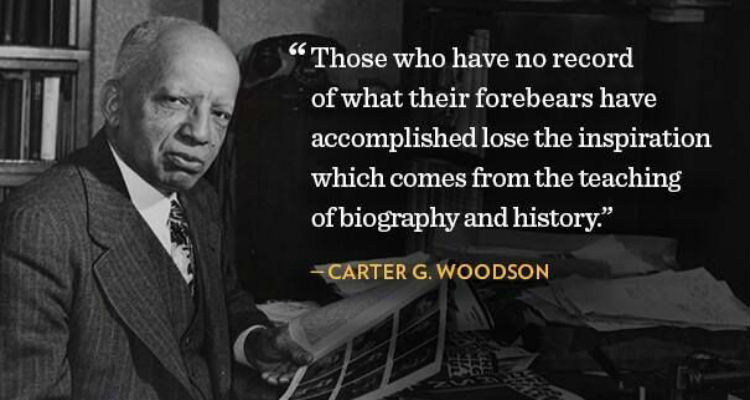 It has long been my idea that this month should not be limited to month-long recognition of accomplishments of Blacks in the U.S., but should be year-long and extend to those in the entire Diaspora. That has long been the mission of The Chess Drum since 2001. Each year we reflect on the past accomplishments and chart the course for the future. What is there in chess for Black History Month? Over the years, we have done a variety of commemorations including quizzes, videos, photos essays, and also a three-part series on chess history (#1, #2, #3) five years ago.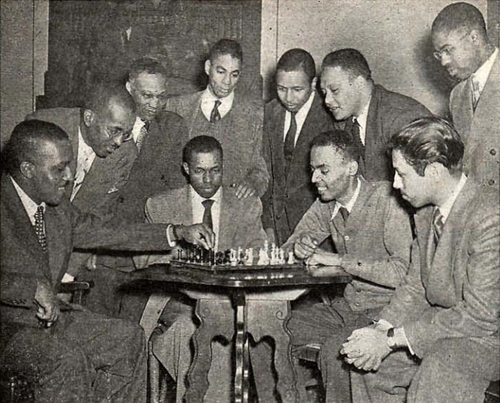 Paragon Chess Club of Washington, DC was featured in July 1950 issue of Chess Life.
Discrimination and Jim Crow Laws were still commonplace in 1950, but there was certainly
a Black interest in chess… as early as the mid-1800s.
Last May, more history was written when a Grand Chess Tour Rapid & Blitz was hosted on African soil (Abidjan, Cote d'Ivoire). There followed the African Championships and the All-African Games. Perhaps one can say that a renaissance is emerging on the vast continent, but there is still a lot of work that is needed.
African women are assumed to pursue women's titles. Why not FM, IM or GM?
Lorita Mwango (Zambia) and Toritsewuma Ofowino (Nigeria) at 2019 African Championships.
Photo by Mohamed Bounaji/FIDE
The common question of how many Black GMs exist in the world of chess is a bit double-edged. Being able to count and name the number is intriguing, but makes it obvious that there are few. The question may be, "When will Africa (and people of African descent) display their true talents in the world of chess?" Looking at the growth of interest in the African Diaspora and the availability of tools, there is potential to turn the debate into an actionable and sustainable stream of talent development.
What opportunities are on the horizon for young talents like Jamaica's FM Joshua Christie?
Photo by Jamaica Chess Federation
There has been a spike in activity in some quarters of play, but the travesty is that there is no mechanism for cultivating talent of the young Black players. Accolades such as "first Black…" "strongest Black," and "youngest Black," are to be honored in history, but should not be our main benchmarks. How do our accomplishments compare to the larger population? This is an important question since history-making moments are more than earning a title from a subzonal tournament, or drawing/beating a Grandmaster in a single game.
There was a time when a player of African descent drawing/beating a Grandmaster was big news. At this point, it should not be a surprise. However, being able to put in consistent results to become a Grandmaster is what will make history. It seems not long ago that India only had a handful of GMs… Viswanthan Anand being the first in 1988. Now at 65 GMs, they have created a vibrant culture in the Indian Diaspora and are poised to become a preeminent chess power in the next decade or two. It's an interesting example.
Three years ago, an essay titled, "Creating Black History in Chess," presented a view on how to create a documented history. Facebook postings are necessary, but not sufficient method of organizing history. Each federation has to begin compiling their respective histories. If we are to make chess a part of our accomplishments during Black History Month, more needs to be done so we will have something new to celebrate each year.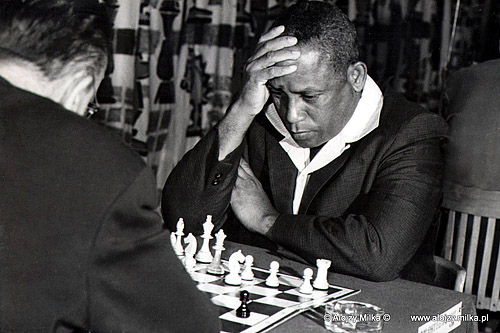 Cuban champion Rogelio Ortega competing in Polanica-Zdroj, Poland in 1967.
Photo by Alojzy Milka (courtesy of Dariusz Milka).