Daniel X Jones… Chicago's Chess Warrior
Daniel X Jones with wife Zoraida
Photo by Daniel X Jones
In the past few years, Daniel X Jones has been a catalyst for chess growth in Chicago. While operating a martial arts dojo, he also hosts chess events to ignite enthusiasm that has been dormant on the south side for the past decade. He is also one of the members of the Chicago Chess Blitzers team that will be facing Cleveland Heavy Hitters on August 5th.
Prior to his rise in chess, Jones was homeschooled for the first year of high school, but graduated from Rich East High School where he was on the wrestling team and also studied karate. He has trained in other disciplines which includes earning a purple belt in VSK Jiu Jitsu and is now a 3rd-degree black belt in karate. He has run the Lion's Paw Karate & Chess Academy (7928 S King Dr., Chicago, Illinois 60619) for the past three years and has trained hundreds of youth in self-defense, discipline and confidence-building. Watch this beautiful video…
Video by Columbia Chronicle
Jones with children Isaiah, Malachi and Samaya
Jones is a man of strong resolve and high character. He and his wife Zoraida are proud parents and are instilling these values into their three children Isaiah (9), Samaya (6) and Malachi (2). The entire family is active in Lion's Paw and eldest son Isaiah is already winning martial arts accolades. A fun fact about the Jones household is that each member of the family has a birthday in August!
A few weeks back, The Chess Drum was able to get some answers from Jones who goes by the chess moniker, the "Baby-Faced Assassin". When asked how he picked up chess, he asserted,
"My father taught me how to play at 6 years old. I grew up watching him rumble with some of his chess buddies and visiting their homes. Around 11 years old I began to get more serious and into the game. That is when I began studying on my own and playing in Tuley Park tournaments."
Tuley Park was the chess playground on the south side for many years under the stewardship of Thomas Fineberg, a retired Chicago Public School math teacher and long-time high school chess coach with Chicago Vocational and Harlan high schools. During his path to improvement, Jones locked horns with his friend Kayin Barclay and some of the other veterans in the Chicago area.
As of late, Jones has reached his peak rating of 2165 after performing well winning joint first (with Kay Kaulule) in the 2nd Emory Tate Memorial, winning joint first in under-2100 (with Roderick Scarlett) at the Chicago Open and scoring 6/9 in under-2200 at the World Open. He has also gained some notoriety for getting a couple of GM scalps in blitz encounters recently. Following is a game his played in the 6th round of the Chicago Open where he found an enterprising queen sacrifice!
Jones has been working hard on his martial arts students, but is also desirous of promoting blitz to the forefront of chess. Having long been a variant for leisure games, Jones believes that blitz can be a useful tool in mainstream chess. He states, "In my opinion, our world of chess is slowly deteriorating as things continue to evolve around us as chess stagnates. I love the ideas Maurice Ashley put on the table and I want to partake in revolutionizing chess. So much so that chess 'professionals' can be devoted and make a living full time."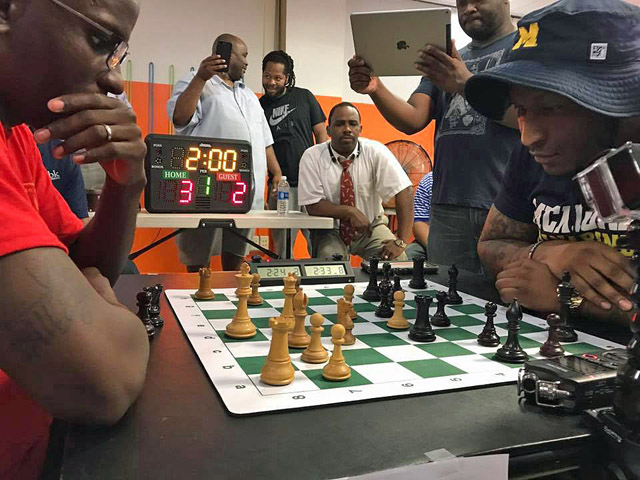 Jones takes on FM James Canty III in blitz battle!
Photo by Nathan Kelly
Chess scholastic organizations have touted chess as an avenue for sharpening analytical abilities, pattern and spatial recognition, discipline, time management, and social development. These characteristics are more associated with the longer formats where these skills can be measured reliably. While these benefits of chess are acknowledged by Jones, he is part of a group touting the idea of moving blitz (1-, 3-, or 5 minute games) to the forefront of chess as opposed to classical. This has been said before and there have been many experiments, but the question is whether this will yield sustainable success.
There is a precedent. Other sports have tinkered with formats to make their game more exciting. Even American football has been played in smaller arenas to showcase action and athleticism. Of course, the National Basketball Association (NBA) would never lower the shot clock to 12 seconds to make things more exciting, but perhaps there are other models. Cricket created the Twenty20 (T20) format as a more exciting form than the traditional six-day "Test" matches. Since 2004, T20 has become wildly popular.
Chess has also tried to popularize the faster formats. Ashley helped to produce a DVD titled, "Speed Chess" featuring Hikaru Nakamura, Alexander Shabalov, Larry Christiansen and Joel Benjamin. "Banter chess" on sites like Twitch have become popular, but only as a complement to more erudite classical tournaments. Blitz games are hard to give commentary on and while exciting, are often filled with mistakes that would be unforgivable in long time formats. It is also hard for a novice or non-chess public to understand what is happening.
There are points for both sides of blitz vs. classical debate, but there is always a question of making chess understandable to the uninitiated. Practically everyone starts chess the traditional way with no clock and with the idea of understanding patterns and analytical branches. Blitz lies at the other end of the spectrum with mind-dizzying time scrambles, intuitive sacrifices, scintillating tactics.
---
"I see in the near future a blitz institution that has a respected and established rating & ranking system. In tandem with social media and more footage, drawing many more youth and adults to the world of chess."
~Daniel X Jones
---
Of course, attempts have been made to popularize blitz. The legendary Grandmaster Walter Browne was one such proponent of blitz and set up the World Blitz Chess Association and had a magazine, Blitz Chess. IM Stephen Muhammad was one of the early supporters. It eventually floundered. IM Greg Shahade (founder of U.S. Chess League and now World Chess League) has gone on record to say that faster time controls are the future of chess.
Part of the initiative that Jones is pushing has resulted into blitz matches in both team and individual formats. Jones' is a member of the Chicago Chess Blitzers, a collection of Chicago-area blitz specialists who have begun taking challenges from other groups. There are also the toe-to-toe matches with lots of bravado. Jones defeated FM Jimmy Canty in a short match, but will have a stiff test in facing NM Jeff DeJesus on September 16th.
Team Captains Daniel X Jones (Chicago) NM Alex King (Memphis)
shake hands before the team blitz match. (story)
Photo by Nathan Kelly
For the last two months, Facebook has become a virtual playground with all types of challenges, dares and taunts between players and cities. The Chess Drum pressed Jones about all the trash talk in social media and he admits that much of it is to orchestrate interest and increase the profile of the movement. "Drama draws attention," he asserted.
There will certainly be drama next month as DeJesus will visit the Chicago Chess Club from Houston, Texas to engage in a 20-game blitz match. The two had an earlier online encounter at the Internet Chess Club with DeJesus winning by a huge margin. Prior to the official match on September 16th, Daniel next challenge will be in a team blitz match against the Cleveland Heavy Hitters next week on the campus of Case Western University.