Preview & Predictions for the 2018 Chess Olympiad
In a few days, the 43rd Chess Olympiad will open in the seaside city of Batumi in the Republic of Georgia. It is projected that approximately 180 nations with convene at the biennial event which will feature battles for team and individual medals as well as the election for FIDE President. The festivities will run from September 23rd – October 7th and culminating with the Closing Ceremonies and announcement of new leadership. It should be an exciting event.
Nations large and small will dot the playing hall with a spectrum of colors as they will compete for medals, but more importantly to hold the banner of their nation and represent with honor. One of the most beautiful features of an Olympiad is the camaraderie and lifelong friendship built. The cultural exchange is awe-inspiring as Batumi will soon become the shining star of the chess world.
The Olympiad Opening Ceremony will officially open the event tomorrow Sunday, September 23rd at 21:00 local time, with games starting Monday at 3:00pm Batumi with the following times in other regions: New York 7:00am, London 12:00pm, Mumbai 2:30pm, Beijing 7:00pm, Sydney 9:00pm.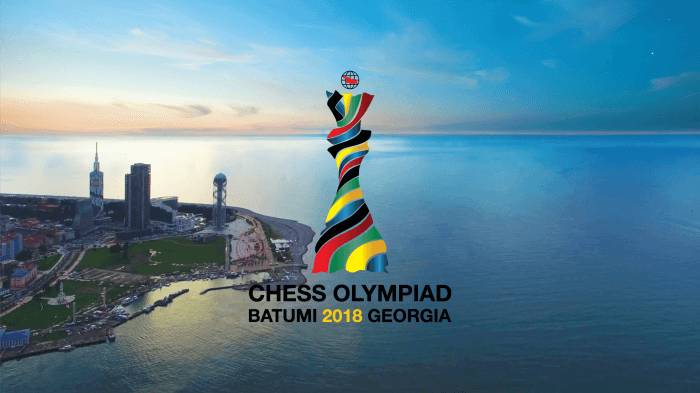 Official Site: https://batumi2018.fide.com/en
With the Americans returning to defend their crown and the Armenians will be ready after skipping the last Olympiad held in Baku, Azerbaijan. India will see a resurgence with Viswanthan Anand returning to action (since 2006) to lead a nation of 56 GMs and a handsome collection of talent. They hope to vie for a medal as they did in 2014 when the took bronze.
Azerbaijan will be gunning for a medal after winning the European Team Championship last year and after a disappointing 12th place as the host country in 2016. Speaking of additions, Georgia has added Ivan Cheparinov from a FIDE-sanctioned Bulgaria. The host country will be immeasurably stronger with a great theoretician in their camp.
Yesterday Bulgarian no. 2 Ivan Cheparinov became eligible to play for Georgia: https://t.co/Z7bD2OPlYk#c24live pic.twitter.com/v0BGcQCT1T

— chess24.com (@chess24com) July 18, 2018
So where does that leave us in terms of predictions? This is always a fun exercise, but in recent years, the task is not so easy. The leveling of the field and the diversity of players in the top 100 means there are a lot of winning combinations. The usual suspects are there, but will we see a new power emerge? Iran looks poised to make a leap with the new World Junior Champion lead a youth movement. Parham Maghsoodloo has just turned 18 last month and will lead Iran to battle.
Parham Maghsoodloo of Iran
Photo by Amruta Mokal
On the women's side, there are some additions such as Humpy Koneru which will strengthen India's solid side, but will be hard to match both Russia and host Georgia. While India gains their top board, China (defending champion) will lose theirs.
Hou Yifan will not make it to Batumi since she has already begun her graduate studies in England and seems to be withdrawing a bit from professional chess. However, they still have a World Champion on top board in Ju Wenjun. Russia looks strong with the improvement of Aleksandra Goryachkina who is now over 2500. The Ukraine will bring their usual sister tandem of Anna and Mariya Muzychuk to vie for medal contention.
France will get a boost from the return of GM Marie Sebag and IM Almira Skripchenko, a professional poker player. Strangely enough, the U.S. will not have the service of two-time reigning champion Nazi Paikidze who is a native Georgian. She will be at an event in Florida. It would lead one to believe that there are some complications with her home country. Nevertheless, the Americans will have GM Irina Krush and IM Anna Zatonskih along with the young Jennifer Yu playing in her first Olympiad.
Looking at the landscape of the Olympiad, many top players will not be present, but before we list them, it is important to note that both Magnus Carlsen will be preparing for the World Championship in December, but watching the games carefully for ideas. Here are the list of active heavyweights who will not be traveling with their national teams.
OPEN
GM Magnus Carlsen (Norway)
GM Alexander Grischuk (Russia)
GM Peter Svidler (Russia)
GM Leinier Dominguez (Cuba)
GM Wang Yue (China)
GM Lazaro Bruzon (Cuba)
GM Alexei Shirov (Latvia)
GM Nigel Short (England)
GM Jon Ludvig Hammer (Norway)
GM Veselin Topalov (Bulgaria)
GM Alexander Ipatov (Turkey)
GM Richard Rapport (Hungary)
GM Paco Vallejo (Spain)
GM Julio Granda-Zuniga (Peru)
GM Eugenio Torre (Philippines)
Bulgaria's suspension renders them ineligible, but the individual absences will certainly hurt teams' chances for success. Cuba's roster has been hit the hardest among eligible teams with Dominguez and Bruzon choosing not to suit up for Cuba. In fact, both players are frequently in the U.S. The Chess Drum interviewed Dominguez last year just after he migrated. Nigel Short will not be in the English team due to his participation in the upcoming election for FIDE President.
Russia will not lose much in their strength, but young players will be looking to make their marks. China will be incredibly tough to beat despite the solid Wang Yue not making the trip. As always, first-round upsets are inevitable so top federations should be especially careful in the first round when underrated teams will be looking to haul ELO points away by the dozens. The wonderful news is the two Latin American teams rounding out the top 20. Here are the top 20 teams and their top player (by rating).
2018 Chess Olympiad Tournament

September 23rd-October 7th, 2018 (Batumi, Georgia)

TEAM RANKING (Open)

#

Federation

Flag

Team ELO

Top Player

Rating

1
USA

2777
GM Fabiano Caruana
2827
2
Russia

2764
GM Vladimir Kramnik
2779
3
China

2756
GM Ding Liren
2804
4
Azerbaijan

2748
GM Shakhriyar Mamedyarov
2820
5
India

2724
GM Viswanthan Anand
2771
6
Ukraine

2698
GM Vassily Ivanchuk
2710
7
France

2688
GM Maxime Vachier-Lagrave
2780
8
Armenia

2688
GM Levon Aronian
2780
9
England

2688
GM Michael Adams
2712
10
Israel

2676
GM Boris Gelfand
2703
11
Poland

2673
GM Jan-Krzysztof Duda
2733
12
Hungary

2673
GM Peter Leko
2690
13
Netherlands

2671
GM Anish Giri
2780
14
Georgia

2637
GM Ivan Cheparinov
2715
15
Czech Republic

2633
GM David Navara
2740
16
Germany

2628
GM Liviu-Dieter Nisipeanu
2661
17
Belarus

2615
GM Vladislav Kovalev
2664
18
Croatia

2609
GM Ivan Saric
2689
19
Peru

2602
GM Emilio Cordova
2609
20
Argentina

2600
GM Sandro Mareco
2649
USA – Olympiad Champions returning to defend title
PREDICTIONS – Open Section
USA – GOLD
As the top seed and defending Olympiad champion, it would be difficult not to pick the U.S. as the favorite. This Olympiad will mark the first time the Russian Republic will not hold the top seed. The irony is that the last time they won the event was in Bled in 2002 when World Champion Garry Kasparov led them to gold.
Fabiano Caruana
Photo by Anastasia Kharlovich
With the same seasoned team returning with two more years of experience, a world championship contender in
Fabiano Caruana
and the emergence of
Sam Shankland
, anything less than a medal would be a huge disappointment.
In Shankland's case, he had a 64-game unbeaten streak and vaulted over 2700 for the first time in his career. Almost at the point of quitting chess in 2010, he had second thought, refocused and now has made it into the top 100. With Hikaru Nakamura and Wesley So holding the middle of the lineup, they both have style where they can play for wins if needed.
This is not the end of the good news for the U.S. They have a cadre of strong players waiting in the wings. Jeffrey Xiong (2651), Samuel Sevian (2634) and Awonder Liang (2575) are all seeing incremental improvements in their games. All are home-schooled and dedicated to the pursuit of chess excellence. Ray Robson, who recently graduated from Webster University, will hold down the reserve board. He knows if he is off-form, Xiong (who has national team experience) would be ready to take his place.
Video by CCSCSL
In the video "Path to Gold," there was mentioned the great team chemistry that existed in Baku. Championship Olympiad teams such as Armenia (2006, 2008, 2012) and the Ukraine (2004, 2010) seem to have that element. The U.S. hopes to keep the winning formula.
India – SILVER
This selection may be a longshot, but with Viswanathan Anand on top board and the emergence of Vidit Gujrathi (now over 2700), India has a very solid lineup. After many years of leading India in the Olympiad, Krishnan Sasikiran is now playing in a reserve role… rated 2671!
Pentala Harikrishna is on board two giving India their strongest team in history. In 2014, The Chess Drum interviewed Baskaran Adhiban and he mentioned that while he was pleased with the bronze medal, he felt that India has a ways to go. Maybe that time has come. Now with 56 GMs and prodigies such as Nihil Sarin and Rameshbabu Praggnanandhaa, the future is bright for India and Anand would be able to retire comfortably with Indian chess in good hands.
Viswanthan Anand at 2006 Olympiad in Turin, Italy
Photo by Daaim Shabazz
Azerbaijan – BRONZE
Winning the European Team Championship last year was Azerbaijan latest feat in a history of successes. They have won three European golds, a silver and bronze in the past 11 years. However, they have never won Olympic gold, nor have the placed in the top three! The highest was 5th place in 2014 in Tromso.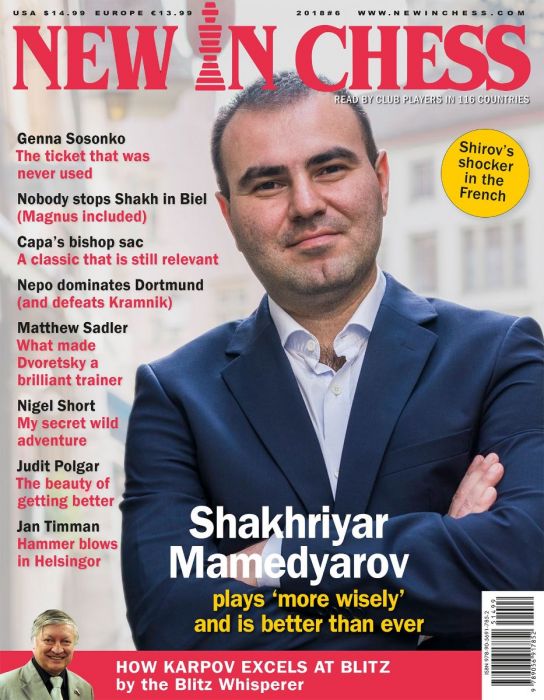 With the strength of their team and an absolute killer on top board, Azerbaijan are poised to make the medal stand. Shakhriyar Mamedyarov has become a solid 2800 player. Of course, Teimour Radjabov is a mainstay, but after starting a family, he is no longer sniffing the top ten and his last tournament was Shakmir in April.
It is a tribute to fallen teammmate, Vugar Gashimov. If there is a chink in the armor of the Azeri team, this would be it. Arkadij Naiditsch joined the Azeri team in 2016 and has made an immediate impact. He is the latest of European players who have joined already-strong federations. Without the pressure of being the host nation, the Azeri team will be focused and look to makes some waves in Batumi.
Not much change at the top of the women's competition. Since 1992, only seven federations have won medals at the Olympiad. Although China will be hard-pressed to defend their gold with the absence of their top player Hou Yifan. Ju Wenjun is more than capable of leading China, but with a strengthened Russia, it will be a tough task. Kateryna Lagno will not be with Russia, but Aleksandra Goryachkina will be expected to produce in a big way.
The Ukraine and Georgia are always tough and are regular medalists in these games. The question is whether India will get their first Olympiad medal with the return of Humpy Koneru. It's not clear whether she will have good form after such a period of inactivity. Dronavali Harika was on top board in Baku, but moving to board two reduces pressure and may result in rising star Padmini Rout to score big as a reserve. Rout won a gold medal on the reserve board in Tromso and is the reigning four-time Indian women's champion.

Padmini Rout becomes the Indian national champion once again! This is her fourth title in four years! What a champion! The next big thing in Indian women's chess after @HarikaDronavali and Humpy Koneru.

Photos: @amrutamokal pic.twitter.com/45BHpJh3bT

— ChessBase India (@ChessbaseIndia) December 7, 2017
There is a lot of parity in the women's circuit which makes predictions so challenging. It is very easy to stick with the heavy favorites, but teams like Kazakhstan (finished with bronze in 2014) can certainly make things very interesting. Zhansaya Abdumalik made a splash at the 2017 World Open in the U.S. with an impressive 7/9 and GM norm.
Despite the average team ratings being a bit higher than in Baku, several top players will not compete for their countries this year. The suspension of Bulgaria breaks the consecutive Olympiad streak (13) of former women's champion Antoaneta Stefanova. Nazi Paikidze, who has nixed past tournaments for sociopolitical reasons, is not going to her native country to represent the U.S. The untimely death of Georgia's Nino Khurtsidze on April 22nd, 2018 may give Georgia extra motivation.
WOMEN
GM Hou Yifan (China)
GM Antoaneta Stefanova (Bulgaria)
GM Pia Cramling (Sweden)
IM Nazi Paikidze (USA)
IM Nino Khurtsidze (Georgia)
« Remembering Nino Khurtsidze » Photos Harald Fietz https://t.co/xqURNiD535 pic.twitter.com/6g6KyO1eZ3

— Europe-Echecs (@EuropeEchecs) April 22, 2018
2018 Chess Olympiad Tournament

September 23rd-October 7th, 2018 (Batumi, Georgia)

TEAM RANKING (Women)

#

Federation

Flag

Team ELO

Top Player

Rating

1
Russia

2523
GM Alexandra Kosteniuk
2559
2
Ukraine

2486
GM Anna Muzychuk
2564
3
China

2485
GM Ju Wenjun
2566
4
Georgia

2484
GM Nana Dzagnidze
2519
5
India

2458
GM Humpy Koneru
2557
6
France

2418
GM Marie Sebag
2480
7
Poland

2406
GM Monika Socko
2454
8
Kazakhstan

2403
GM Dinara Saduakassova
2495
9
Germany

2397
IM Elisabeth Paehtz
2500
10
USA

2382
GM Irina Krush
2429

Team Rosters (Women)
Georgia – GOLD
It is almost spineless to pick the Georgian women to win the gold, but there are a number of reasons they will vie for the gold. One obvious issue is the fact that they don't have to travel a long distance and deal with jet lag and environmental issues. They will be well-rested and have at their disposal the immense support of the Georgian government and populace.
The legendary Maia Chiburdanidze (center) led Georgia to gold in 2008.
Photo by Daaim Shabazz.
In fact, Georgian chess' tradition is intact with the women winning a silver at the 2017 European Women's Championship behind Russia. They won gold at the 2015 World Team Championship in Chengdu in front of Russia and China. Their last Olympiad gold was in 2008 in Dresden when Maia Chiburdanidze (World Champion (1978-1991) led them to an emotional triumph.

Nino Batsiashvili got 9/10 in Baku for a silver medal on 4th board.
Photo by David LLada
Nana Dzagnidze has been the top player for years and was a member of the Georgian team that won the gold medal in 2008. While she was not a member of the team that won the 2015 World Team title in Chengdu, she helped the team to silver in the 2017 European Team in Greece.
For the past eight years, the team appears to be an iteration of the same 5-7 players. Besides Dzagnidze, Bela Khotenashvili, Lela Javakhishvili, Meri Arabidze, Nino Batsiashvili and Salome Melia have been the bedrock for the Georgian side. There seems to be tremendous chemistry which is a key factor in medal contention.
Arabidze is returning to replace Melia who was not in form at the Baku Olympiad. The team lost a devastating match to the Philippines in round three. With the matriarch of all Georgian chess, Nona Gaprindashvili (World Champion 1962-1978) and Chiburdanidze will be on hand to provide support.
Ukraine – SILVER
The Ukraine is always in the thick of things when it comes to medals in team competitions. Despite losing Kateryna Lagno to Russia, the Ukraine continues to hold themselves to a high standard. Losing only to eventual champion China, they scored the bronze medal in Baku.
Last year, they bagged another bronze in the European Team Championship in Hersonissos, Greece. Unfortunately, they lost to both Russia (gold) and Georgia (silver). They failed to place at the 2017 World Team in Khanty-Mansiysk, but their chemistry from top to bottom will certainly help.
Mariya Muzychuk and sister Anna Muzychuk. The strongest pair of sisters since the retirement of the Nadezhda Kosintseva and Tatiana Kosintseva of Russia.
The Ukraine won the title in 2006 and silver in 2008 before the inclusion of the Muzychuk sisters. Anna was recruited, sponsored by and played for Slovenia for ten years while Mariya was making a move up the ranks. Since then they have won bronze medals in Istanbul (2012), Tromso (2014) and Baku (2016).
As usual, they will be in contention until the end and may have a better chance with a weakened China. Iulija Osmak will replace Inna Gaponenko and was with the bronze team at the 2017 European Championship. The experienced Natalia Zhukova will be in a reserve role for the first time since beginning her Olympiad career in 1996.
India – BRONZE
Why India? Isn't Humpy out of form? It is unclear, but the camaraderie among this team is something special. They are selfless and with Koneru Humpy on board one and Dronavali Harika on board two, they will have their chances. It will be interesting to see Humpy fares in her first Olympiad since 2006. Dronavali seems totally committed to chess and will certainly have a positive energy after her recent marriage.
GM Koneru Humpy
Photo by Frederic Friedel (ChessBase)
The key may be Padmini Rout who is the defending four-time champion. She had a poor showing in Baku on board two (4½/10) after winning gold in 2014, but now the pressure is off as a reserve. This team has been together for a few years now. The highest standing was 4th in 2012 and 5th in 2016. In addition, Tania Sachdev and Eesha Karavade have vast experience in team competitions.
Other intangible reasons is the presence of Viswanathan Anand playing at the Olympiad. It gives the national teams a chance to learn from him. In the past, Anand had complained about Olympiad because you have to put so much on the line as a professional player. The fact that both of the Indian legends are playing on the respective teams will provide quite a bit to cheer for in a nation of 1.3 billion. Of course Sagar Shah and ChessBase India will be providing them with encouragement.

All set for Olympiad ????#BatumiChess2018 #TeamIndia ???????????????? pic.twitter.com/B3i0SzaHoX

— Harika Dronavalli (@HarikaDronavali) September 21, 2018
Summary
Of course one would be foolish to discount Russia in any team competition, but it appears as if the men are still searching for that leader to take them back to golden glory. Thus far Vladimir Kramnik has not been enough. That being said, they have added new pieces to improve the chemistry. For other contenders such as the Ukraine and Armenia, they are also very experienced and solid.
Israel is also very solid with Boris Gelfand at the helm. Apart from the veterans, there are some risers such as Iran with their team of young GMs. They will be hungry and may stand to get some huge upsets on the way. Poland's Jan-Krzysztof Duda, the 20-year old phenom on top board, scored 8½/11 in 2014 and will be looking for make an impact in his third Olympiad. It will be his debut as the top board.

Can Aleksandra Goryachkina help
Russia to the medal platform?
Photo by https://www.allsportspk.com/
For the women, China may find Hou Yifan's absence to be a bit much to overcome. However, they have tremendous fighting spirit and it would not be out of the question to medal… even gold. There should also be some attention paid to France who will have their top two players.
As far as Russia, they have four players who have been on multiple medal teams, so they know how to get it done. They will be looking to avenge their last round lost to China in 2016 which determined the gold. As a newly-minted Grandmaster, Goryachkina will be an X-factor due to her rapid improvement. She has nerves of steel and will be looking to score on board two and perhaps board one.
There are upsets brewing and teams like Vietnam, Mongolia and Cuba have proven they can bite. Predictions are for fun mostly, but what can't be debated is that the Olympiad in Batumi will be an exciting tournament!
Video by Batumi Olympiad Committee
Official Site: https://batumi2018.fide.com/
Predictions: 2004, 2006, 2008, 2010, 2012, 2014, 2016