Ju Wenjun wins Women's Championship!
Ju Wenjun, the long-standing salutatorian of Chinese women players won the world championship 5.5-4.5 on yesterday. Drawing the tenth game, she held off Tan Zhongyi who was the reigning champion. Ju makes the sixth Chinese player to win the title after Xie Jun, Zhu Chen, Xu Yuhua, Hou Yifan and Tan Zhonyi.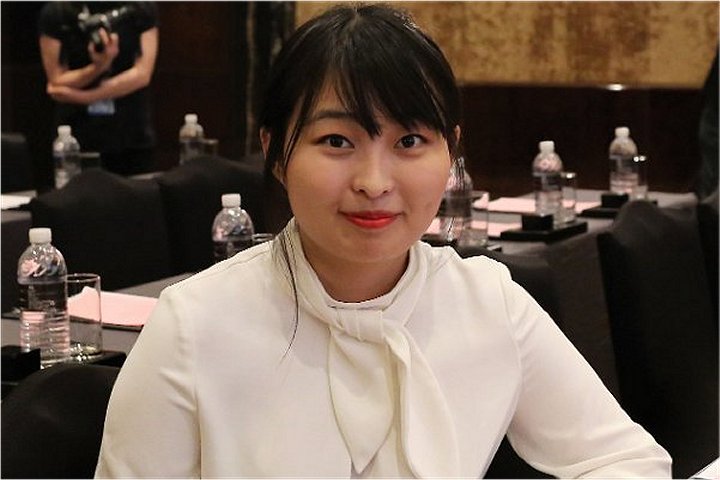 Ju Wenjun, 2018 Women's World Champion
Photo by Gu Xiaobang
The strong run by China is also accented by their dominance in team competitions. They are the defending gold medalists and in the last 14 Olympiads have won 13 medals (5 gold, 4 silver, 4 bronze). Ju has put up a number of strong performances winning the FIDE Grand Prix to qualify as the challenger. Hou Yifan, world's highest-rated woman, has nixed the women's cycle due to her dislike of the intervening knockout format. This is still a raging discussion.
Going into the match Ju was an odds-on favorite as the #2 player on the women's list and a fixture near the top of women's chess. On the other hand, Tan held an unremarkable and fairly inactive reign after upsetting Anna Muzychuk in the Women World Championship (knockout) last year in Tehran, Iran. That tournament was highlighted by political rumblings of "hijabgate" where a few high-profile players boycotted the event.
Tan Zhongyi at Opening Ceremonies
Photo by Gu Xiaobing
The surprise of the tournament was the performance of Tan who used a mixture of steadiness and tenacity to defeat many powerful opponents including Anna Ushenina (UKR), Padmini Rout (IND), Ju Wenjun (CHN) and Harika Dronavali (IND). Certainly not an easy road. However, Tan was relatively inactive as a world champion and had few publicity appearances promoting the crown. Most of her appearances had been in the Chinese League, but she competed in a few overseas events.
This match was not given much coverage and there was not much discussion on it in the chess mainstream. The fact that not many journalists were in China limited the onsite exposure that would provide a deeper perspective of the player's feelings and emotions.
The main coverage was done by Chinese journalists and the live commentary done in Mandarin, but ChessBase and Chess24 filed daily reports. GM Ian Rogers and wife Cathy Rogers were in from Australia to provide English coverage. He wrote an interesting account of the "invisible" nature of the match and the neglect by FIDE.
1st half of the Match (Shanghai, China)
The match was split between two cities: Shanghai and Chongqing, the hometowns of Ju Wenjun and Tan Zhongyi, respectively. The first six games showed the champion on shaky ground in the first few games going down two points early.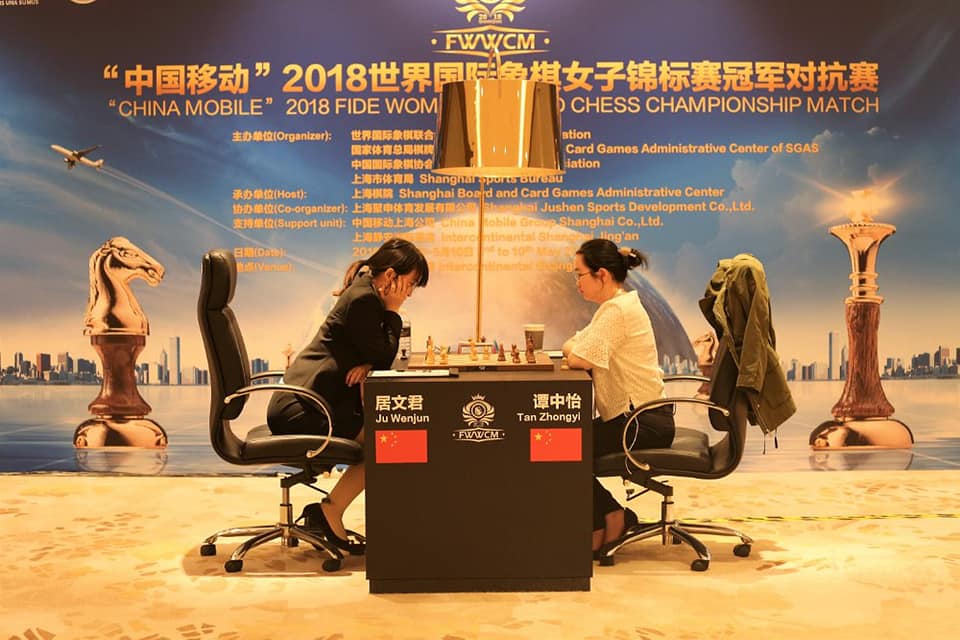 Ju Wenjun on the prowl going up two games.
Photo by Gu Xiaobing
The first game started off when Ju unfurled 1.d4 d5 2.c4 dxc4 3.e4!? This is obviously a common move, but it is not as popular as the mainlines beginning with 3.Nf3. The game built up into a tense struggle and after 24…Bh2+ 25.Kg2 Qxf3+ 26.Kxf3 Bxe4+ 27.Rxe4 and major pieces came off. White's pawns were a bit weak, but she enjoyed a passed d-pawn. Complicating matters was Ju falling precariously behind on time.
Tan decided to create complications and got a passed pawn of her own, and after the last pair of rooks came off. According to Rogers, there were some tense moments and black had to play some precise moves in the end, but the knight vs. bishop ending was drawn.
In the next two games, Tan got a bit careless and ended up dropping both games. In the second game, she was surprised by Ju's opening and seemed a bit uncomfortable. In the unbalanced position, black went for a kingside initiative. Tan defended well, but perhaps underestimated the venom. Black had created with her connected passed pawns. By the time Tan scrambled to stop the black pawns, she was left with a few tricks, but Ju was alert and the pawns would go through.
Weird press conference after Ju Wenjun's win over Tan Zhongyi in the second game of the Women's World Chess Championship in Shanghai. Ju looked seriously depressed at having beaten her friend, while Tan was able to smile and even laugh. Game 3 on May 6, Ju leading 1.5-0.5.

— Ian Rogers (@GMIanRogers) May 4, 2018
In game three, they tried a Catalan, but Tan tried to mix things up with 14…g5? and after 15.Qh5 her position was in shambles. With her king imprisoned on e8, she tried surviving, but there were too many holes in the position. The game ended with a nice tactic 27.Qd4+! This had to have been a crushing blow.
In game four, Tan's 29.h4! was
a battering ram
If you look at +2 score in a short match, it can put the create a false sense of comfort. It is not clear that Ju relaxed, but Tan came roaring back in game four. She essayed a Trompowsky Attack and showed her willingness to vary her opening, unlike Ju (who played 1.d4 every game). It appears that Tan was fond of pushing her g-pawns in this match and in this game got a strong attack with 21.g4!? It seems a bit crude as she shuffled her pieces around to aim them at the black king. Then she hit again with 29.h4! bulldozing the cover of black pawns. Ju seemed to panic, her position collapsed quickly and she ended up getting mated.
In the last game before moving to the next venue, Tan surprised Ju with the Bishop's Opening. This may have been done to avoid the dreaded Petroff Defense. The experiment did not bear any fruit as black equalized easily. Tan played an exotic 10.Na3, but the piece became offside. With full command of the center, Ju developed a nice attacking position with raking bishop on b8 and c8 and a closed center. This seemed to be an attack made to order.
Tan sacrificed a pawn for the two bishops, but black's position was fluid and the attack stormed ahead. After 30…Qh5 31.c4 Ne5! black's attack was too strong. In a few moves, it would now be Tan who would be mated. Ju regained her two-point lead which presents a stiff challenge for Tan.
She would be going to her hometown. However, it's not clear whether playing in one hometown is favorable or not given what happened to Viswanthan Anand against Magnus Carlsen.
2nd half of the Match (Chongqing, China)
Almost on cue, Tan roared back with a win. The good thing is that there are four games in which to make up one point. In game six, she need every ounce of energy as the game lasted 121 moves.
Queen endings are tremendously difficult to play as calculative powers are important. On move 41, it was R+Q vs. R+Q. Tan was nursing a pawn advantage, but the most important issue was white's weak king. While the black king was safely ensconced on h7, the white king was scurrying about trying to sidestep checks and attacks on many entry points. Finally Tan decided that her best chance would be in a queen ending with the eventual help of her monarch.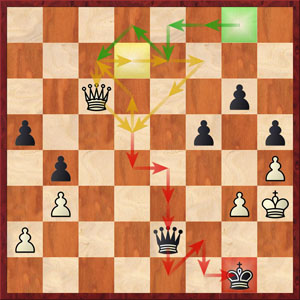 The king's "Long March" from g8 to g1!
Follow the green trail, then yellow trail,
then the red.
The king took a very cautious march up the board while the white queen was giving chasing. Finally the black king got onto the e3-square and then f1! It was a Nigel Short-type attack with the king and white could do little to prevent threats of cross checks and simplification to an easy win for Tan. There were more checks, but the end came when the black king landed on g1. Was this symbolic of Mao Tse-Tung's "Long March"? It seemed so. It was an example of patience and of fortune!
After a quick draws in game seven and eight, Tan almost lost the match on the spot in game eight, but had to fight to get a theoretical draw in a rook ending. She had been struggling to get any tangible advantages in the opening and clearly took too many risks to win. In a critical moment, 45.e4! would be enough for a draw as Tan had reserved some trickery for secure the draw. On 45…f4 black would have 46.Re6+ when 46…Kxe6 would a stalemate. Otherwise black cannot escape infinite checks producing a "super rook." Tan would live to see another day, but time had run short.
Tan would have to come up with something in the last game.
The "hippopotamus" is a very flexible opening that relies on counterattack.
Photo by Burrard Lucas
In the last game, Tan ended up playing …g5 again. She opted for a Modern/Pirc after tricking Ju to play an 1.e4 opening. This may have been a good strategy since Ju may not have been too comfortable with the structures. Tan played a type of "hippopotamus" (with a5 instead of a6) which goads white forward to overextend her position. Ju played solidly when Tan lashed out with 19…g5!? It was now or never. Unfortunately, this ploy fell flat as the black kingside was irreparably damaged and Ju implicitly offered a draw.
Despite her worse position, Tan tried to drum up complications, but Ju played it safely and simplified into a dead equal position. There was nothing left. Tan agreed to a draw and congratulated her friend. Ju Wenjun becomes the 6th Chinese world champion winning 5.5-4.5.
Congratulations to the new Women's World Champion Ju Wenjun! She won the match 5.5:4.5 after settling for a draw from a position of total dominance in the final game: https://t.co/TFypvAKeDT #c24live pic.twitter.com/MSsaC9uRhE

— chess24.com (@chess24com) May 18, 2018
Congratulations to Ju Wenjun (2569.0) the new World Women's Chess Champion! You can find more photos from the closing ceremony here https://t.co/KnSTedftzi pic.twitter.com/DvXYfuIeMm

— 2700chess (@2700chess) May 20, 2018
Unfortunately, the match received little coverage or discussion. The reasons were stated earlier, but the question of the championship cycle may resurface since Ju will have to defend her crown only months from now (after the Chess Olympiad). In addition, there were issues with raising funds so the match had to be postponed. Ultimately, the prize fund of the match was a relatively paltry €200,000 ($239,210) with 60 percent going to the winner and 40 percent to the loser.
ALL GAMES