Predictions for 2010 Chess Olympiad
In two years, so much has changed in the chess world. New players have emerged and the playing field is slowly leveling with a number of strengthened federations. In Khanty Mansiysk, the Siberia region of Russia, players from around the world will vie for glory at the 39th Chess Olympiad. A projected 160 nations will join the marquee chess festival defend their flags and engage in a celebration of chess.
Both Armenia and Georgia will defend their respective titles, but there will be other nations looking for the gold. Russia will field three strong teams which can work both in their favor and to their detriment if they have to face each other. China and the U.S.A. appear strong while Azerbaijan will be weakened by the loss of Vugar Gashimov. India will play without World Champion Viswanathan Anand and Germany's top players have decided to quit the team, but most of the other top brass will be present.
This year The Chess Drum will present the prediction for the top five and regional picks. Below are the predictions:
1. GOLD – RUSSIA (A)

Ukrainian emigre Sergey Karjakin could be the X-factor for the Russians.
Photo by Galina Popova courtesy of FIDE. Gallery link, ugra-chess.ru.
For the first time in four Olympiad tournaments, Russia will have their best chance to win gold. Their last gold was in 2002 at Bled when Garry Kasparov was on the top board. They won a silver in 2004, but since then, has been shut out of medals in 2006 and 2008. The reason for this year's top pick is not their stratospheric average rating. They have always had powerful lineups, but this year they have stability. The addition of Sergey Karjakin will certainly help them as well as having the super-solid Vladimir Malakhov as the reserve. Karjakin is a good team player having put up big numbers for the Ukraine in their 2004 gold medal run (6.5/7). Whereas Alexander Morozevich and Sergei Rublevsky proved to be unstable, this year's Russian team will not suffer lapses as in the past. The only question is finding out which form Peter Svidler will have. He only scored 50% in Dresden and can have an occasional letdown.
2. SILVER – USA

GM Hikaru Nakamura will lead the American side.
Photo by John Nunn.
This team has won two bronze medals in the last two Olympiad and have the same core of players leading the team. Hikaru Nakamura, Gata Kamsky and Alexander Onischuk represent a 2700-level tripartite to contend for the gold. Yury Shulman played on the 2008 bronze medal team and new comer Robert Hess will make his Olympiad debut. The USA benefits from incredible balance on the top three (all had 6.5/10 in 2008), but may have an Achilles Heel at the bottom boards. Shulman can have an occasional letdown and Hess has only two caps in international team play, but that being part of a silver-medal team at the 2009 World Teams. This will also be Nakamura Olympiad debut on the top board, so the pressure will be on. However, he did win a gold medal on top board at the World Teams with a strong 6/8. John Donaldson will have a tough decision when it comes to taking draws in the top board, a practice which Nakamura despises.
3. BRONZE – CHINA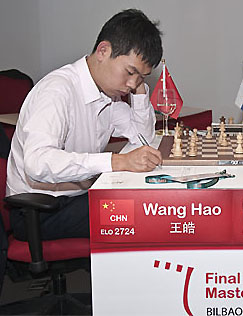 GM Wang Hao (China)
Photo by David Llada.
China won the silver medal back in 2006 and since then, this team has matured and has some new talent to rise.
Wang Hao
was on the 2008 team, but has since vaulted into the 2700 class.
Wang's daring and exciting play could bring fortune to China, but perhaps Bu Xiangzhi may be better on board #2 behind Wang Yue. With the addition of Zhou Jianchao and the talented Li Chao, this team will surprise and could conceivably win the gold. Former 2700-player Ni Hua has fallen from grace and will not make the trip.
Wang Yue will be solid on board one and has proven that he can play at the elite level. Bu has a lot of experience and can also play top board to rest Wang Yue. Wang Hao may be the biggest question mark. His sharp style is good in tournaments, but may be a bit risky for team play. However, if he plays board #3, he will look to pile up points.
Other Teams
4. Ukraine – If not for the loss of Karjakin, the 2004 Olympiad champions would be vying for gold. Pavel Eljanov has come onto his own and is now among the top players. The Ukraine has three 2700-level players and will stay close in matches with top teams. Ruslan Ponomariov has been in good form lately. Vassily Ivanchuk has rebounded from his usual fluctuations. Which form will he bring to Olympiad? Zahar Efimenko and Alexander Moiseenko round out a solid team that will vie for a medal.
5. Armenia – Two-time defending Olympiad will sorely miss Tigran Petrosian and will have GMs Arman Pashikian and Avetik Grigoryan on the bottom boards. The question is whether Gabrielle Sargissian can continue his gargantuan Olympiad performances on board #3. Levon Aronian will ensure a valiant fight to defend the crown.
TEAM TO WATCH: Vietnam – Led by sensation Le Quang Liem, Vietnam returns from a #7 showing in 2008 and will look to improve on that. While Le has not been at the elite level for long, he has shown that he we compete with the world elite and finished joint first in the Moscow Open recently. Ngoc Truongson Nguyen (pronounced wen) burst onto the scene as one of the world's youngest Grandmasters a few years back. Now at 20, he has become a permanent fixture in the 2600-class of players.
Regional Predictions
Top African Teams – (1) Egypt (2) South Africa (3) Algeria
Top Asian Teams – (1) China (2) Vietnam (3) India
Top Caribbean Teams – (1) Cuba (2) Dominican Republic (3) Barbados
Top European Teams – (1) Russia (2) Armenia (3) Ukraine
Top North American Teams – (1) U.S.A. (2) Canada (3) Mexico
Top Latin American Teams – (1) Brazil (2) Argentina (3) Venezuela
Top Middle Eastern Teams – (1) Israel (2) Iran (3) Turkey
Predictions: 2004, 2006, 2008, 2010
* * *
Here are the choices for the women's competition:
1. GOLD – CHINA


GM Hou Yifan (China)
Photo by Ilya Akhobekov.
After dominating Olympiad play with medals in nine consecutive tournaments (four gold, one silver, four bronze), China had a setback in 2008 coming in 8th place. Having the lead for most of the tournament, they faltered and lost a crucial match to Georgia who went on to take the gold.
Zhao Xue had a bad stretch losing two games in crucial rounds. Zhao will need to turn in one of her trademark dominating Olympiad performances. She scored 11/12 in 2002, 10/12 in 2004, 10/13 in 2006 before faltering with 6.5/11 in 2008. Her performance will be the key on board #2.
Hou Yifan has gained a lot more experience and has become a GM since the last Olympiad. She is a legitimate 2600-player and will only get stronger. However, the brightest spot on the Chinese side may be national women's champion Ju Wenjun. The 19-year old has vaulted over 2500 ELO and should provide a powerful presence. The experienced Huang Qian and Wang Yu will round out the team.
2. SILVER – RUSSIA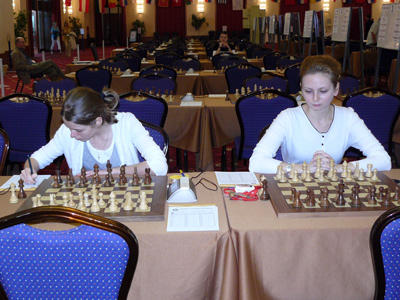 Tatiana Kosintseva and sister Nadezhda at 2009 World Team Championships.
This is a very powerful team. It is hard not to pick Russia not to win a medal and this year they have a chance to win it all. Having won the 2009 World Team silver medal behind China, they will have the Kosinteva sisters (Tatiana and Nadezhda) and women's champion Alexandra Kosteniuk. Returning is Valentina Guinina who turned in a gold medal performance in the World Team with 6.5/8 on reserve board. Kosteniuk has had uninspired performances on the top board so if they place her on board #2 or #3, it may produce a good result. However, they probably will have her on #1 since she is the reigning world champion.
3. BRONZE – UKRAINE

This team is brimming with talent and took home the silver medal in 2008 without losing a match. Led by Kateryna Lahno, they will carry practically the same team, but will add 18-year old Mariya Muzychuk. She is the younger sister of Anna Muzychuk (now a citizen of Slovenia and the team's top board). Perhaps this will add the spark needed to vie for one of the top three positions. The Ukraine took the bronze in the 2009 World Team behind China and Russia. Lahno will be coming off of an impressive win at the Women's World Blitz Championship where she scored 20/30!
Other Teams
4. Georgia – The defending gold medalists came off of an inspired performance by the legendary Maia Chiburdanidze. Her 7.5/9 won her an individual gold medal on board #1 and a standing ovation at the closing ceremonies from the other teams. Chiburdanidze has not played as consistently as in the past and may be looking to pass the mantle onto the younger players. GM Nana Dzagnidze, the second leading scorer in 2008 (7/10), may be that player.
5. USA – USA – This team will be looking to improve on its silver medal in 2004 and a bronze in 2008. The team will also be looking to avenge its horrible showing at the 2009 World Team where they finished a miserable 8th out of ten teams. Anna Zatonshik had a horrible showing on -3, but she appears to have regained some form. USA champion Irina Krush will provide punch on board #1. Sabrina-Francesca Foisor will join the team after having relocated from Romania. Camile Baginskate adds veteran stability.
* * *
Thanks to Wojciech Bartelski's OlimpBase for Olympiad history archive!