Chicago southside chess… back in business!
Chess in Chicago has a long and venerable history. Chess on the southside of Chicago has a spotted history, but with no less pride. Over the years, players on the southside have played in burger joints, parks and coffee shops, but with the vision of 10 players, persistence has led to a permanent home.
Roger Hickman, a 1972 graduate of CVS and known as the "Godfather" proclaimed that chess on the south side of Chicago is "back in business." The group found a location on the south side and dubbed it simply, "Chicago Chess Club" (CCC). The buzz has been "off the charts" as visitors are slowly finding their way to the new spot.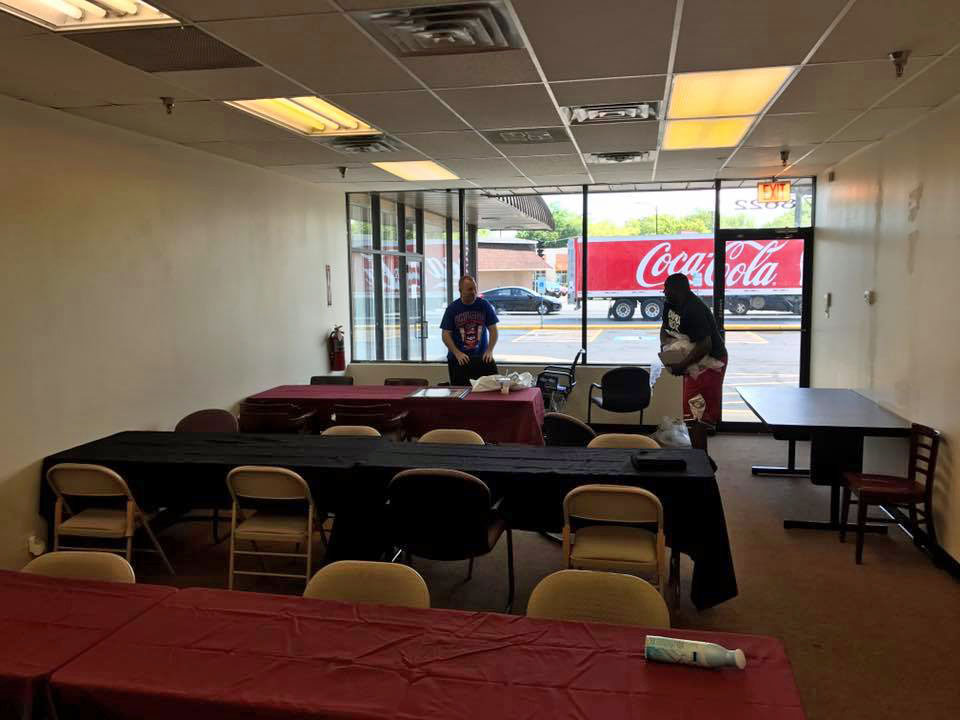 This is the beginning!
Unlike the McDonald's location, the CCC is tailor-made for chess with tables and ample space. It is ideal for tournaments and accessible by public transportation and Midway Airport is about 15 minutes away. The Chicago Chess Blitzers and subgroup that make up the heart and soul of the founding members, has entertained many guests at the fast food joint, but hopes to take the momentum to the new club. IM Dejan Maksimovic has been a regular adding a dose of humor and bravado to the atmosphere. Other notables like FM Jimmy Canty and IM Atulya Shetty hope to come by the new location.
The first game ever at Chicago Chess Club! Who won?
Sedrick "Big Pawn" Prude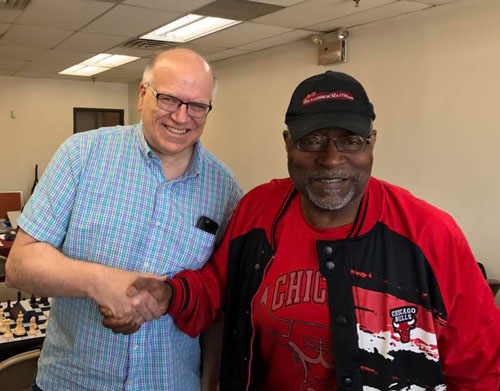 Chicago Chess Center's Bill Brock and Chicago Chess Club's Roger Hickman
Before the Canty-Jones match, Hickman proudly announced that "chess is alive on the southside of Chicago." After weeks of planning and setting the legal foundation, the Chicago Chess Club was opened on July 1st. The club drew a variety of members from different parts of the chess community. There was music, foods and of course raucous blitz banter. Besides chess battles, the CCC will offer private and group lessons, lectures, exhibition and a variety of tournament formats. GM Boris Avrukh is scheduled to make an appearance on July 22nd for a lecture and simultaneous exhibition. A blitz tournament will follow. Look for the flyer soon!
Make your way to…
Chicago Chess Club
8622 S. Pulaski
Chicago, Illinois 60618
www.chicagochessclub.org
12pm-12am daily
Direct Link: https://fb.watch/boE0BTQdEm/
Thanks to the principal founders Tim Donnahue, Edwin Walker, Nathan Kelly, Sedrick Prude, Johnny Strapp, Louie Green, Stephen Jennings, Roger Hickman, Chet Parks, and Willie Granderson!