Chicago blitzes Memphis in chess battle, 130-70
The battle brewing over the past couple of weeks spilled out onto the board in at the opulent St. Louis Chess Club last weekend when 10-player teams from Chicago and Memphis met for a all-play-all battle. After the momentum built by the epic Daniel X Jones vs. FM Jimmy Canty match, the chatter is social media was at a frenzied pitch as players were making challenges, counter-challenges and even offers of bets.
The Memphis Chess Club had secured a date with the Chicago Chess Blitzers for June 24th in St. Louis. Both teams would drive four hours (Memphis north and Chicago south) to play in the premier chess venue of the U.S. It is a place where some of the best in the world have played. Now all the chatter would stop and the attention would be on the match. Beforehand there were a number of promotional videos.
With the genius of Johnny Strapp's promotional videos, everyone was hyped to see what was going to happen. Social media was going wild, and more bids were being put in for the next match. All roads led to the first-class Chess Club and Scholastic Center of St. Louis, and it would be the first time most of them had visited. It would be an exciting time for all.
Many gushed about the environment and Nathan Kelly was maniacally posting Facebook updates. The teams arrived and walked upstairs to the venue, and they were ready to start. The match was a 10-player event with each player playing two games (white and black) against every player on the other team.
Team Captains Daniel X Jones (Chicago) NM Alex King (Memphis)
shake hands before the match
LET'S GET IT ON!!
Memphis: Dwight Weaver (hidden), Chuck Wenzler, Shimera Paxton, Clay Polk, Jonathan Beatty, Devon Puckett, Alex King, Carlos Sims, Stephan Dolz, Peter Pritchett
Chicago: Kela Kaulule, Daniel X Jones, Sedrick Prude, Tom Murphy, Tim Donahue, Stephen Jennings, George David, John Porter, Malik Brewley, Johnny Strapp
It's on!
Photos by Nathan Kelly
The games were hotly contested with top=seeded Alex King of Memphis (2393) battling Chicago's top brass. Unfortunately for King, he had a problem with the clock. He hung a rook against Jones in a winning position, and then flagged while still in the throes of the middlegame…
Then against Murphy he was felled by a similar fate after falling 2:30 minutes behind…
Here King shows some technique against John Porter…
King scored a mere 1/2-point from Jones and Murphy, but steamrolled the rest of the Chicago roster giving up only another 1/2 point to Tim Donahue. He led Memphis with 16/20. Meanwhile, Chicago's Jones (19/20), Thomas Murphy (19/20), Kela Kaululu (17/20) and Donahue (17/20) led Chicago over the Memphis squad who were outrated by nearly 200 rating points.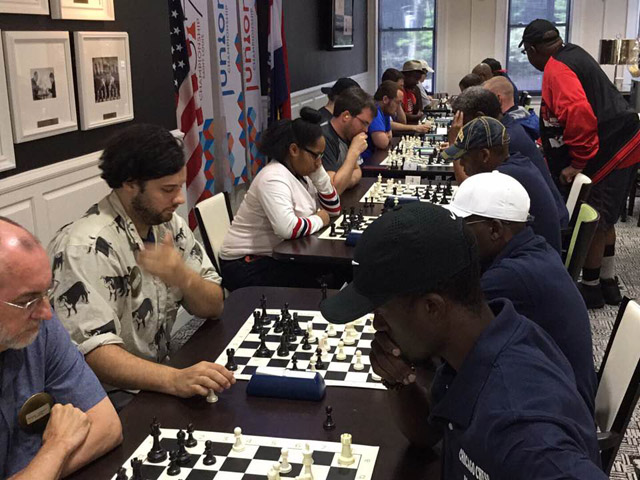 The battle was contentious and perhaps the lopsided score was not indicative of the competitive spirit that Memphis brought to the match. Chicago's Roger Hickman watches the action. Photo by Nathan Kelly.
There was a lot of attention given to the only woman in the tournament, Shimera Paxton. She scored 5.5/20 but held Jones to draws in both of their encounters. Quite a feat since it was the only points Chicago's captain gave up. Paxton was a part of the Douglass Elementary chess program that competed in Nationals. A few years ago, The Chess Drum met Dr. Jeff Bulington who was running the Douglass program that included Paxton and her brother Emmanuel Paxton. They were competing in a tournament at the St. Louis Chess Club.
(L-R): Kaiwan Harris, Ricky Smith, Shimera Paxton, Alehe Cole, Marley Fabijanic at the 2013 Thanksgiving Open at the St. Louis Chess Club. Photo by Daaim Shabazz.
Here is Shimera Paxton trying to break through against Tim Donahue…
There was another interesting sidenote when Memphis player Dwight Weaver and John Porter reunited at the board after 33 years. Porter had played Weaver in a Memphis tournament in 1984, but could not remember the details. Nathan Kelly stumbled across a newspaper article when gathering material for a promotion of the match. Here is what he found…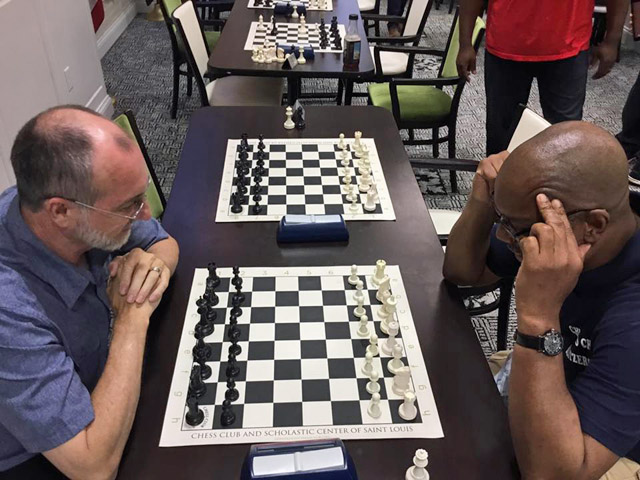 Weaver-Porter almost 33 years later!
Dwight Weaver and John Porter
Photos by Nathan Kelly.
Kelly posted the results round by round and the first round was 10.5-9.5 a rather close affair, but it was as close as Memphis would get. Here is the round-by-round tally:
Blitz Battle (Chicago vs. Memphis)

Chess Club and Scholastic Center of St. Louis
4657 Maryland Ave, St. Louis, MO 63108
Saturday, June 24, 2017


Results
#
Chicago
Memphis
Total
1
10.5
9.5
10.5-9.5
2
13.0
7.0
23.5-16.5
3
12.0
8.0
35.5-24.5
4
11.5
8.5
47.0-33.0
5
14.0
6.0
61.0-39.0
6
10.5
9.5
72.5-48.5
7
17.0
3.0
88.5-51.5
8
11.5
8.5
100.0-60.0
9
15.5
4.5
115.5-64.5
10
14.5
5.5
130.0-70.0

USCF Crosstable
It appeared that everyone had a good time at the venue and there was time enough for even more blitz battles outside the club. Perhaps friendships were made, but it is hopeful that such activities will spur more matches across the country in a similar way that the U.S. Chess League was so successful. The match gained a huge audience in a first-class club and the participants will cherish the memories for a long time.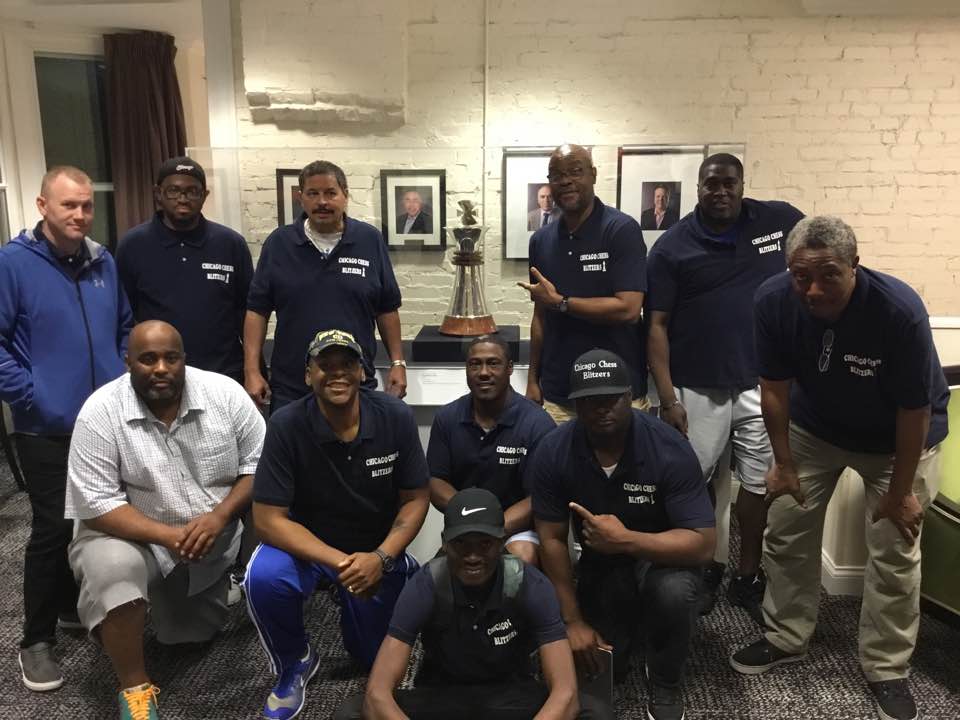 Winners!
Peter Pritchett (Memphis) and Tom Murphy (Chicago)
John Porter (Chicago) and Shimera Paxton (Memphis)
Job well done!
Photos by Nathan Kelly
Zambia's Kela Kaulule capturing memories
Photo courtesy of Kela Kaulule
After the tournament, the players milled about and played more chess. The area is quite electric on a Saturday evening and there are plenty of places to eat and hang out. However, what could be better than more blitz? GM Benjamin Finegold played every player from the winning team. Here is a thrilling game with Jones. Having fun!
Video by Nathan Kelly
Thanks to the Chess Club and Scholastic Center of St. Louis and its staff for hosting the team event and for Michael Kummer for directing the event. Also thanks to GM Ben Finegold for sparring battles and for all those who supported the Memphis and Chicago teams (Roger Hickman, Nathan Kelly, Edwin Walker, Louie Green, Louisville's Steven Faulkner). Lastly, thanks for prominently displaying Triple Exclam!
TRIPLE EXCLAM!!!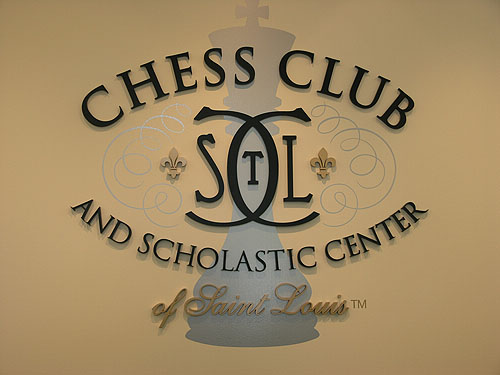 Chess Club & Scholastic Center of St. Louis
4657 Maryland Ave, St. Louis, MO 63108
https://saintlouischessclub.org/