Blitz Rivalry on Tap! Chicago vs. Cleveland
The chess community is still buzzing after the Chicago-Memphis match and a number of videos of blitz battles have circulated around social media. A lot of inter-city trash-talking and sharp-witted banter has been bounced around and the result is the second team blitz match featuring Cleveland and Chicago. There was even a scouting visit by Cleveland! More on that later.
Both cities are sports towns and have their share of legends in major sports history… Lou Boudreau. Ernie Banks. Jim Brown. Walter Payton. Michael Jordan. Lebron James. Now the rivalry spills onto the chess boards for an impending August 5th bout. Tichawona Tony Troy (Cleveland Heavy Hitters) and Louie Green (Chicago Chess Blitzers) discuss upcoming "Best of the Midwest" match coming up August 5th!
Video by Chicago Chess Club
(Nathan Kelly, Lou Green)
Two Midwestern working class cities have been known for their sports fervor over the years. After agonizing for decades from Michael Jordan's buzzer beater over Cleveland's Craig Ehlo in the 1989 NBA Playoffs, Cleveland and Lebron James broke a 50-year city championship drought in 2016 by winning the 2016 NBA championship against the Golden State Warriors. Last fall, Cleveland Indians and Chicago Cubs battled for the World Series crown with Chicago breaking a 108-year championship drought.
Michael Jordan celebrates winning shot over Cleveland's Craig Ehlo
in first round of 1989 NBA playoffs.
Photo by Ed Wagner Jr. (Chicago Tribune)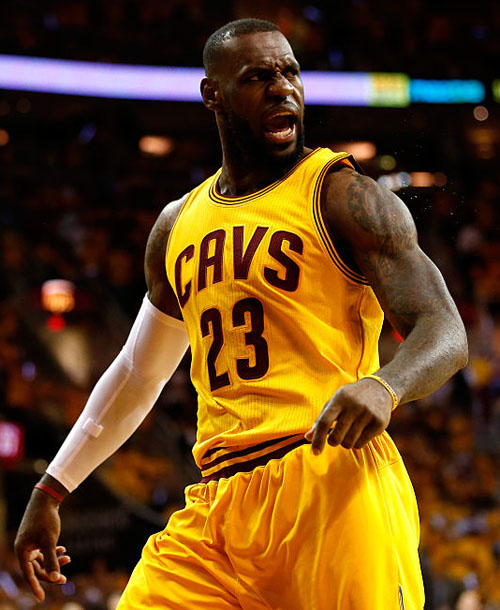 Lebron James made Cleveland a championship city again.
Photo Getty Images
The two cities have their pride and when they match up competitively, the gloves come off. The city of Cleveland will be looking to bring the heat to Chicago in a blitz match on August 5th. Coming off of a blistering win over Memphis, Chicago will travel to "The Land" to face off in a 15-board double round robin match on the campus of Case Western University. The stakes… pride and bragging rights. Tichawona Tony Troy crashed the Chicago Chess Club and some fierce trash-talking went down.
Video by Chess Chess Club
(Nathan Kelly, Lou Green)
So… Cleveland guarantees a "W" and Chicago vows to stay undefeated. Both can't be right. Who will it be? Cleveland or Chicago? Stay tuned for more details including lineups and player profiles.
"Best of the Midwest" match… Chicago vs. Cleveland
it's going down on August 5th!
Message from Cleveland Heavy Hitters…
The Chicago Chess Blitzers will take on The Cleveland Heavy Hitters Chess Team. There is a limit of 15 players for both teams. There is a $25 entry fee and all players must have current USCF membership ratings. Please bring heavy chess pieces with regulation chess sets. The match will be on the 3rd floor of Guilford- 11112 Bellflower Rd. (It's a yellow house). Friends and family are welcome to come and spectate. This event is to help encourage the game of chess and to promote positivity. We all need to help stop the violence in Cleveland and Chicago and chess is a way to bring people together and stop the violence.