2014 World Chess Championship begins tomorrow!
On November 7th, the World Chess Championship will commence in Sochi, Russia. It will be a "rematch" between both Magnus Carlsen and Viswanathan Anand. Last year, Carlsen defeated Anand in Chennai to take the crown and Anand won the Candidate's tournament to qualify. So it isn't a rematch in the traditional sense, but it will be billed as such. However, there are some obvious differences.
Magnus Carlsen, World Champion
There will be immense pressure on Carlsen since he has never had to defend and his play has been uneven lately. Anand, on the other hand, has played spectacularly this year erasing doubts that he is still at an elite level. Thus, this match will gain intrigue and all the excitement that a rematch would bring. Many are giving Carlsen the edge in this match, but of course there are some differences from the match in Chennai.
First, Anand will not have the task of defending a crown under so much pressure. In the first match, Anand stayed in his hometown only minutes from the venue. One would believe that this would be a convenience, but there was a type of hysteria never seen before in India. This must've had some effect as Anand appeared to be nervous at times and did not play in his usual confident way. He bungled a decisive advantage in game three and failed to hold seemingly routine endings. Some attributed stamina for his failings, but even in early stages he was playing tentatively.
Second, Carlsen is defending for the first time. Having won the title in convincing fashion, the champion is now in defense mode which requires quite a different mindset than a hungry tiger seeking to snatch his prey. He will have to put his stamp of authority on the match early or the pressure will mount. Anand has none of the pressure that he had of being the champion, so he can play a bit more relaxed. That all being said, Carlsen has proven that he can adapt his style and is still touted as the world's strongest player.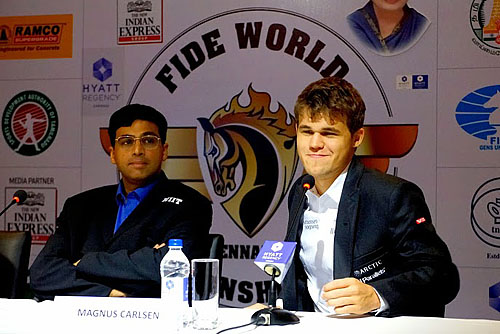 Carlsen escaped from the tiger's claw in game three. This may have been the key moment of the match. Photo by Paul Truong.
Thirdly, this past year has been one of less than stellar results for Carlsen. Yet Anand has played his best chess in the last decade. After being criticized for simply holding onto the title and not winning tournaments, Anand unexpectedly qualified by winning the strong Candidates' tournament and fared well in the Bilbao Masters Final tying with Levon Aronian on 4/6. In fact, Carlsen weighed in…
"I think what has set his two very successful tournaments apart from what he has done in the last few years is consistency. He has been playing a lot more consistent; very few blunders. His general level of chess is still extremely high, so when he doesn't blunder he does very well."
Viswanathan Anand, Challenger
Photo by Anastasia Karlovich.
Ever since Vladimir Kramnik was World Champion, there has been a tendency for the champion to save preparation during tournaments to maximize results in defending the crown. While there is no proof that Carlsen has done this, he has not had the domination that he had before becoming world champion. He is still a formidable player, but players such as Fabiano Caruana have risen quickly and are knocking at his ELO door. This may mean a smaller window for reigning champions. It makes Anand's feat of holding the title for six years (three successful defenses) all the more remarkable. Some are predicting that Carlsen will hold the title for 20 years. Of course, the first defense may reveal just how long he will be willing to fight.
What are pundits saying about this "rematch"? Most are picking Carlsen as an odds-on favorite, but if Anand can apply pressure quickly and force Carlsen to take risks, it could be a very interesting match. Since the 2014 Sinquefield Cup, Carlsen has been in training and told the media that he has been looking at examples from past champions… even the American great Reuben Fine. He also seemed to be in a very good mood and states that he understands these matches a bit better. Nevertheless, it will be an exciting match. It lasts until November 28th. Stay tuned for coverage from The Chess Drum!
Official: https://www.sochi2014.fide.com/
Drum Coverage: https://www.thechessdrum.net/
Photos: (Chessdom) https://photo.chessdom.com/index.php?cat=10043