The Chess Drum beats in Cuba!
Cuba is the largest Caribbean island boasting a rich history and some of the most passionate people on the planet. It is part of this passion that has produced the creativity and ingenuity in a land of modesty. Cuba is a place full of many stories. There is the political story which many Cubans avoid discussing.
However, there is the social story which is thrust forward in everything from music and dance to painting and sculpture. It is for this reason that many U.S. academics and researchers find themselves in Cuba. I have always been interested in visiting Cuba. It was my hope that I would observe the political, economic and social makeup of the island and by doing so, I could develop a more informed view. To be honest, I was also interested in the chess marvel that Cuba is.
There are such provisions that allow such travel under "general license" and travel restrictions have eased a bit in the past year. Cuba is often discussed in Global Business textbooks that I teach out of with a particular emphasis on the embargo. It is quite an interesting history to study.
The famous Malecon of Cuba.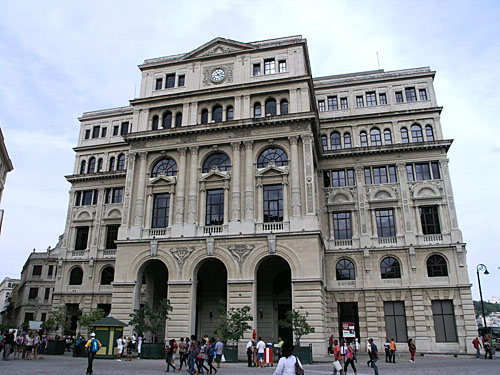 Commercial Bank in Old Havana… stunning Spanish architecture.
These antique cars are commonplace around Cuba.
Look at this beauty!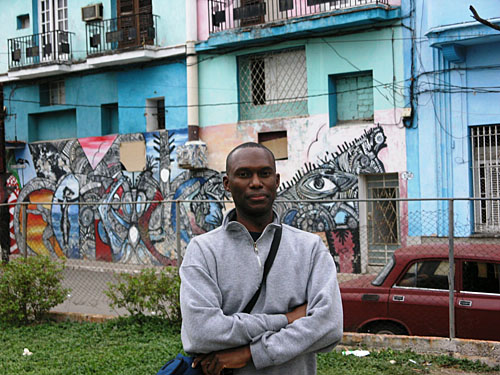 Me is the Hamel community, a tribute to Afro-Cuban art.
The Spanish architecture is also quite a marvel and many of the buildings are more than 100 years old. There are many statuesque buildings, but perhaps the greatest marvel are the antique automobiles, some of which are more than 50 years old. I spotted a couple of cars from the 1930s being used as taxis! Amazing. Amazing. The downside would be the poor air quality from the inefficient engines and the fact that a good percentage of Cubans smoke. Nevertheless, the famous Cohiba cigars remain a trademark of Cuba. However, Cuba is a relatively clean country as the streets are frequently hosed down.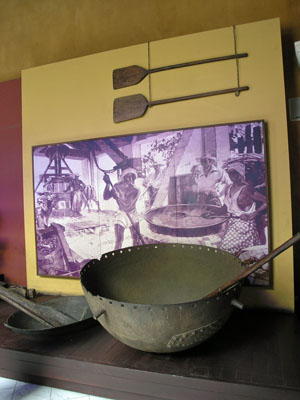 Slaves stirring the boiling sugar cane into the molasses to make rum.
I don't drink alcoholic beverages, but I went to the rum factory and the Havana Club and learned how rum is produced through such an intricate fermentation and distillation process. I have been to similar tours of candy, wine, coffee, tobacco and soda. To me it is all a lesson in supply chain management and lessons I can pass onto my students. While I did not visit a coffee plantation in Cuba, I did drink quite a few cups of its strong brand.
The rum tour was interesting but bittersweet for me. The rum industry was essentially built off the backs of slave labor. After the Taino Indians were exterminated, powerfully-built slaves from Angola and other parts of Africa carried the brunt of the sugar production and made Cuba into a sugar powerhouse supplying the U.S. market until the ill-fated embargo. That sugar then went to the Soviet Union. Today, I would imagine that the sugar also goes into other products such as the delicious Baracoa dark chocolate bars.
One of the greatest pleasures of life… chocolate!

Reputably-strong Cuban coffee. Not a coffee drinker, but I had a few cups.
Many people in the U.S. are given a very narrow view of Cuba for political reasons. I will not go into the long and contentious history as it is well-known. What is actually Cuba like? While it is difficult to give an exhaustive account without more immersive study, socially the people are friendly, hard-working, disciplined, passionate and optimistic. Most days I was able to blend in and observe.
Yes… many revolutionary slogans and pictures of the sort, but Che' Guevara is the dominant persona displayed.
When you look around Cuba, it appears to be a normal society not yet obsessed with cell phones and material possessions. Few people can afford these things, but many will explain the economic system with neither a hot nor cold attitude and seem to bear no animosity or jealousy toward the U.S. They are proud Cubans. Everything is relative.
Los Cheveres… the leader singer had a wonderful voice!

Me with Sol y Arena (Niuvys, Lisandra, Liliana) who performed at the Habana Libre Hotel. Lisandra is holding my autographed CD. Very talented trio!

Poinsettas in the someone's front yard.
Walking along the Malecon, I saw youth diving.
Looked like fun!
While the country has inherent beauty from the Caribbean Sea, beautiful architecture, tropical climate, there are the looming issues such as air pollution, broken sidewalks and buildings in disrepair. I rode buses while in Havana and they were sheer adventures to say the least.
Trying to get on a Havana bus is tough, but withstanding the fumes is another story.
If not a bus, then you'd take a taxi. Better.
Growing up in Chicago, I was used to rush hour traffic with overcrowded buses. If the bus was overcrowded, you simply waited for the next one. However, in Cuba people did not relent if the bus was full and tried boarding for ten minutes. In addition, the door would not close, but the bus started off anyway. If you had to let someone off, you'd have to avoid losing your space as 25 more people would try to muscle their way on. At least it was not Japan where an attendant shoves you onto the train.
This man reminded me of Chicago Bulls superstar Derrick Rose… a bit more muscular. We passed by and saw a pickup game and were invited over. Cuban players were very competitive. Two U.S. guys I was with played and they split games.
There were many highlights on the trip, but of course one cannot go to Cuba without taking home a number of stories. Walking around Cuba, you will feel the electricity as pedestrians ambled throughout the streets and hordes waited for the buses and old taxis. The Cuban population is very diverse with seemingly upwards of 30% being Afro-Cuban or of African descent.
There was no way to tell if Blacks were relegated to the lower rungs as there was hardly any vagrancy and not much in the way of stereotypical jobs held by a certain racial class. Crime is apparently low in Cuba and I saw no incidences in my short visit. I had my big city instincts in tune. There was the occasional hustler who would try to set up dates with Cuban ladies, or someone who'd take you to a coffee shop or "Bueno Vista" bar only to leave you with the bill.
No hustling at the University of Havana… only hard work!
Cuba is a beautiful country with a lush countryside. Visiting the town of Vinielas was a treat and the cave excursion was a sight to behold. It was my first breath of fresh air for more than a week. My lungs had a respite from the exhaust fumes and cigarette smoke of Havana. It was also where I would finally get fresh-squeezed juices. Thus, I loaded up on guava and orange juices. Being a vegan/vegetarian is tough in Cuba and particularly in Havana. There are a couple of places, but Cuba is a place were meat reigns supreme… mostly pork. Ham/cheese sandwiches and ham/cheese or cheese pizza are popular street fare. Cuba's cheese got rave reviews from visitors.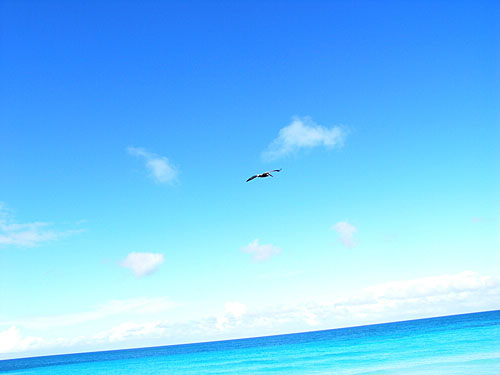 Free as a bird… a shot at the countryside beach.
In the countryside, I had some fresh orange juice with freshly-squeezed sugar cane. A welcome respite from the imported juice in the cartons in Havana.
Ice cream is also popular. According to some of my travel mates the dairy products were REAL and much more flavorful. I can attest that the vegetables I had in Cuba tasted much better and were flavorful. I loved the maduros (sweet plantains)! Much better than the $4.10 for a canister of Pringles. The restaurants had primarily chicken, fish and pork. Beef was not as common.
The foods prepared are not spicy and pepper sauce is hard to come by. Nevertheless, fruit and vegetable vendors are commonplace on the streets. Food is relatively cheap in Cuba except at the hotels where the portions are rather modest and prices high since the CUC is on par with the U.S. dollar.
Delicacies found in Cuba… tostones, malanga, maduros!
There are two currencies in Cuba… the CUC for the visitors and the non-convertible peso for the locals. One CUC is worth 24 pesos. Visitors cannot use the local currency and the CUC is on par with (or slightly stronger than) the U.S. dollar. So for a U.S. visitor, everything is face value. Euros can be used in Cuba without a heavy tax, but I later learned that a visitor can change U.S. currency (in some places) for a hefty 10% tax. Changing U.S. currency is not a viable option and U.S. credit cards (if you can find a place accepting them) are assessed a 3% charge and are typically not used in Cuba.
Dominoes! They didn't slam the tiles like in Jamaica! 🙂
One trick one must learn is when locals ask you where you are from. Europeans have no escape, but Blacks can say they are from Jamaica or the Bahamas and the locals will make small talk and leave you on your way. Many of my fellow visitors said they were from Haiti and Jamaica. If you say you are from the U.S., then you get the tourist treatment which usually ends up with you spending money. Alas… it is like that in all countries. 🙂
Skittles game in the afternoon.
Another random chess game going on while passing through a neighborhood. Simul?
Finally, the appreciation for chess is great. Chess can be found to be integrated into Cuban culture and you see it in the artwork, in the museums, in the hotels, on the streets, in the markets and the image of Capablanca is sometimes seen. There is a fine painting of Capablanca in the National Hotel. The famous image of Bobby Fischer and Fidel Castro playing chess at the 1966 Olympiad is displayed at the Habana Libre on 23rd and L Street. Che Guevara is also seen playing in a simul. With such support for chess, it is no surprise that Cuba is one of the strongest chess nations on the planet.
Club Capablanca sits on Infanta Street and attended enthusiastically by local players. There were no sightings of Cuban Grandmasters Leinier Dominguez, Lazaro Bruzon or Yuniesky Quesada, but there was a lot of excitement despite the lack of resources and chess materials. I gave the chess club a 16-pack of Duracell AA batteries for their chess clocks.
I certainly quenched my chess thirst while in Cuba and it was the happiest I've been after losing my share of games. To be in Cuba during the memorial tournament of Rogelio Ortega was more than I could imagine. What an honor to be in the house of Capablanca! I left a few Drum t-shirts behind and a stash of Drum ink pens in Cuba.
Chess games were easy to find in Cuba. I played a couple of blitz games on the street.
At the Club Capablanca with Vladimir Ferrer who hails from Santiago. Vladimir taught himself English and was comfortably fluent. We played a series of competitive and theoretical games. The games were level, but he was ultimately a few games up. Strong! Photo by Daaim Shabazz.
An animated analysis session!!
While I did not bring back much in the way of souvenirs, I did bring back enough memories to last a lifetime. Later I will list some of my most memorable moments (good and bad) in Cuba. The island is a treasure trove of history and traveling there is quite an education.
The man who started the Cuban chess craze…
World Champion Jose' Raul Capablanca, 1921-1927.