The Challenges of Black Chess Masters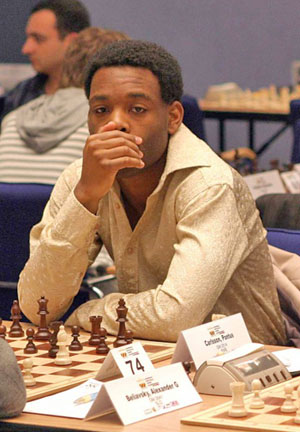 Sweden's GM Pontus Carlsson at 2008 European Championship.
Photo from eicc2008.com.
From time to time there is a question raised about the presence of Black players in the chess world. Players in this demographic can be seen at tournaments around the world and are seemingly enthusiastic about competition. However, those who have found success at the highest level have been few.
As of 2010, there are three Grandmasters of African descent (Maurice Ashley-USA, Pontus Carlsson-Sweden, Amon Simutowe-Zambia). Each of these players met unique challenges in their rise toward Grandmasterdom. No other player of African descent is close to making their third GM norm. Why is this? There are a number of challenges things that continue to inhibit this rise. In this brief essay, we will look at a few of the challenges that often come up.
(Note: As of 2022, the number of Black Grandmasters has reached double digits including earlier omissions.)
Intelligence
Let's address this straight-on. I was once asked by a Latin American whether Blacks were intelligent enough to be Grandmasters. The question was not posed with any malice or ill-will; it was a person asking a genuine follow-up question about the small number of Black Grandmasters I had named for him.
However, there are other forums that make it a contentious issue. There was once a debate on a White supremacist website stating that it is unlikely that a Black person can be a chess Grandmaster. That was until one of the posters found an article on The Chess Drum about Ashley! The debate ended immediately. First, let's ask the question, "Is chess really an adequate measure of requisite intelligence?" One study showed,
Chess is not necessarily a game reserved for people with IQ scores on par with Einstein. In fact, chess strategy may rely more heavily on spatial processing than on logic and computational skills. (see article)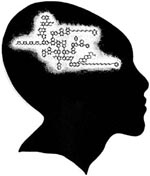 Of course, there are all types of historic racial stereotypes about the intelligence of Blacks, or people of African descent. There have been crackpot race theories, specious experiments about cranial size, and other notions taken from religious interpretations. All of these have been debated and while largely dismissed, the debate rages on. Incidentally, out of the small cadre of Black Masters in the world, many are involved in analytical fields such as computer science, physics, mathematics, finance, and medicine.
That chess players are necessarily smarter than the next person, appears to be a misnomer. There simply is too much variation in the socioeconomic background of chess players to make that assertion. Many chess players (of all backgrounds) share some degree of skill in pattern recognition and analytical ability, but if raw intelligence was the only prerequisite, many elite thinkers would master chess without difficulty.
Financial
Perhaps the biggest of challenges for Black players seeking higher heights in chess has always been obtaining the financial wherewithal to travel and earn the required norms for FIDE titles. To play chess is a choice, but what may inhibit a player from pursuing a dream is the lack of resources. While Black players living in the U.S. or Europe may have more norm opportunities than players in Africa, Latin America, or the Caribbean, there are still the high costs associated with training and traveling.
Granted these are barriers that all players face, but Blacks tend to face greater financial hardship (on average) for a multitude of socioeconomic and historical reasons. Thus, the opportunity costs for focusing on chess remain exceedingly high. Since the payoff is usually not commensurate with the investment of time and money, the focus on chess becomes an afterthought. Many promising players have left the game for better economic opportunities and have relegated chess as a weekend hobby, or have quit altogether.
Opportunities
The issue of adequate opportunities is another issue. For those on the African continent, the chances are rare as there are few tournaments offering the competition needed to raise the level of one's play. Thus, talented players like IM Watu Kobese (South Africa), IM Kenny Solomon (South Africa) and IM Robert Gwaze (Zimbabwe) have had to scramble for opportunities and raise thousands of dollars to travel on long and tortuous flights up the length of Africa and into Europe or to the U.S. In the Caribbean, there are a few more international tournaments being offered and perhaps the tourist venues can attract foreign players so that locals can get more experience.
IM Kenny Solomon of South Africa has been spending
a lot of time in Europe in search of GM norms.
Photo by Daaim Shabazz.
In the U.S., there are more chess opportunities than five years ago, but with the economy reeling, the cost of living being high, and returns from chess low, most players choose to put their chess ambitions on the back-burner or make an honest living elsewhere. While Ashley is still a chess professional he no longer makes his income primarily from chess tournaments. He once explained to me how impractical such a situation could be. He has not been consistently active since 2003. Most chess professionals in the U.S. make their living on training, lecturing, and writing books.
Race and Class
Race is always a controversial subject when discussing merit-based activities like chess. There has been no empirical research conducted to show that systematic racism has prevented Black players from excelling in chess. U.S. players like Walter Harris was certainly excluded from certain opportunities in the 60s, but one may argue that the issue is more of class than race. That does not mean instances of discrimination don't exist. They do.
Walter Harris (left), the first Black National Master in the U.S.
Photo by Daaim Shabazz.
In current events, there are some systematic notions that can ultimately impede the growth of chess in Black nations such as changing FIDE's "one-nation, one-vote" system. This would render
all
smaller federations as less relevant thus relegating them to a second class. It would then be hard to gain leverage for aspiring players. This is a point of great contention in the current campaign for FIDE President.
Changing the number of qualifiers in the FIDE knockout would also be a blow to African players. One famous Grandmaster was quoted as saying that Africans did not rightfully deserve of six slots because they had lower ELO ratings. In another controversial issue, the idea of awarding IM titles to players at the subzonals is still up for debate. African and Caribbean players are often singled out in the debate despite the fact that the practice occurs in other regions.
Perhaps singling out these regions may show that race may be an underlying factor, but this is clearly a class issue since it affects all weaker federations. In other board sports like draughts (international checkers), Africans are among the game's top competitors and thus, widely-respected. One problem with this issue is that one gains respect with a strong presence and apart from Carlsson, Simutowe, Solomon and legendary International Master Emory Tate, Black players are largely absent in international chess.
Talent
There is one other factor… talent. How does one measure talent in chess? There are always age-based accomplishments, but they are imprecise and predictions are often not linear. For example, because a player made Grandmaster (2500) at age 15 does not mean that a player has to be 2000 by age 10 and improve 100 ELO every year.
Talent is not measured in a linear progression. Nevertheless, talent can be more accurately measured by the quality of play. With someone to accurately assess this talent will be important in development. Unfortunately, there is not always coaching available and most players of African descent are self-taught and do not have any formal coaching. Simutowe earned a Grandmaster title without a trainer and few resources. He mentioned that he would have been a lot more efficient if he could have hired the services of a trainer… even for a short span.
Darrian Robinson at the 2010 World Open.
Photo by Daaim Shabazz.
One of the problems I have seen in the Black chess world is too much emphasis placed on five-minute or "blitz" chess. The gambling marathons and meaningless grudge matches proliferate in these circles. All of this means nothing in terms of the overall quality of play. The problem is that blitz prowess has come at the expense of comprehensive training… of which blitz should only play a part. Talent cannot be measured merely by who has the strongest game in blitz. It merely amounts to "fast food" chess, not a quality meal for chess nourishment.
Final Thoughts
In conclusion, there must be three main ideas to confront the challenges of chess.
First, there has to be more of a collaborative effort between players. That can be attained through deeper networking. Joint analysis, sharing of data, and collaboration should be intensified. The legend of the "Black Bear School of Chess" was a novel idea of collaboration amongst Black players in New York. Maurice Ashley and several strong masters were raised from this organization. They were serious, focused, had study sessions and training matches. When Ashley became the first African-American Grandmaster in 1999, this served as its best example of harnessing talent. There is no reason these groups cannot function even through the use of online servers.
Second, there has to be a plan of mentorship for juniors. Scholastic chess is booming and features several talented players of African descent. The question with these players may be finding the right guidance to keep them motivated. There is also a need for the presence of role models and mentors for younger players. Typically, the impressions from a player with whom you share a commonality are deeper and perhaps more familiar. However, most of the top Black Masters are either not active or playing very little.
Lastly, there is a dearth of norm tournaments organized by players of African descent. This will be one way of ensuring more opportunities for aspiring GMs or IMs. Of course, these events require sponsorship and logistical support. There has to be a concerted effort to organize these tournaments or talent will continue to waste away without being realized. The question is, "Who makes the sacrifice?"
---
Note: When I asked GM Maurice Ashley about his personal challenges, he mentioned five of them:
Traveling for international events
Finding good training
Having strong training partners
Having a family
Starting late
(read entire response)