Chess through the eyes of Black History
Each year in America, the Black community commemorates the accomplishments of many pioneers who overcame political exclusion, racial discrimination and socioeconomic hardships. In general the many historic figures are given each year during "Black History Month" and their accomplishments are reflected. The Chess Drum will take this opportunity to highlight some that may have certainly been missed.
Founded in 1926 as "Negro History Week" by Dr. Carter G. Woodson, the tradition later evolved into a month-long celebration of public figures, past and present. Unfortunately, Black History Month does an incomplete job in reflecting on the sons and daughters of Africa located around the world. Of course Canadian explorer Matthew Henson is often mentioned as is Jamaica's Marcus Garvey and Haiti's Touissant L'Overture as well as many of the African Kings and Queens, but they are more the exception than the rule. The only permanent fixture appears to be Dr. Martin Luther King, Jr.
Grandmaster Maurice Ashley appears in a mural in Philadelphia. According to Ray Robinson, the mural was painted in 1998 by Calvin Johnson and was sponsored by Mercy Health Care Systems
Certainly those Black men and women in other countries should also be celebrated as part of the overall history of those who share a bloodline running through the African continent. Maurice Ashley's name has increasingly become a footnote in history recounted during the month. Known as the first "African-American" Grandmaster of chess, he represents the single most recognizable chess icon in the African Diaspora. Fortunately, The Chess Drum has sought to celebrate players in the African Disapora all year long and that is one of the objectives.
In past years, The Chess Drum has offered history quizzes, essays and game collections. This year we will feature players around the world who have been trailblazers and that made contributions to chess. Many players in the African Disapora often go unmentioned in the footnotes of history, but they are certainly honored in the "Wall of Fame" and the "Drum Majors" list! We honor a few of them below.
* * *

GM AMON SIMUTOWE (ZAMBIA)
Amon Simutowe has been written about since the inception of The Chess Drum. After dominating the local scene and winning the national championship at age 14, he won the African Junior Championships scoring a whopping 12/13 in 1999 followed by an 11/11 score in 2000.
His international breakthrough came when he entered the World Junior Championship as a 42nd seed, but ended on 8½-4½ placing joint 2nd behind Cuba's Lázaro Bruzón. He represented Zambia at the 2000 Olympiad and sparkled on board one with an 8-2 score winning a silver medal.
Simutowe entered the famed University of Texas-Dallas and picked up a degree in economics while helping the chess team to two national championships. Thereafter he earned several GM norms to clinch the title and become the first player of Sub-Saharan Africa to become a Grandmaster. He is an example of how a player can come from a country without chess resources and reach the highest standard of chess.
Link: https://www.thechessdrum.net/historicmoments/HM_Simutowe/
* * *

JAMES MCCUNE SMITH (USA)
While not much is known about the strength of James McCune Smith, he was certainly a pioneer for Black chess players. He is the first Black player of note who had a keen interest in chess and expressed this affection in his writings.
Born in 1813 to enslaved parents, Smith was a man of rare erudition of his day. Due to overt racism, Smith chose to go to school in Scotland to attend Glasgow University. Immediately that set him apart from most of his Black peers as slavery was still thriving. He earned three degrees by age 19 including Doctor of Medicine!
After an internship in France he returned to the U.S. to begin his career as a physician. Smith was a contemporary of abolitionist Frederick Douglass and penned a scholarly essay about his chess exploits where he described players like Paul Morphy, Louis Paulsen and Howard Staunton. He made some interesting observations about Morphy's appearance.
"And as we gazed at Morphy, with his fine, open countenance, brunette hue, marvelous delicacy of fibre, bright, clear eyes, and elongated submaxillary bone, a keen suspicion entered our ethnological department that we were not the only Carthaginian in the room. It might only be one drop, perhaps two ,God only knows how they got there but surely, beside the Tria mulattin who at present writes, there was also a Hekata-mulattin in that room!"
There is a lot said about Morphy's creolese background and the ethnicity of his mother who was said to be Afro-Caribbean. In reading the lengthy essay, Smith's chess passion rings true and his animated description of a four-hour match between Morphy and Paulsen which featured a piece sacrifice. He then broached subjects like Napoleon's war strategy and the intellectual development of a chess player.
While no games are available of Smith's he certainly was on who can be credited with being a trailblazer of chess in the modern era. He preceded problemist Theophilus Thompson and William Griffin and his endorsement of chess was a clear testament to its attractive qualities even in a time when social order of society restricted access to games such as chess.
Link: https://www.thechessdrum.net/historicmoments/HM_JMSmith/
* * *

ROGELIO ORTEGA (CUBA)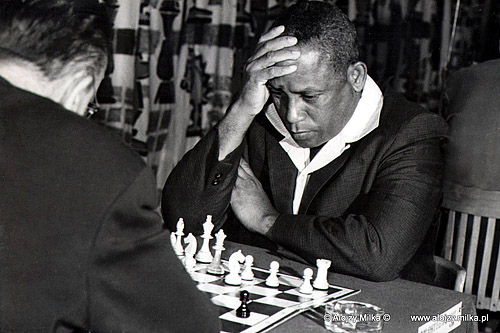 Rogelio Ortega in Zdroj, Poland in 1967.
Photo by Alojzy Milka (courtesy of Dariusz Milka).
Certainly a legend in Cuban history, Rogelio Ortega was able to excel and became one of the first international stars after his compatriot and predecessor World Champion Jose Raul Capablanca. Ortega was the Cuban champion in 1966 after winning a four-stage tournament and tallying 21/24! Given his status he traveled internationally and competed against the world's best at that time.
Some of the players he faced reads like a Hall-of-Fame… Mikhail Tal, Boris Spassky, Vassily Smyslov, Yefim Geller, Lajos Portisch, Samuel Reshevsky, Miguel Najdorf, Nicolas Rossolimo, David Bronstein, Seymon Furman, Wolfgang Uhlmann and Israel Horowitz. Following is one of his most noted wins.
The Afro-Cuban competed in five Olympiad tournaments (including 1966 in Havana) and in the 1959 U.S. Open. He was a dynamic player with a tactical flair. He took risks which were not always advisable against elite competition and at times, he was punished. However, at other times, he was able to uncork brilliant combinations in fine style.
Link: https://www.thechessdrum.net/blog/2013/12/14/rogelio-ortega-afro-cuban-maestro/
* * *

GM PONTUS CARLSSON (SWEDEN)
Pontus Carlsson emerged the same time as Amon Simutowe and played him during the 2001 World Junior Championship. Carlsson's life did not start out auspiciously. Born in Cali, Columbia, his family faced a tragedy and at the age of one was adopted by a Swedish couple where he learned chess at age four. He hold both Swedish and Colombian citizenships.
The young Carlsson took to the game of chess and began competing for the country in international tournaments. He won a number of national titles, but did never got higher than sixth in the European Juniors finishing thrice at that status. Nevertheless, Carlsson picked up one title after another. Carlsen earned the FM after attaining 2300 ELO, IM in 2005 and GM in 2007. He has played primarily in Europe, but is no longer very active on the European circuit but provides services for chess lessons.
Carlsson takes pride in knowing that he inspires Black players around the world and hopes to continue sharing his knowledge. He stands as the first European-based Black player to earn the GM title in Europe. There are other players such as Cuban-born GM Orelvis Perez Mitjans making an impression. Nevertheless, Carlsson will always be considered a pioneer and celebrated as venerable historic figure.
Link: https://www.thechessdrum.net/historicmoments/HM_novdec07.html
* * *

RAPHAELLE SIEBRECHT (FRANCE)
Raphaelle (Bujisho) Siebrecht of France is no longer a very active player, but she was one of the standout players in the French Championship participating in 1993, 1995, 1998 and 1999 editions. She won clear 1st in 1995 with a sizzling 9-2, placed 2nd in 1998 on 8-2 and 3rd in 2002.
As mentioned earlier she is the older sister of French player Benjamin Bujisho, an International Master. Hailing from the Bastia region of France, Raphaelle started in junior chess and represented France at European U20 Girls (1992) and World's U18 Girls (1994). This makes her 1995 French title all the more notable as she was only 19 years of age. Here are two samples of her play including a K+B+R vs K+R win.
From the origins of the surname "Bujisho" it appears the family has ancestry somewhere in the region of Central Africa. Raphaelle has more recently taken the last name of Siebrecht after remarrying. Nevertheless, she is a trailblazer and has certainly made an impression in the annals of French chess history. We honor her during Black History Month!
Link: https://www.thechessdrum.net/newsbriefs/2002/NB_RDelahaye.html
* * *

THE MOORS OF SPAIN
Moors playing chess from chessbook of Alfonso X the Wise, Castile (1283 AD).
One of the most enigmatic aspects of history is the Moors of Spain. Coming from a Diaspora which included Muslims from various parts of north and west Africa these "Moors" (also known as "morisco," "maure," "maurus," or "moro" literally meaning "black") were instrumental in bringing chess into Europe at a time when the region had no such history. Chess traveled with the trading caravans across the Saharan in the Persianized name of "shatranj" from its Indian anecestor, "chaturaunga".
The influence of the Moors in Spain is still evident to this day with stunning architecture bearing their signature. The 800-year rule of Moorish Spain brought many development, but of course their occupation was resented. During the "reconquista" by Queen Isabella and King Ferdinand, much of the Moorish classical literature was destroyed, including literature of their exploits in chess. There were historic accounts of a number of tournaments and blindfold challenges of that day.
Chess remained one of the most enduring cultural exports and after the Moors were vanquished from the Iberian peninsula, the rules of chess were changed to provide the Queen more power. New rules were added such as castling, two-square pawn advance, and en passant capture. The Queen, just a bit-player in shatranj, became the most powerful piece in tribute to Queen Isabella.
The game sprouted in Spain and became part of the culture of the upper-class, a sign of erudition. Ruy Lopez of Spain and François-André Philidor of France were some of the first Europeans to gain notoriety. It makes sense that chess touched several continents in its evolution. It has now touched every corner of the earth. While the true history of Moorish chess will never be known, the Moors certainly made a valuable contribution.
Link: https://www.thechessdrum.net/65thSquare/65_marapr01.html