2023 World Chess Championship: Game 3
2023 World Chess Championship: Game 3
Wednesday, 12 April 2023
Ding appears more comfortable, seems upbeat after draw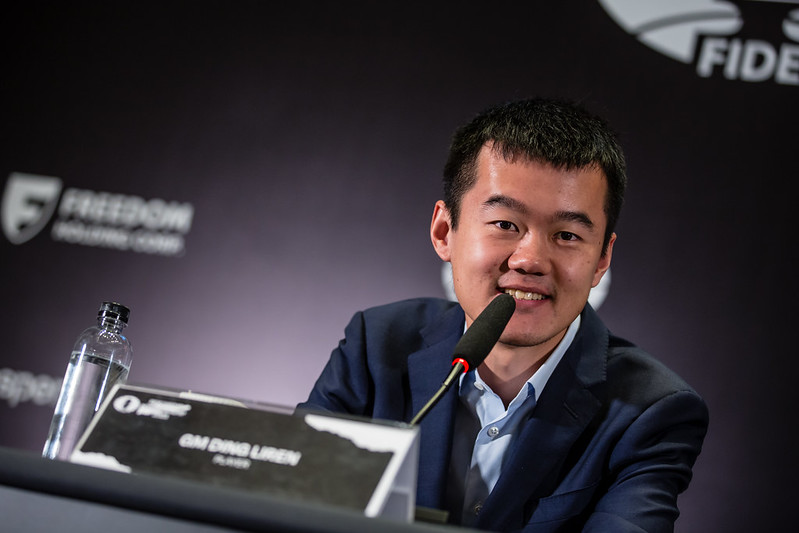 Ding Liren at the Press Conference after Game 3
Photo by Anna Shtourman/FIDE
While Game 3 went much better for Ding Liren it was his demeanor that stood out the most. After admitting to being "depressed," many began to wonder if he would be fit for the match ahead. Ding all but erased doubts as he came to the press conference with an air of confidence after a comfortable draw. He also spurned the idea that he was uncomfortable with his command of English.
Many online fans were making note of the fact that there was a Russian interpreter and not a Chinese interpreter. Ding seemed to be struggling with his answers, but it may have been stress-related. Those problems may be solved as a Chinese contingent was very visible.
On the right is Hongwei Tian, the tireless General Secretary of the Chinese Chess Association.
Photo by Anna Shtourman
He was also seen with Richard Rapport who appears to be more of a rock star than a chess Grandmaster.
this is officially the only chess content ill ever need pic.twitter.com/WWwkqN7cDb

— MrDodgy (olympic champion) ? (@ChessProblem) April 12, 2023
The only surprise in Game 3 was Ian Nepomniachtchi's 1.d4. There was a joke about the ceremonial move and whether that influenced his decision. Here is a FIDE excerpt:
Despite Nepomniachtchi opting to play 1.d4 instead of his regular move 1.e4, Black managed to get an equal position quickly out of the opening. In the Carlsbad variation of the exchange line of the Queen's Gambit declined, up until move 17, the two players followed the game played between Grandmaster Anish Giri and Ding Liren in 2022 which also ended in a draw.

After exchanges in the centre, both had a solid position. Ding opted to play on and chose a more active move, but the position was still balanced. The two tested each other a bit more but then went for a move repetition.

~Milan Dinic/FIDE
Game 3 – Full Broadcast
Press Conference – Game 3
Videos by FIDE Chess
Video by GM Daniel King/PowerPlay Chess