2023 Zone 4.3 in Equatorial Guinea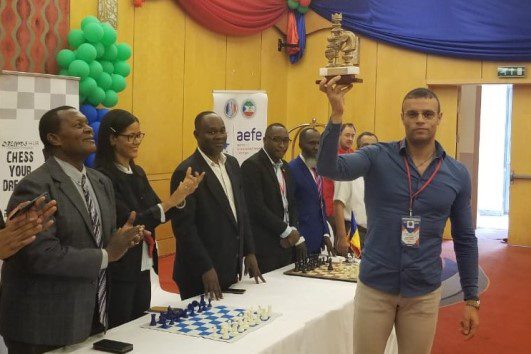 Equatorial Guinea was the host to the FIDE Zone 4.3 Individual Championship which took place during the week of 18th-27th of January 2023 at the Bisili Hotel in Malabo. The tournament attracted 15 contestants from six countries… Gabon, Cameroon, Burundi, Sao Tome and Principe, Chad, and the host Equatorial Guinea. The roster showed that the region is in need of development as there were only a few titled players including an International Master whose FIDE rating stood at 1903.
Equatorial Guinea is one of the smallest countries in Africa and the only predominantly Spanish-speaking country on the vast continent. The oil-rich country was a very important trading hub during the 15th century when Spanish and Portuguese explorers explored the islands and coastal areas of Africa as part of their "Manifest Destiny."
Equatorial Guinea earned its independence from Spain in 1968 and discovered its vast petroleum reserves in the 1980s. Chess in the country is a relatively new pastime and Federacion Nacional de Ajedrez de Guinea Ecuatorial was formed in 2018 and joined FIDE in 2020.
The list of participants included two titled players IM Marius Amba Oyon (Cameroon) and CM Barthelemy Bongo Akanga (Gabon). Wilfried Ntamatungiro of Burundi is an "Arena" FIDE Master and President of the Burundi Chess Federation. The tournament was officiated by Chief Arbiter Abdelfattah Akkour, Deputy Arbiter Emile Ebongue and National Arbiter Bernabé Oyono.
In the end, top seed Sergio Pereira of Sao Tome Principe won the Open event on 8/9 losing only to Akanga, Oyon took silver with 7/9 and Ntamatungiro took bronze with 6.5/9. In the women's section, Cameroon's Magne Sylviane scored 9/9 with host player Cinthia Daniela Ndong taking second on 8/9.
According to FIDE, GM Bologan gave a simultaneous exhibition as one of the side events. The scene was described in a vivid fashion:

Several exciting side events took place on the sixth day of the Zonal tournament, including a simul by GM Victor Bologan with ten random players at the French School of Malabo. Due to his tight schedule, GM Bologan played extremely quickly, rushing from one table to the other, despite the heat (38 degrees Celsius) and the generator's intense noise (there was a blackout in the city). Thirty-five minutes after the initial move was made, all ten players capitulated, and an unexpected explosion of applauses and hoorays blasted from the crowd, recognizing an impressive performance by GM, who offered a short interview to the local media. (FIDE)
Open Section (Zone 4.3)
FIDE: https://www.fide.com/news/2203
ACC story: https://africanchessconfederation.com/2023/01/31/magne-kouokam-sylviane-and-pereira-sergio-were-crowned-as-zone-4-3-open-individual-champions/