Kassa Korley featured in Amazon's "Mind Games"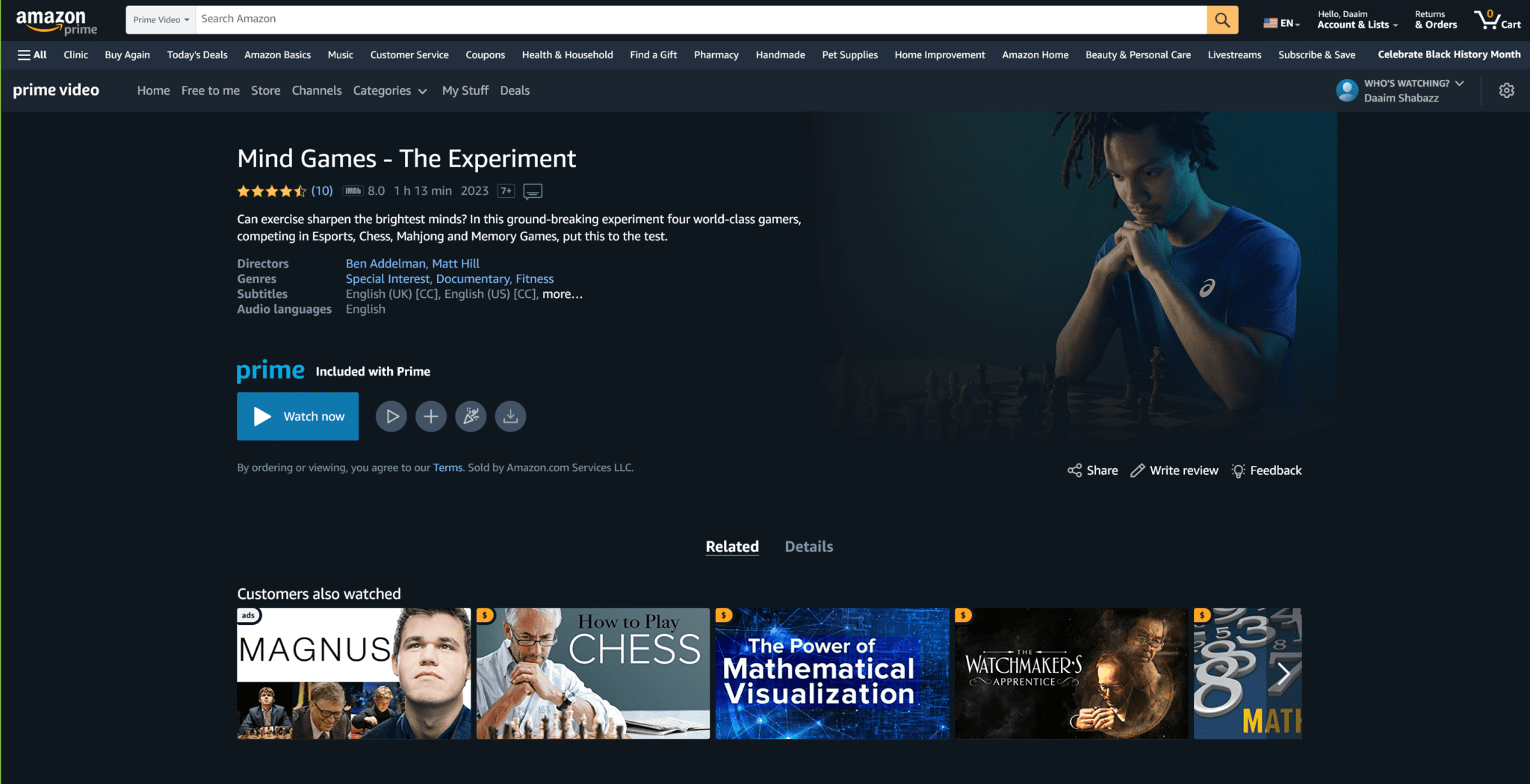 The Chess Drum had a conversation with IM Kassa Korley about his recent activities. He talked about his appearance in the recent premiere of "Mind Games," a documentary peering into the minds of gamesmen in four disciplines: chess, mahjong, memory, and e-sports. Chess has often been the subject of many scientific experiments and has been an intrigue even before the famous "Man vs. Machine" matches of Garry Kasparov. Since then the man vs. machine question has been definitely answered… at least in chess, but there is another question.
Can an increase in physical activity help the sharpest minds get even sharper?
Dr. Brendon Stubbs of King's College (London) conducted an experiment evaluating the relationship between body and mind while providing professional training to four mind sports competitors. Korley was one of those subjects. The others were: Ryoei Hirano (Riichi Mahjong player), Sherry Nhan (eSport StreetFighter competitor), and Ben Pridmore (memory sport). Pridmore can memorize a pack of playing cards in just over 26 seconds but was a bit skeptical about the role that exercise can play in his performance.
The experiment saw the four subjects through a 16-week trial beginning with preliminary tests of physical and cognitive tests as a starting point. The initial reading didn't go well for Korley in the Tower of Hanoi, but the race is not for the swift and fast, but for those who endure until the end. It was mentioned that Kassa's goal was to earn the GM title by his 30th birthday in May. As of January 1st, he took a job with chess.com as the "Head of Community" of its 100 million subscribers.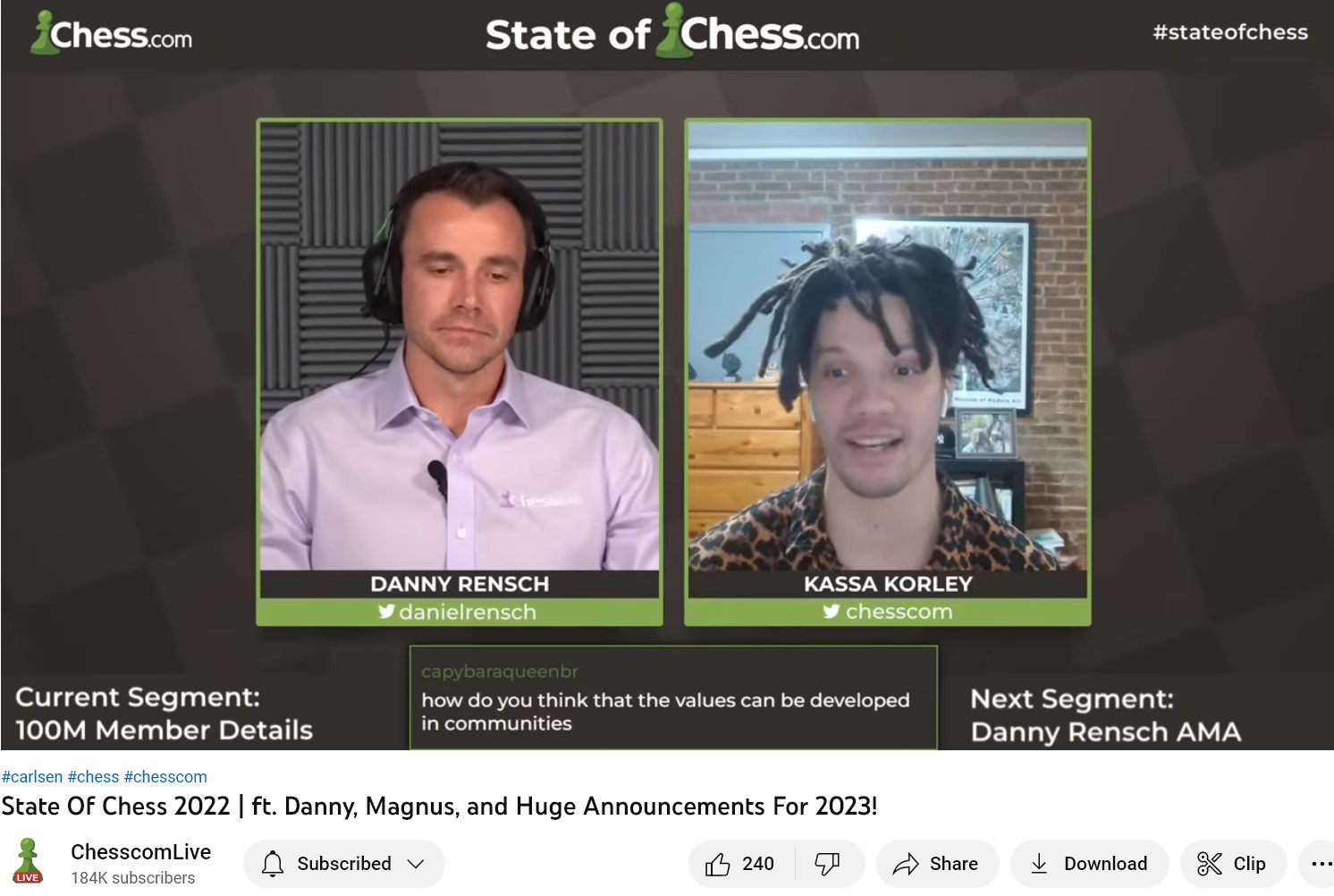 Despite this new role, Kassa is certainly focused on his goal of achieving his third GM norm and the last 32 Elo points. He told The Chess Drum that the experiment helped improve his play. So apparently, the mind/body experiment confirmed what has been a realization in top-level chess. Eyeing his 3rd norm and a 2500 FIDE Elo, he now sits at his peak rating of 2468. In 2022, his rating saw incremental improvement as he improved from 2394 (January 2022) to 2468 (January 2023) as he took advantage of the physical training that he received from "Rich."
It was an interesting documentary and even featured a cameo appearance of Justus Williams during their encounter at a New York GM norm tournament. One error in the documentary was the narrator kept saying Kassa needs to "beat a Grandmaster." He has beaten many Grandmasters including the brilliant game against Moiseenko but is looking for the elusive third norm.
The more intriguing part of the document was the four diverse characters facing physical challenges in different ways. Kassa still enjoys his passion for basketball while at the other extreme, the 45-year-old Pridmore looked as if he never did any type of exercise. Hirano had not worked out in 15 years and Nhan was perhaps the one who had kept up her fitness level. All of the mind athletes were put to the test.
Seeing Kassa enjoy the Swiss mountains during his trip to Biel certainly made you want to cheer for him. Was this his Rocky moment? No… but it was his own special moment. Anyway… what were the results of the four personalities? Did they reach their goals? We will let you see for yourself.