Black History Month 2022-Day 4: Baraka Shabazz
Baraka Shabazz's demure pose is a testament to her confidence and poise. This photo was featured in Chicago Metro News, December 4, 1982 as part of Tony Brown Journal segment.
When she burst onto the scene in the early 80s, Baraka Shabazz (pronounced sha-boz) was a curious girl who learned chess in a cabin in snowbound Alaska. From there, she rose like a comet in the sky only to fall almost as dramatically. The "Black Queen of Chess" was born in Denver, Colorado, but learned chess from her stepfather Yusef Shabazz.
Baraka, meaning "blessed," recounted the exact date she learned chess as December 22, 1977. After repeatedly losing against Yusef, her mother Raqiba Shabazz would encourage her to focus. Six weeks after learning the moves, she entered her first tournament and got 3/5. From there, she begins to gather momentum and later became the Anchorage Junior Champion.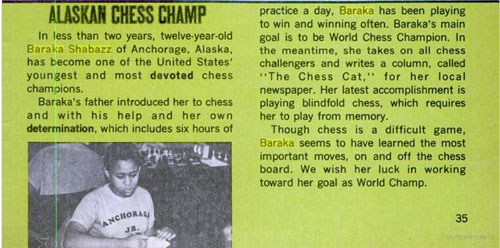 Baraka Shabazz featured in "Ebony Jr." magazine (November 1979)
Seeing this, her parents moved to the Bay area of California for more opportunities. Baraka did receive assistance from Mayor Lionel Wilson of Oakland and coaching from the likes of National Master Victor Baja and International Master Jeremy Silman. Even the famed entertainer Eartha Kitt contributed. After two years in California and more improvement, the Shabazz family decided to move to the east coast, the "Mecca" of chess.
Baraka Shabazz at Dupont Circle.
After the family settled in Washington, DC, she received instruction from
Kenneth Clayton
and
Charles Covington
, two area masters. A young Baraka could be seen at Dupont Circle taking on all challengers with her head wrap and delicate features.
I first saw Baraka at Chicago's Palmer House during one of the national events in late 1980. She was in an analysis session and I walked over to hear her while she discussed the theory of the Colle System. She also cited Silman in her pronouncements. Someone asked her rating after which she replied, "1943." This would be considered phenomenal for a 15-year old in those days.
During the round, I would stop by her board to see her air of confidence as the picture above shows. It was quite a sight to see. She would go on to make "Expert" rating shortly thereafter and became a national sensation. My mother excitedly gave me an article from the Chicago Metro News in a syndicated column called, "Tony Brown's Journal." The article also featured the exploits of Philadelphia's Vaux Junior H.S.
Video by ABC News
Still photos from ABC Nightly News (June 9, 1981)
Baraka Shabazz's charm and angelic face belied her ferocity over the board.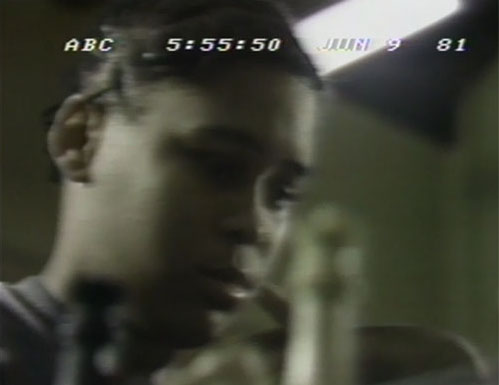 A promising 15-year old named Baraka!
It is ironic that during the rise, she was set up for a precipitous fall after pressure began to mount. Her stepfather became more domineering. According to Covington, he would scold her during their training sessions. In 1981, Baraka was #6 on the women's list and at the top of the girl's list.
She represented the U.S. at the World under-16 in England and participated in the 1981 Women's Championship in Utah. However, tension mounted and after a subpar performance in Utah, her parents began to lose confidence in her potential as unique talent. They moved on and Baraka quit chess. Her last tournament was the 1983 World Open, a tournament which she did not finish. It was truly a tragic ending that has been chronicled in several articles including "Ex-Queen's Gambit" in the Washington Post. In subsequent years, I have tried to keep her memory alive.
On September 17th, 2019, I received an e-mail from Christine Barker. I recognized her as being "Baraka." She knew of my writings about her chess career. She also stated that she was extremely nervous, but proceeded to write me a lengthy e-mail about her past on the condition of confidentiality. It was indeed a very emotional and detailed account of what had transpired in her life, her rise/fall in chess, the aftermath of her parents' abandonment, and how she was able to piece her life back together. These were details never before given in the 1988 article in the Washington Post.
"Again, thank you for keeping Baraka
and others alive."


~Christine Barker
In a subsequent exchange, she stated that she had earned an Associate's Degree in Psychology, several certifications in teaching, was part of a Christian ministry, and involvement with civic organizations. She is a divorcee' with four children and four grandchildren. In the end, she gave some encouraging words that touched me deeply.
You are an inspiration Daaim to not just our race or even to the chess community but to humanity! I obviously dont know your life, however, you encourage people to keep going, to move forward, to be their best and its is a rarity in this day and age.
Christine Barker in 2019