Black History Month 2022-Day 5: Wilbert Paige Memorial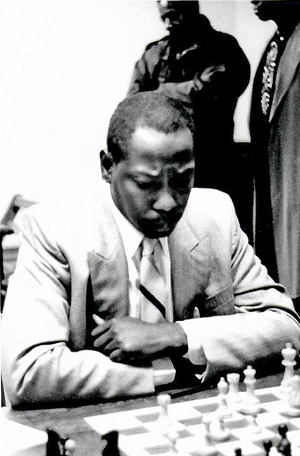 NM Wilbert Paige (1959-1994)
Photo by Jerry Bibuld
One of the most important chess events in Black history had to have been the Wilbert Paige Memorial. The tournament was held in honor of Philadelphia master Wilbert Paige who died in 1994 in his mid-30s. A product of West Philadelphia High School he teamed with Glenn Bady against the like of Norman Rogers and Raymond Robinson who attended rival Bartram H.S.
Jerry Bibuld had an idea to organize a tournament and found Dr. Jones Murphy who had sponsored previous tournaments to give Black masters a chance at FIDE title norms. The venue would be held at the Harlem Educational Activities Fund (HEAF) office in the Hotel Theresa, a historical landmark.
This previously Black-owned hotel is where Malcolm X held his meetings for the Organization of Afro-American Unity (OAAU) and also where Fidel Castro stayed during his controversial United Nations visit in 1960. Other guests included: Muhammad Ali, Louis Armstrong, Josephine Baker, Dorothy Dandridge, Jimi Hendrix, Duke Ellington, Joe Louis among others. A number of international dignitaries stayed at the hotel including Patrice Lumumba of the Congo.
The historic Hotel Theresa (top left)
So the tournament would represent the "2nd Harlem Renaissance" in the famed location as the bustling district of the 30s. Apollo Theatre was down the street from the Hotel Theresa and the Schomburg Center for Research and Back Culture (not far away). Given this historic environment, the chess event took on added importance. It is apropos that this tournament had a Pan-African theme since Marcus Garvey's UNIA spectacles were held on Harlem streets several decades earlier.
Wilbert Paige Memorial
(14-23rd of July 2001, Harlem NY, Hotel Theresa)


Players

#

Name

Title

Federation

Flag

Rating

1
Amon Simutowe
IM
Zambia

2470
2
Michael Schleifer
IM
Canada

2374
3
Watu Kobese
IM
South Africa

2373
4
William Morrison
FM
USA

2381
5
Stephen Muhammad
FM
USA

2307
6
Ronald Simpson
FM
USA

2296
7
Kenneth Solomon
FM
South Africa

2290
8
Norman Rogers
NM
USA

2272
9
Grace Nsubuga
NM
Uganda

2264
10
Ernest Colding
NM
USA

2258

Average FIDE Rating = 2328.5 (Category IV)

Official Site
Here is a tract describing the Wilbert Paige scene from photo essay, "The Drum Majors of Chess: Part Three."
Strangely enough, Emory Tate was not invited, so all eyes would be on 19-year old sensation Amon Simutowe who had scored some strong results in international events. Upon his rise came a string of successes including an equal 2nd at the 2000 World Junior Championships where he scored 8½-4½. Just prior to his American tour, Simutowe took 2nd in Germany's Bad Wörishofen including a nice win over FM Jan Sprenger.
The eclectic lineup of the Wilbert Paige Memorial was made up of many interesting players, all legendary figures in their own right. IM Watu Kobese was perhaps the only one known to all of the players having developed a high profile over the years. He had beaten Judit Polgar a few years prior in the 1998 Cap d'Agde tournament in France.
Bright days for Stephen Muhammad.
Photo by Jerry Bibuld
Canadian International Master Michael Schleifer was probably the most enigmatic since few had competed against him. However, his games showed that he would be quite a tough opponent. Of Jamaican ancestry (with a German-sounding name), he would arrive from Montreal by bus on the day of the event. Schleifer was a mild-mannered individual, but his chess had an energetic quality. He certainly brought a unique characteristic to the tournament.
Rogers had already earned an IM norm a week prior at the World Open. Players came from Philadelphia to support his effort. William Morrison was looking for his last IM norm and two others from the "Black Bear School of Chess" were present in Ronnie Simpson and Ernest Colding. South Africa's Kenny Solomon would bring his fighting style to the U.S. for the first time. For Grace Nsubuga, he had trouble getting a visa, but after vocal appeals by Bibuld, he finally made it.
In the end it was Stephen Muhammad who would win the tournament and earn his first IM norm with 6½-2½. The tournament was memorable and was exemplary in the expression of brotherhood. There was a memorable speech given at the player's dinner as Jerry Bibuld gave very heartfelt words as this would be a crowning achievement in his storied career of service to chess. Enthusiasm was at an all-time high and a tournament booklet was published to immortalize the event.
Clash of the blitz titans. . . FM Stephen Muhammad vs. GM Maurice Ashley

Editor: The two would play a 28-game match two years later
at the 2003 U.S. Championship!

Organizer and Arbiter Jerry Bibuld before the start of the Wilbert Paige Memorial. Three of the competitors shown are the late IM Michael Schleifer (Canada), IM Watu Kobese (South Africa) and the late FM Ronald Simpson (USA). Photo by Daaim Shabazz

FM Ron Simpson takes on the legendary NM Frank Street
as Willie 'Pop' Johnson looks on.

The Battle in Harlem!!

Fierce blitz battle of the 'Black Bears' Ronald Simpson and Ernest Colding. Watching from left to right: IM Michael Schleifer, FM Kenny Solomon, IM Watu Kobese, FM Stephen Muhammad, and Ugandan National Master Grace Nsubuga.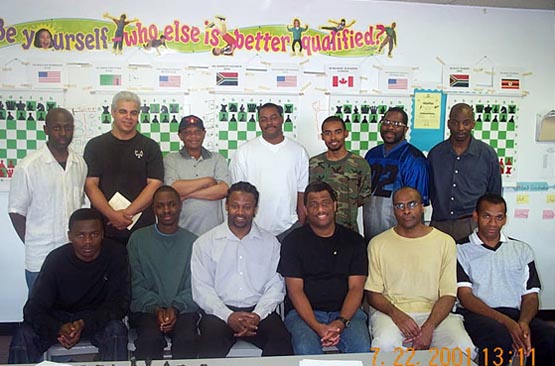 2001 Wilbert Paige Memorial
(Players and Commentators)
Seated (L-R): IM Amon Simutowe, NM Grace Nsubuga, GM Maurice Ashley (commentator), FM Ronald Simpson, IM Michael Schleifer, FM Stephen Muhammad. Standing (L-R): NM Jerald Times (commentator), NM Ernest Colding, IM Watu Kobese, FM William Morrison, FM Kenny Solomon, NM Norman Rogers, NM Elvin Wilson (commentator). In this photo, both Simutowe (2008) and Solomon (2015) became Grandmasters. Muhammad became an International Master. As of 2022, two players in the photo are now deceased: Schleifer (2009) and Simpson (2013). Photo by Daaim Shabazz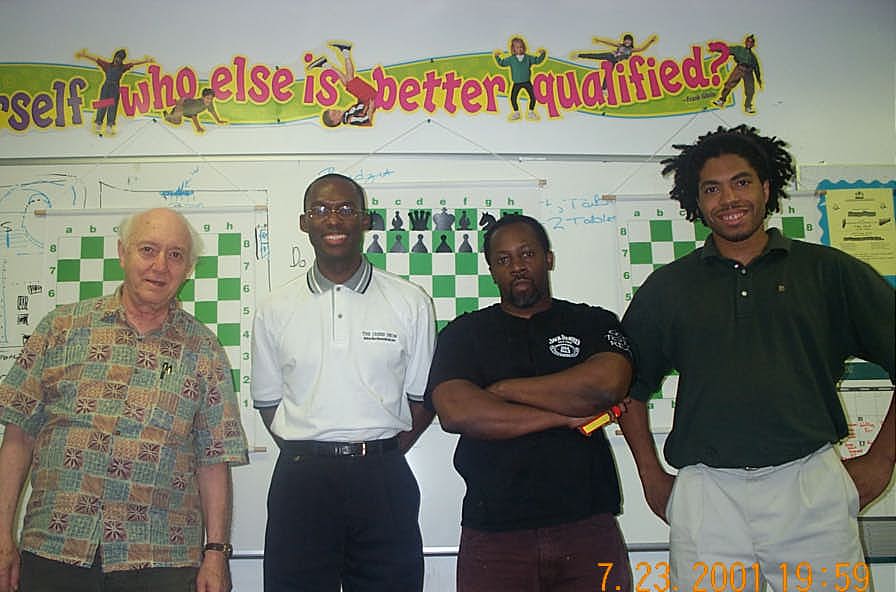 Tournament laborers: Jerry Bibuld (Arbiter), Daaim Shabazz (webmaster), Beejay Hicks (tournament hall manager), Jeffery Mitchell (Deputy Arbiter)
Wilbert Paige Memorial
(14-23rd of July 2001, Harlem NY, Hotel Theresa)


Players

#
Name
Title
Rating

SM

MS

WK

WM

NR

KS

AS

RS

GN

EC

Pts.

1
Muhammad, S
FM
2307

½

1

½

1

0

1

1

½

1

6.5

2
Schleifer, M
IM
2369

½

½

½

0

1

1

½

1

1

6.0

3
Kobese, W
IM
2373

0

½

½

1

½

½

1

1

1

6.0

4
Morrison, W
FM
2381

½

½

½

½

½

½

1

½

1

5.5

5
Rogers, N
FM
2272

0

1

0

½

0

1

1

1

1

5.0

6
Solomon, K
FM
2290

1

0

½

½

1

1

0

½

½

5.0

7
Simutowe, A
IM
2470

0

0

½

½

0

0

1

1

1

4.0

8
Simpson, R
FM
2296

0

½

0

0

0

1

0

1

1

3.5

9
Nsubuga, G
NM
2264

½

0

0

½

0

½

0

0

1

2.5

10
Colding, E
NM
2258

0

0

0

0

0

½

0

0

0

0.5

PGN Games (Games, Coverage)