Rogelio Ortega: Afro-Cuban Maestro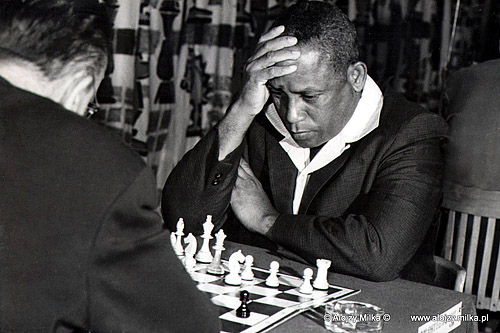 Rogelio Ortega in Polanica-Zdroj, Poland in 1967.
Photo by Alojzy Milka (courtesy of Dariusz Milka).
There are many global heroes of sport, yet we often forget about those who never caught the glare of the bright lights but shone as brightly on the national scene. Every two years we see this marvel in the Olympiad tournaments. Players who are nondescript in a hall of stars and legends in their own countries. Nevertheless, it is primarily up to those countries to champion their predecessors.
Club Capablanca is located on Infanta and Humboldt Street near 23rd. Photo by Daaim Shabazz.

Cuba is a chess mecca if there ever was one. An island of 11 million, it boasts a thriving chess culture stemming from the legend of Jose Raul Capablanca. There is a club in Havana bearing his name and personage and is home to many of the Cuban masters. In fact, speaking to Cuban-American GM Julio Becerra a few months ago, I told him I had visited the club and he mentioned that he was a visitor of the club on a daily basis as part of his development. The players assembled there are passionate and strong. It is no surprise that Cuba is a top-20 chess power. The culture is prominently-displayed throughout the country.
During that educational tour of Cuba, I visited the Capablanca Chess Club in Havana. Behind the gigantic steel door was a cavernous room decorated by a large chess set that Capablanca apparently played on. There were also portraits of the champion. During this time in January, there was a tournament in progress and to my pleasant surprise it was in honor of Rogelio Ortega, former champion of Cuba. I had written a story about him after being informed about him by Jim Kulbacki who sent me a picture from a Polish chess magazine, SZACHY.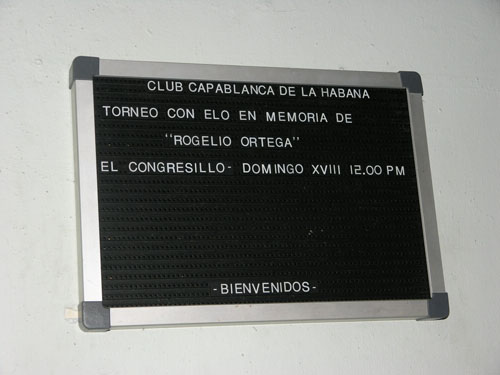 What would be the chances that I would visit Cuba at a time they were honoring a national hero… and one who is celebrated at The Chess Drum? Nevertheless, a language barrier prevented me from learning more about this Cuban Maestro, but I found from my earlier research was that he was the 1966 Cuban champion and represented the country at the Olympiad that year in Havana, Cuba. According to Nibaldo Calvo Buides, Ortega won the Cuban Championship in unprecedented fashion.
El más grande de todos los eventos Round-Robin jamás celebrado en Cuba, fue el campeonato correspondiente a 1966.

Primero realizaron 4 fases semifinales, donde participaron 55 competidores, para obtener su clasificación para la gran final, donde 25 ajedrecistas lucharon por la máxima corona.

Rogelio Ortega resultó campeón ¡21 puntos de 24 posibles!, ¡¡invicto!!.

Ganó el torneo de manera invicta!!!, tras conseguir 18 victorias y 6 tablas, lo cual constituye una marca cubana difícil de batir. (see article)

This article basically said that after four stages, 25 players qualified for a round robin tournament and Ortega emerged undefeated with 21/24! This would be a pivotal point in Ortega's pursuit of chess excellence. He then began to travel abroad more frequently as Cuban champion to face elite competition. The photo above was taken in Polanica-Zdroj, Poland in 1967. He had played five Olympiads (1952, 1962, 1964, 1966, 1968) in the 1959 U.S. Open as well.
Polanica-Zdroj, 1967. Seated (L-R): Furman, Flohr, Euwe, Uhlmann, Hort. Standing (L-R): Arlamowski, S. Witkowski, Graetz, Horbacki, Orbaan, J. Schmidt, J. Adamski, R. Ortega, Kalarow, Filipowicz, Suttles, Liebert, Sliwa, Kuszewski, Kozlowski, Kostro, Turski. Photo by Zbigniew Franczukowski
Pictured with Ortega were some of the world's chess luminaries at the time including Soviet Union's GM Seymon Furman and Germany's GM Wolfgang Uhlmann. Ortega would also sharpen his skills on other players of this ilk such as Grandmasters Mikhail Tal, Boris Spassky, Vassily Smyslov, Yefim Geller, Lajos Portisch, Samuel Reshevsky, Miguel Najdorf, Nicolas Rossolimo, David Bronstein, and Israel Horowitz.
An interesting combination by the Cuban maestro against Larea Soto! Ortega shattered white fortress with the sparkling 1…Nxd4! White has to accept or allow 2…Bxc5 with major problems. So after 2.Qxd4, black launches 2…Qa7!! (the killer). White feebly played 3.Nd3, but after 3…Bxd3 4.Qxd3, black plays 4…Bxc5+ and all of a sudden mate is unavoidable! The black queen will simply slide to h7 and inflict tremendous pain on the white monarch on h3. An absolutely amazing mating pattern! (See game)

So what was Ortega like as a player? By looking at his games, he was a raw talent with tremendous tactical awareness. Perhaps he was not as strong in technical positions, but thrived when there was a tactical opportunity! He had a number of brilliant games such as his win over Larea Soto (see diagram on left) and his win over Andrei Filipowicz in Polanica-Zdroj (below).
This game was out of a King's Gambit where Ortega counter gambited a pawn for active play. The game got totally out of hand when the Polish Grandmaster got a violent attack with the black king in the center of the board. Soon the king had to scamper for safety as the raking white bishops and the marauding queen were attacking. Black had an attack of his own and he brilliant combination ending this bout is worth a look.
Some of his other games were famously played and are on display below, but others may be buried in the archives of Cuban literature. Ortega is certainly one of the icons leading a resurgence to chess prominence after Capablanca. While the details of his life are not available here. Born March 28th 1915, Ortega reached a ranking of #302 and Chessmetrics gave his highest rating as 2472, a respectable rating in those days. (see profile)

Che Guevara playing Rogelio Ortega in a simultaneous exhibition in 1961.
There was other lore about Ortega during the height of his powers including a simultaneous exhibition where he is picture playing none other than Argentina-born, Cuban revolutionary Che Guevara. We leave you with this historic game which has been annotated here, but we will spare the details. 🙂
So… the famous revolutionary was much better field commander than a chess player, but the photo is a classic nevertheless. There are famous photos of Che attending the 1966 Olympiad in Cuba which can be found adorned on the walls of the Habana Libra Hotel. Ortega was competing for the Cuban side.
After the 1968 Lasker Memorial and the 1969 Cuban Championship, Ortega took a 10-year hiatus only to return in 1978 for the Havana Radio Rebelde where he played 11 rounds, albeit unsuccessfully. He had long passed his best years, he was certainly a revolutionary of another kind. He shall never be forgotten. Viva Rogelio!!
Games of Rogelio Ortega (https://www.365chess.com/players/Rogelio_Ortega)