Ramón Mateo… Dominican trailblazer!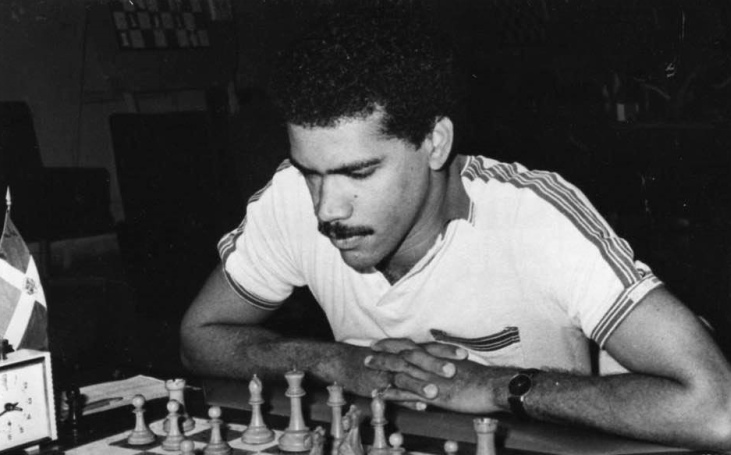 Ramón Mateo



For many years, the name Ramón Mateo has been a trailblazer of Latin American and Caribbean chess. In the U.S., his name was also known due to his time living in New York and playing in the parks. However, what is clear is that Mateo (meaning "Matthew") has not gotten the attention that one deserves. He became the country's first Grandmaster in 2008.
A winner of many international tournaments and a Dominican legend, he continues to show his excitement for the chess building content for his YouTube channel and running his chess academy. A very charismatic figure, he is a favorite interview subject on Spanish language sites.
Over the past 20 years, The Chess Drum has covered many Latin Americans, the first being Cuba's Rogelio Ortega, former national champion of Cuba. Incidentally, this website reported a visit to the Rogelio Memorial tournament in Havana and saw firsthand the tremendous passion of the chess players there.
Since last August, The Chess Drum has been communicating ICCF Correspondence International Master (IM), José Guillermo De La Rosa Solórzano. A native of Cuba, De La Rosa made mention of the overlooked "Afro-Cubans," including a number of Grandmasters. The discussion has picked up steam with the passing of GM Román Hernández of Cuba who was bestowed the Grandmaster title in 1978.
De La Rosa, who is also a pastor, posted an interesting discussion on Facebook about this topic and recently conducted a short interview with Mateo. The Dominican GM speaks on his ancestry and chess exposure in the African Diaspora.
Ramón Mateo in his younger years!
Why do we not know more about players of African ancestry in Latin America? Simply put, the chess world is dominated by English content and most in these countries do not read Spanish-language websites on a regular basis, if at all. It becomes easy to miss these stories. However, with the efforts of De La Rosa, it becomes an important bridge in the chess world. One of the unfortunate realities is that many do not see the need in highlighting race, but are fine with highlighting gender and nationality. All of these demographic factors make chess very rich in experiences and accessible to a wider audience.
Mateo is a seven-time Dominican champion and has the distinction of winning national championships 31 years apart (1979 and 2010). His long service to chess is not overlooked and the chess world should support his life-long efforts. Subscribe to his YouTube channel! He is engaging and continues to show his passion!
GMI de Ajedrez Ramón Mateo