Charles Smith's training book reveals Matrix method
Brooklyn native Charles Smith is no stranger to these pages, and we are glad to announce the release of his new training book. For many years, he honed his chess education methods in Birmingham where he was locally recognized for his success. Founder of Magic City Chess University, he was honored by the Birmingham Mayor with the "2010 Hidden Heroes Award" and also worked with the Boys & Girls Club. In addition, he collaborated with the human rights organization NAACP to host a free program called the "Changing Lives One Mind At A Time Initiative".
In February, Smith released a book titled, A Chess Primer: The Matrix Unleashed. Here is the Amazon description:
A Chess Primer The Matrix Unleashed is a beginner's chess book teaching chess in a new way. This streamline approach is for anyone who ever wanted to learn the game of chess or teach it to their own or any children. What makes this book very different is the fun and easy approach invented by United States Chess Federation Level IV National Chess Coach Charles A Smith. The author's proven method of rapid comprehension thru effective teaching is the key. The fastest way to learn chess and have fun doing it. Also great for chess coaches to use as their teaching method. This book will revolutionize the way chess is learned and taught. If you have ever wanted to learn chess or tried and gave up here is your chance to easily get it done. Chess On!!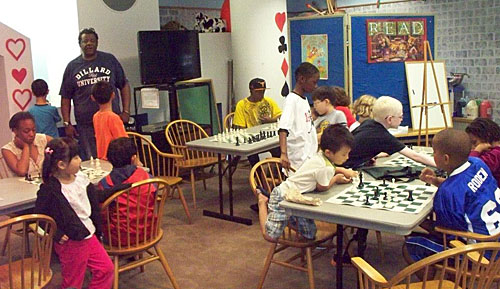 Smith holding classes at Birmingham Public Library.
Three years ago, Smith has taken his talents to Seattle, Washington where he has taught a number of promising talents including Cadets Girls World Champion under-12 Rochelle Wu. "She played for my K-3 team and was the best in the country that year. The number two girl was my student also both out of Alabama!" Smith told The Chess Drum.
Smith has coined a method centered around quick comprehension and application of chess principles. "This method was used to get both of them understanding the game fast and that is where the fun is in chess understanding! The method is sound and could work for anyone who wants to learn teach or novices that would like to improve easily."
Smith has taken his Matrix methods to Seattle.
Photo from winningwithcas.com
When asked why he wrote the book, Smith stated that he thought it would be a way to teach chess in a far less complicated manner than most beginners books or programs.
"I also wrote it so people who try to coach or teach chess but lack the real skill set that would not run children and other people away from such a wonderful game and experience. All games are no fun if you cannot win. No game is fun to learn if it's too complicated."
Amazon: https://www.amazon.com/
Winning with CAS: http://www.winningwithcas.com/about-cas