Smith working magic in Birmingham
Charles Smith has been teaching chess in the Birmingham area for the past 11 years. Having played chess in the hardscrabble and competitive circles in Brooklyn, New York and Washington (DC), Smith has been able to gain a measure of success and was honored by the Mayor with the prestigious "Hidden Heroes Award". Smith started when there was no interest.
William James Christian Elementary
"When I first started teaching, nobody knew about chess so there was no interest in chess at all," Smith said. "Somehow, I'm able to gain the students' interest in the game. I manage to get through because I love the game and I pass on the love to them."
His program is so successful that he has attracted the support of the City Council and the officials at his landmark school W.J. Christian. The course is now offered as an elective and he has been able to produce several champions such as Sydney Morris and team champions such as W.J. Christian who won the Alabama State Scholastic Team event two consecutive years.
According to the article,
Through his organization Magic City Chess U, Smith teaches at other schools, including Indian Springs and Phillips Academy. With the slogan "Changing Lives One Mind at a Time," Smith plans to turn Birmingham into a chess mecca. Smith also provides free chess lessons at the Birmingham Public Library on Saturdays from 10 a.m. to 12 p.m.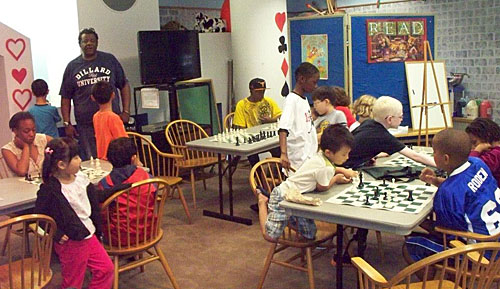 Smith holding classes at Birmingham Public Library.
Smith wants to share his passion and states that methods for teaching chess have to adjust to the modern times. Otherwise, children (in the age of short attention spans) will lose interest. He has the passion to continue presenting chess as a vehicle for enhancing social development and analytical abilities. For more information contact…
Charles A. Smith, Founder and Director
Magic City Chess University
Birmingham, AL 35261
(205) 370-7094
magiccitychessu@yahoo.com
https://magiccitychessu.blogspot.com/