2019 World Chess Cup

September 9th-October 4th, 2019
(Khanty-Mansiysk, Russia)

FINALS

Flag

1

2

3

4

5

6

7

8

9

10

pts.

Ding Liren

½

1

0

½

½

½

½

0

0

4

Radjabov

½

0

1

½

½

½

½

1

6

3rd-4th PLACE

Flag

1

2

3

4

5

6

7

8

9

10

pts.

Vachier-Lagrave

½

½

½

½

1

–

–

–

–

4

Yu Yangyi

½

½

½

½

0

–

–

–

–

2

Official Brackets
FINALS Recap

4 October 2019

Teimour Radjabov wins 2019 World Cup!
This year's World Cup had some interesting twists and turns. New faces emerged as world beaters as the world got a chance to look at bright talents such as Jeffery Xiong and Alireza Firouzja. However, it was the usual faces that made it to the semifinals. In fact, two of the players (Maxime Vachier-Lagrave and Ding Liren) were in the semifinals two years ago.
In an unprecedented result, Teimour Radjabov of Azerbaijan won the 2019 World Cup by defeating Ding Liren of China for the $110,000 first prize. He also qualified for the 2020 Candidates tournament and made the implicit announcement that his hiatus from top-level play is over. Despite the defeat, Ding also qualified for the Candidates and won the $80,000 second place prize.
Maxime Vachier-Lagrave (MVL) defeated Yu Yangyi of China, and qualifying for a possible wild card spot in the Candidates. This is a new feature in the Candidates cycle giving the 3rd-4th place match new relevance. In fact, MVL can also qualify through the FIDE Grand Prix, but has decided to skip the Isle of Man qualifier. He won $60,000 while Yu Yangyi got $50,000.
FIDE World Cup 2019 is officially closed.

? Teimour Radjabov
? Ding Liren
? Maxime Vachier-Lagrave
4? Yu Yangyi

More pictures from the closing ceremony: https://t.co/OvZBS7mBBI#FIDEWorldCup #chess #KhantyMansiysk pic.twitter.com/WINhNI13HL

— International Chess Federation (@FIDE_chess) October 4, 2019
Few could have predicted that Teimour Radjabov would be standing after five rounds of play. After defeating Vachier-Lagrave, the Azeri play got a chance to win against top seed Ding Liren in the final. Ding had defeated his compatriot Yu Yangyi in the semifinals and would make a return to the finals.
In 2017, he lost to Levon Aronian, but interestingly enough, he was a cinch to qualify for the Candidates on rating. The pressure was not so great.
Radjabov had already played a remarkable tournament, but had to face and in-form Ding Liren who had defeated Magnus Carlsen this summer at the 2019 Sinquefield Cup. Radjabov won the match on the strength of winning the blitz tiebreaker after Ding missed some key opportunities.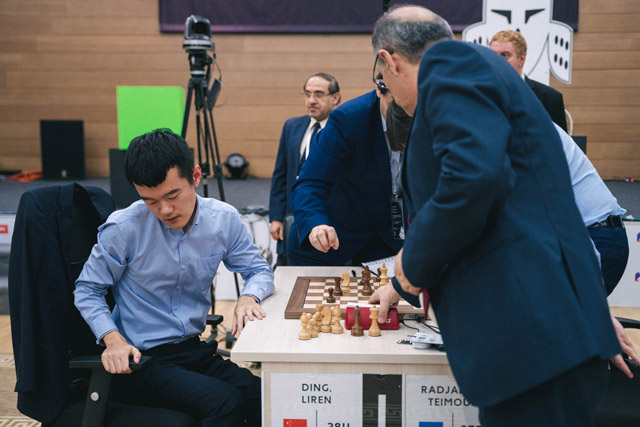 Ding Liren goes down in consecutive World Cup finals.
Photo by Kirill Merkuryev
MVL also took both of the tiebreak games and showed impeccable endgame technique in the first 25'+10″ game after surprising Yu in the opening. In the second game, Yu tried 7.Qa4+ against the Grunfeld and after 7…Nd7!? Wei Yi had played the same move against Yu in their third round matchup. That game was drawn. Yu tried a different approach against MVL, and was demolished quickly.
It had been a long tournament. The finalists and semifinalists had been in Khanty-Mansiysk for three weeks, not to mention Ding's summer rigorous schedule. Radjabov did not appear to be emotional after winning his biggest result of the past few years. He did mention the exhaustion. Here was his reaction…
Video by FIDE
This result does beg the question. Now that Ding and Yu have lost, the all-China semifinals seemed to unsettle the Chinese. Ding had already qualified (in rating) while Yu will have no chances to qualify.
With China on the cusp of challenging for the world title, they will certainly examine what needs to happen to get to the next level. It seemed that there was less stability as the tournament wore on. Was it fatigue? Perhaps. If Ding wins the Candidates, China will be in a good position to make a title run.
However, the story will be Radjabov's comeback. Will he be able to parlay his success at the World Cup into the Candidates where he will be facing formidable competition every round. He hopes to improve on his disastrous 2013 account, but for now, he will enjoy his glory and perhaps last stand for the world title!
Official: https://khantymansiysk2019.fide.com/en/
chess24.com: https://chess24.com/en/watch/live-tournaments/khanty-fide-world-cup-2019
Drum Coverage: https://www.thechessdrum.net/