2019 African Championships: Round #3
Round #3:
Tournament heats up… top seed Bassem Amin goes down!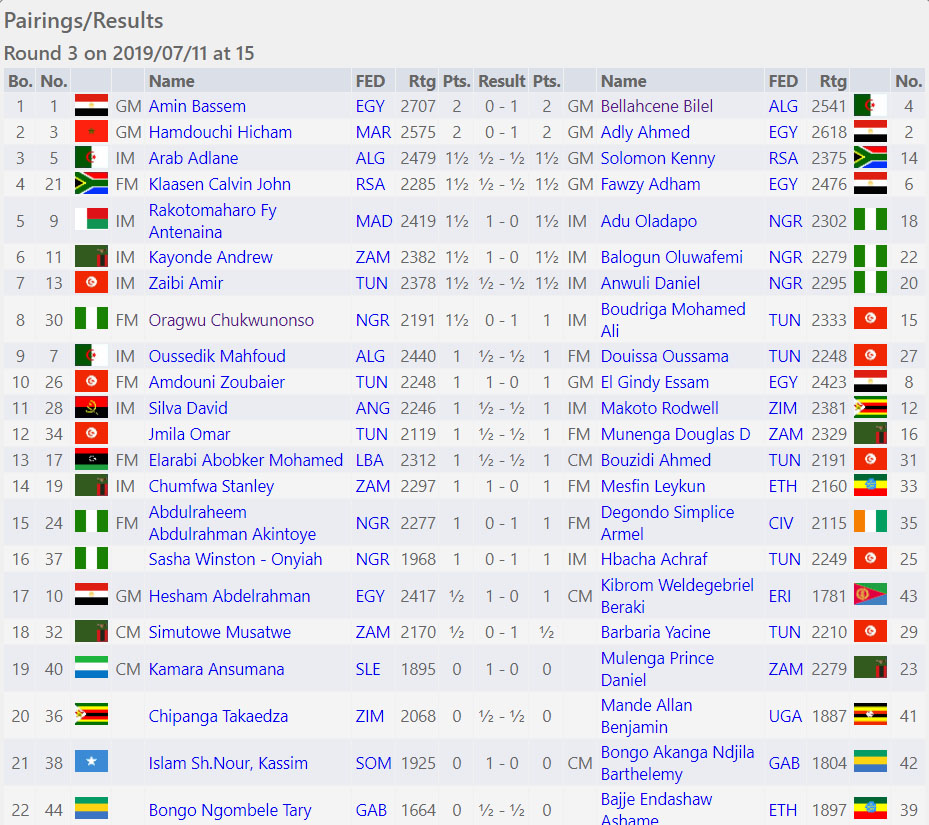 OPEN
It was "Fire on Board" at the 2019 African Championships as the top two boards saw titanic struggles lead to decisive results. Amin-Ballahcene and Hamdouchi-Adly represented three different generations of chess.
GM Bassem Amin battling upstart GM Bilel Ballahcene
Photo by Tunisian Chess Federation
Last year Bilel Bellahcene transferred his affiliation from France to Algeria and played top board at the 2018 Chess Olympiad. He was actually born in Strasbourg, France and was one of their top juniors winning five junior titles and the under-16 World Blitz Championship. Along with Hamdouchi's return to Morocco, the African field has gotten more competitive.
GM Bilel Bellahcene
Photo by Kim Bhari
Bellahcene sat down to play black against African ace Bassem Amin who sits on an 2707 Elo. The game started as a French, but then transposed into a type of Closed Sicilian. The Algerian played energetically and a middlegame skirmish ensued. After 33…Rg7 34.Qh1 black played 33…Nxe5!? to get at white's exposed king.
The beauty was that black had a passed b-pawn which tied up white's army, so the Egyptian sacrificed an exchange for an absolutely crazy position. When the position clarified, black had an extra exchange and pawn. Ballahcene then broke all resistance after sacrificing back the exchange for a pawn, thus netting two pawns. The rest was trivial.
In Hamdouchi-Amin, the game begin 1.e4 c5 2.Nf3 Nf6!? known as the Nimzovich Sicilian. The Egyptian most likely sidestepping preparation and the deep experience of his opponent. The game ended up with several imbalances and in the middlegame, black decided that it was time to seek initiative on the kingside, but the Moroccan sought to simply by trading queens. Black uncorked 38…Ne3+! forcing white to backtrack. With mounting pressure, white could no longer hold the position together. After the cute 49…Rxf2+! 50.Rxf2 Ne3+ black was able to get a winning initiative.
BATTLE OF GENERATIONS
GM Hicham Hamdouchi facing the younger African Lion GM Ahmed Adly
Adly has always been a difficult opponent because he plays very enterprising chess where he takes you away from main lines and outplays you. When he sees the initiative, he comes with full force and it's hard to stop the momentum. With his win and Amin's loss, the field is wide open. There is still a matter of upsets down the road as the hyenas are prowling among the lions.
In other action, the other three GMs got -1 for the day as both Kenny Solomon and Adham Fawzy were held and Essam El-Gindy lost. Albeit, IM Adlane Arab weighs 100 more Elo than Solomon, so it was a fair result for both. In a GM upset, Tunisia's Zoubaier Amdouni (2248) toppled El-Gindy (2423) as the Egyptian GM remains winless in three games.
To demonstrate how wide open this tournament is, Bellahcene and Adly are on 3/3 and the next 15 players are within a point of the lead. IMs Fy Rakotomaharo and Andrew Kayonde both won their games and stand at 2.5/3. They will face each other in the next round. The fourth round should also be interesting as both Amin and Hamdouchi will try to rebound from losses.
Round #3 (Selected Games – Open)
Round #4
GM Ahmed Adly (Egypt) – GM Bilel Bellahcene (Algeria)
IM Andrew Kayonde (Zambia) – IM Fy Rakotomaharo (Madagascar)
IM Stanley Chumfwa (Zambia) – GM Bassem Amin (Egypt)
IM Daniel Anwuli (Nigeria) – GM Hicham Hamdouchi (Morocco)
FM Simplice Degondo (Ivory Coast) – IM Adlane Arab (Algeria)
WOMEN
Tops boards yield decisive results!
Aishat Ibrahim (Nigeria) vs. Jesse February (South Africa)
Photos courtesy of Tunisian Chess Federation
Another round of bloody chess in the women's field. Out of 11 matches only one ended peacefully… between two Tunisians. The rest of the players were in a fighting mood. Many of the top women in Africa have already won the continental title, but that does not stop them from having the hunger needed to perform well. With Egypt's Mona Khaled having made way for the newer generation.
Shrook Wafa continued her march with another win over her compatriot Ayah Moaataz. Sabrina Latreche beat an ambitious Lorita Mwango who was coming off of a win over Amina Mezioud. So Wafa and Latrech are the only players with 3/3. Mezioud recovered by beating the defending champion Shahenda Wafa. There is still lots of time to make up ground. Upsets are lurking in the tournament hall.
Round #3 (All Games – Women)
Drum Coverage: https://www.thechessdrum.net/
Chess-Results: (Open, Women)
PGN Games: (Open, Women)
Regulations: https://www.fide.com/