A King in Harlem: Peter Roberts (1952-2018)
FUNERAL SERVICES FOR PETER SIMON ROBERTS
(January 18, 1952 – August 9, 2018)
Funeral Information
Unity Funeral Home
Harlem, New York, USA
126th Street and 8th Avenue
Thursday, September 6, 2018
Viewing: 5pm to 6pm (service afterwards)
Recently, it was announced on Facebook Chess Connections that Peter Roberts had passed away. After friends noticed he was not in contact for days, they stopped by his home where they found him unresponsive. He was 66 years old.
Peter had competed in the 2018 World Open in Philadelphia about one month before his death thus ending a chess career spanning more than three decades. This year, there have been a number of losses to the chess community. Adia Onyango, who had a very high regard for Peter, made the announcement to the chess community:
It is with a heavy heart that I announce to the chess community that we have lost another great friend, teacher, mentor and player in the chess community. Peter Roberts was a professor at BMCC, however, while he was not molding the next generation in the classroom he was sharing his teaching skills with the chess community, running groups for anyone who wanted to come out on the weekends. Peter was a Nationally Ranked Expert and was active in various chess leagues in NYC, both as a captain (in the past) and as a player and teammate on the Kingsman team. I am so sad to find out of his passing and was told he passed last week. Sorry if you are just finding out as well. I will repost funeral information when I receive it. Sadly this is the second Kingsmen player that we have lost within a month and a half (RIP Bob Ali).
Peter Roberts at the 2015 World Open in Philadelphia, Pennsylvania
Photo by Adia Onyango
Adia Onyango (left) shown here next to Peter Roberts at 2018 World Open.
He scored 5.5/9 in the under-2200 section.
It would be his last tournament.
Photo by Daaim Shabazz
Many readers will not have encountered Peter, but sometimes it is the unheralded player who help us to see the joy in chess. He was interested in appreciating the inherent beauty of chess and was enthusiastic in spreading his passion. I met Peter Roberts at the 2002 World Open Chess tournament. He introduced himself to me and told me how much he enjoyed The Chess Drum. It was very touching for me.
He stood as one of the biggest supporters of the site and always gave an encouraging comment when I sometimes imagined that running the site was a thankless job despite the investment of time and resources. His support helped me to forge ahead. He was a regular contributor to The Chess Drum and always left insightful comments on several posts including one 10 days after Barack Obama was elected to Presidency.
As much as Peter was good-natured and generally upbeat, he never hesitated to weigh in on controversy. In 2003, he rebutted Nigel Short's article which appeared to make light of slavery. The British Grandmaster later apologized profusely. In 2007, he was staunch in his defense of The Chess Drum against a detractor who deemed the site "racist." (link)
Bernard Parham II (left) chatting with Peter Roberts at 2002 World Open.
Photo by Daaim Shabazz
Peter saw the good in things and appreciated the efforts of those who were supporting the chess cause. He mingled easily and often introduced himself. Throughout the years, I enjoyed my interactions and conversations with him. He was always gracious and he showed tremendous passion for chess.
We both shared a common profession of being in higher education and while we never discussed academia, I gathered that he would be an influential figure at Borough of Manhattan Community College (BMCC). His capacity at the institution was "Nontraditional Career Academic Advisor" which means that he was charged with guiding people toward a path of prosperity.
It makes sense that he advocated the learning of chess as a path because according to him it "helps students take command of the thinking process, it teaches them how to take victory and defeat in life as well assisting them in taking responsibility for their lives and planning their future."
Eric Kennedy of New York recalled a very interesting story about Peter's role in turning BMCC into a collegiate powerhouse.
…my fondest memories of Pete was the times he would conduct study sessions at Blimpies, the legendary chess battles with Tim Harris (RIP) the many chess players he helped get into BMCC who otherwise could of went in a different path in their lives, the several people he helped get employed at BMCC. As a matter of fact, he was a HUGE reason BMCC was a powerhouse chess program in the early to mid 90s as they won three straight Pan Am championships against the top colleges in the country. I can recall the time GM Ashley played at BMCC (in those days he was an IM), Pete would gather as many of us as he could whether we were playing blitz at City Hall Park, or playing at Blimpies to visit BMCC to show support. That's just the kind of man Peter Roberts was. I will never forget the blitz battles I had with him at City Hall Park. He was a very good blitz player even though he rarely played blitz. I am truly going to miss him because he was a beautiful human being.
During the 2015 World Open in Arlington, Virginia, my friend Donna came to visit me at the tournament. She had driven from New York to attend a friend's wedding in Virginia. After chatting for a bit, I gave her a tour of the skittles room and the playing hall. I couldn't quite convince her of the beautiful nature of chess, but she seemed to appreciate the environment.
Just before the round was to begin, we walked into the tournament hall and saw Peter who was preparing for his game. I introduced him to Donna who was pleasantly surprised at his Harlem shirt. Donna was a resident in Harlem at the time and needless to say, they had a warm exchange. Peter represented chess players very well and Donna seemed impressed with his genuine nature.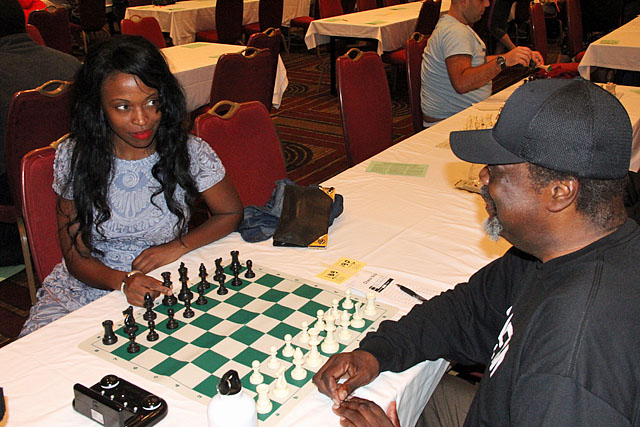 Donna knew exactly which piece to use!
The Black Queen wins again!
Peter beams brightly with Dr. Donna Cill
Photos by Daaim Shabazz
Last year at the World Open, Peter showed me his tattered copy of Triple Exclam that he ordered through the mail. He asked me to sign it. It had notes in the margins and was well-worn. He told me he had been through the Emory Tate biography and was going through it again, but needed to purchase another copy. He then begin looking through the book as if it were the first time.
It goes without saying that one cannot soon forget his smile and his expressive eyes. While the New York chess community will be able to share their own memories, I will never forget him supporting me in providing a "Voice of the Voiceless," or a platform to express and display their chess talents. Peter represented the good of the chess community and while he is no longer physically with us, we can learn a lot from his example.
I will certainly miss him.
Thank you sir!