The life of a politician is one of many twists and turns. It is a high-profile position and one that requires the public servant to be accountable for every single action. Perhaps no public office is under more scrutiny than the Head-of-State. President-Elect Barack Obama will soon find out the highest level of accountability required in such a lofty post.
During the Presidential campaign against Senator John McCain, Obama championed the notion of "CHANGE". He successfully leveraged this idea into a high-powered campaign that captured the imagination of people around the world. There were many opinion polls and articles written about Obama. Countless stories, blogs and YouTube clips have been created… some unflattering, some effusive in praise, some in between. However, there is a type of excitement in U.S. politics that has not been seen in some time.
The Obama Effect in the Black Community
Obama will be inaugurated on January 20, 2009 in Washington, DC becoming the first person of African ancestry to hold the position. What does this do for the Black community? Certainly, Blacks in America (regardless of nationality or origin) will still face discrimination and racism. Police brutality will remain a fixture in America as seen by recent incidents. The impact of an Obama administration will not be seen for months (or years). Where we may see a more immediate impact is among the younger generation around the world… particularly young Black men in America.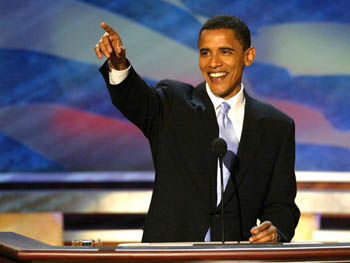 President-Elect Barack Obama
Obama's youthful, clean-cut look combined with his strong wife and adorable daughters will provide hope for the fledgling institution of marriage in the Black community. Perhaps it will give young men an idea that they do not have to be athletes, entertainers, rap stars, or even "gangsters" in order to make a mark. These industries are over-glamorized and have given many young men an unrealistic sense of hope.
---
It was uplifting. It was something that you can tell your kids, you really can become anything now. You don't have to become a basketball player.
~LeBron James, NBA basketball superstar
---
Media images most associated with Black men in America are athletes and entertainers. These positions hold influence, fame, fortune and a lavish lifestyle that is promoted in American society. Media outlets have even gotten to the point where they are enlisting people like Charles Barkley, Chris Rock, D.L. Hughley and P. Diddy as thought leaders for the Black community.
While there is nothing wrong with choosing one's career of choice, athletics and entertainment are too often viewed as the only viable options for a young boy from the inner cities of America. Obama's image shows that you can be a "baller," can be intelligent, speak well, have a successful career and a family. Despite many professional Black men across America, this imagery is rarely seen in the media.
Stony the Road we Trod
If Obama does nothing spectacular in his first four years, America will have his image and story to ponder. This alone is unprecedented given the cynicism that pervades American politics and the Black community. The fact that Obama had a decidedly different upbringing and worldview will raise interesting questions and lead to substantive discussions on politics, age, race, gender, nationality and class. He will also have his fierce critics. This grassroots politician learned his craft on the tough streets of Chicago. How much of that training will prepare Obama for the highest office in the land?
The Black National Anthem has a line, "stony the road we trod." Obama is standing on the shoulders of giants who have trod that stony road and who sought to give the world a new political reality. One man who embodied such spirit was politician, orator and abolitionist Frederick Douglass (1818-1895), who perhaps more than any of Obama's predecessors (including activist Dr. M.L. King), had blazed a trail of political consciousness. It is unfair to label Obama as the new "Messiah," or as one who can eliminate the world's deepest social problems. However, he has already walked the stony road and paved the way for countless others… just as others had done for him. His journey upon this road will be discussed in eternity.
All the best!