Interview with Tshepo Sitale for ACC President
Tshepo Sitale
Photo by Botswana Chess Federation

Tshepo Sitale of Botswana has traveled the continent touting his platform to lead African Chess Confederation (ACC) for next four years. He announced his candidacy earlier in the year and participated in the ACC debate last month. His two competitors incumbent Lewis Ncube and Dr. Essoh Essis. All have selected Pan-African All-Star teams representing a mixture of skill sets.
Sitale announced his candidacy in the spring. When clarifying his intentions to be the voice of Africa, Sitale stated in the debate that ACC will be an independent entity. It is certainly time for Africa to assert its position as a force within FIDE apart from their voting power.
*Politically* by virtue of being Confederation (ACC) we should understand that we are independent. Hence as an organization we elect our own Board. We are at par with other Continental bodies and how we allow FIDE to treat us depends on how we project ourselves.
Very strong words indeed.
Sitale, 37, led the Botswana Chess Federation (BCF) during a successful era and was credited with aggressive branding of the federation. This included hosting a sitting World Champion (Viswanathan Anand), expanding chess education and developing the website and logo. In 2012, he was honored as the "Sports Administrator of the Year" at the 33rd Botswanan National Sports Council Awards. Most importantly, his family has been supportive of his chess pursuits and his wife Shandya Sitale has helped him to partner with WIM Boikhutso Mudongo in running "Chess Kids Academy" in Gaborone, Botswana.
Tshepo Sitale receiving generous sponsorship from Metropolitan Bank.
PHoto by Keenese Katisenge (BCF PR-Director)
According to his dossier,
"Sitale is Town Planner by profession and a sports administrator. He has a Bachelor of Science Degree in Town & Regional Planning and Masters in Development Studies. Tshepo is a Prince2® Project Management Practitioner and hold various Sports management certificates. He is currently Deputy President of Botswana National Olympic Committee and was previously President of Botswana Chess Federation (2008-2013). In FIDE he is part of the Executive Board and serves a member of the Verification Commission & Chess in Schools Commission."
Recently, The Chess Drum was able to pose some questions to Sitale in his bid for ACC Presidency. He was kind enough to submit to these questions. He mentioned that he had been in Greece to meet with the FIDE Verification Commission and finally was able to present these answers. Enjoy.
Interview with Tshepo Sitale (BSc, MA)
Past President, Botswana Chess Federation
Candidate for President of African Chess Confederation (ACC)
Tshepo Sitale receiving World Champion Viswanathan Anand in Gaborone, Botswana. Photo by Booster Galesekegwe
Daaim Shabazz (DS): What do you see as the three most vexing problems with chess development in Africa?
Tshepo Sitale (TS): Africa is challenged because of we have various regions which have unique challenges and the most prevalent is the socioeconomic state of most countries, which in turn affect chess and sport in general. Most leaders in Africa are still inclined to football and more resources are pumped in football to the detriment of other sports or games such as chess. But I see an opportunity for Chess if marketed right, more so that the majority of the population in Africa is youth and there is need to shift the mindset of kids and the best tool is chess.
DS: There has been a constant problem of keeping African membership dues current. What is the current number of African nations holding FIDE membership and how do we fix the constant problems with arrears? (FIDE list)
TS: The issue is not really about the dues to FIDE; the challenge is that some Federations are not active and hence can't hold events and generate funds. How? FIDE offers rebates to all Federations in level 3-5, and this is are levels where most Federations in Africa are found. Which means if they host rated events, FIDE has to refund them all the FIDE fees collected in those events and that could be used for administration and even to pay FIDE fees. NOT only that! Most federations in Africa, at least I can safely say Anglophone countries, are supported by the Sports Commissions with a small budget which can cover administration. The Francophone countries also have their associations that assist them. We need to master how to do more with less!
DS: You have served in various capacities including President of the Botswana Chess Federation. What have been some memorable highlights of your career?
TS: My all time high, was hosting the then World Champion Vishy Anand in 2009. I had just come on board and the then NIIT (now Botho College) came on board to bring Vishy in Botswana (link).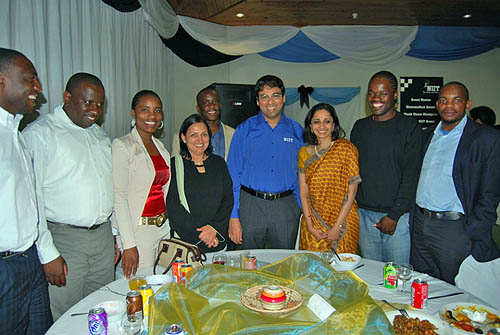 Anand with Botswana chess community and a NIIT representative.
Photo by Booster Galesekegwe
DS: What is the state of FIDE and what does the organization need to move forward?
TS: FIDE is an evolving Federation and like other sport, it is challenged with the need to change and become relevant in today's world. The game is now getting popular beyond former Soviet Union regions and we see the boom in India and in Baltic areas such as Norway. Furthermore, the game is now easily available online and there is need to capitalize on this platform considering that e-sport is the next big thing.
DS: Does FIDE need a totally new vision?
TS: I don't think FIDE needs an overhaul, I am a believer in continuous improvement and I will be happy to see new ideas being brought on what already the organization has kept over time, such as inclusiveness and where the General Assembly is allowed to vote for host cities of major competitions and all votes are very much equal whether big or small. This is something that other sport organizations have lost, you have Boards and certain Delegates empowered to take decisions for the rest of the membership.
DS: There are now three candidates for the office… Arkady Dvorkovich, Georgios Makropoulos and Nigel Short. What has been your interaction with each candidate?
TS: Interestingly, so far only Makropoulos has had time to call me and we actually had a meeting in Zambia where we agreed and disagreed in some issues surrounding Africa Chess. The other two candidates, I only read about their programs and plans online.
---
"The 2014 situation was sad! I hope as Africa we will never go back to that era where there were two General Assembly meetings for Africa (one supporting Kirsan Ilyumzhinov and the other Garry Kasparov). I could say going into this election though that there are three camps, but we will come out of this election united. Why? Because we have started dialogue for the need to develop and grow chess in Africa irrespective of which side one is on politically."
~Tshepo Sitale on prospects for 2018 FIDE election
---
DS: In the WhatsApp debate, there was a point made by Dr. Essoh Essis that you were urged to stand for ACC President by Makropoulos. Can you clarify your position?
TS: I found this to be a bit of political mischievousness, as Makro does not vote in Africa nor is he a delegate in Africa. I received nominations from over 10 Federations in Africa when the names for Candidates were called for, these were the people who have shown confidence in me. These nominations included Africa powerhouses in Chess such as Egypt, Angola, Zambia and Algeria.
DS: Which candidate do you see as being able to provide Africa with most support in terms of chess development?
TS: I am biased as so far only Mr. Makropoulos has engaged me on Africa's issues. But since I am on the Verification Commission, I have seen Makropoulos steer the ship to safe waters financially. Three years ago FIDE was at the brink of bankruptcy and today we have reserves of over 1.5 million euros and that should count for something for the current Acting President. For me this indicates that FIDE does not necessarily need a President who is rich and acts as a Patron for the organization donating money all the time. We can open the Organization to sponsors and allow FIDE to survive on its own.

DS: There has been a very polarized situation in the past FIDE elections. Past campaigns have divided entire continents, zones and even federations! At the 2014 Chess Olympiad, Africa was caught in the middle of a contentious election. Has the continent recovered from that experience?
TS: The 2014 situation was sad! I hope as Africa we will never go back to that era where there were two General Assembly meetings for Africa (one supporting Kirsan Ilyumzhinov and the other Garry Kasparov). I could say going into this election though that there are three camps, but we will come out of this election united. Why? Because we have started dialogue for the need to develop and grow chess in Africa irrespective of which side one is on politically.
Tshepo Sitale (center) in Norway for the 2009 Arctic Chess Challenge
with Kenya's Lawrence Kagambi and Mozambique's Donaldo Paiva.
Photos from www.sjakk.net.
DS: Can you give us the theme of your election campaign and how will it differ from previous administrations?
TS: I take my main message in this ACC elections is that we are "stronger together". Attached herein is my Vision and I have a team of experienced leaders across Africa who will help unite Africa and grow chess in our beautiful continent.
DS: In your platform (posted on Facebook), you have a promoted good governance, transparency, branding, partnerships capacity building, tournament organization and fundraising. Your plan is quite ambitious. I'm interested in knowing more about your ideas for marketing and branding of chess in Africa. It has been a very difficult challenge and federations have to scrounge for funds to support their activities. What is the formula that will help to change the perception of chess in the minds of sponsors and government officials?
TS: I have said before that there is so much potential in Africa. Why yes! I'm optimistic and ambitious because if we can collectively have s strategy as Africa leaders and put resources to best use, we can take chess to another level in Africa. FIDE offers 40% of the Development budget to Africa and there is need to maximize this budget for development. FURTHERMORE, we have many donors from Europe and the U.S. who have availed resources. We need to tap into such resources driving the mandate of the donors. I will give you an example, there are campaigns to kick out Malaria, Polio and HIV/AIDS, all this targets places where youth gather and events; having chess tournaments and chess clubs in schools can easily allow information dissemination and we in turn benefits from the resources availed for such programs.
Botswana National Olympic Committee (BNOC) Executives, Lt. Colonel Botsang Tshwenyego (left), Bernadette Moruti (second left), Tshepo Sitale (second right) and Michael Moroka at the BNOC ordinary General Meeting in Gaborone, 26 April 2014. Photo by Felicity Male/Daily News
DS: As you well know, Africa has not developed as a region while activity in Asia has exploded. While it is difficult to compare the regions, what lessons can we learn from their growth and which of these strategies are actually feasible in an African context?
TS: Asia has grown the game especially in schools, and there is a vast population of chess players. This is the very route we need to take as Africa, we need to have Chess in Schools programs and over 50% of Africa's population is young people. We would easily get many young people taking up the game. Chess is cheap as compared to other sport or games and we have to capitalize on that besides the obvious benefits of helping children improve their thinking ability, strategy and memory. BUT we have some stories of hope. For example, in Lesotho chess is now a subject at Primary schools. We have the likes of Egypt with strong Grandmasters, slowly we are getting there.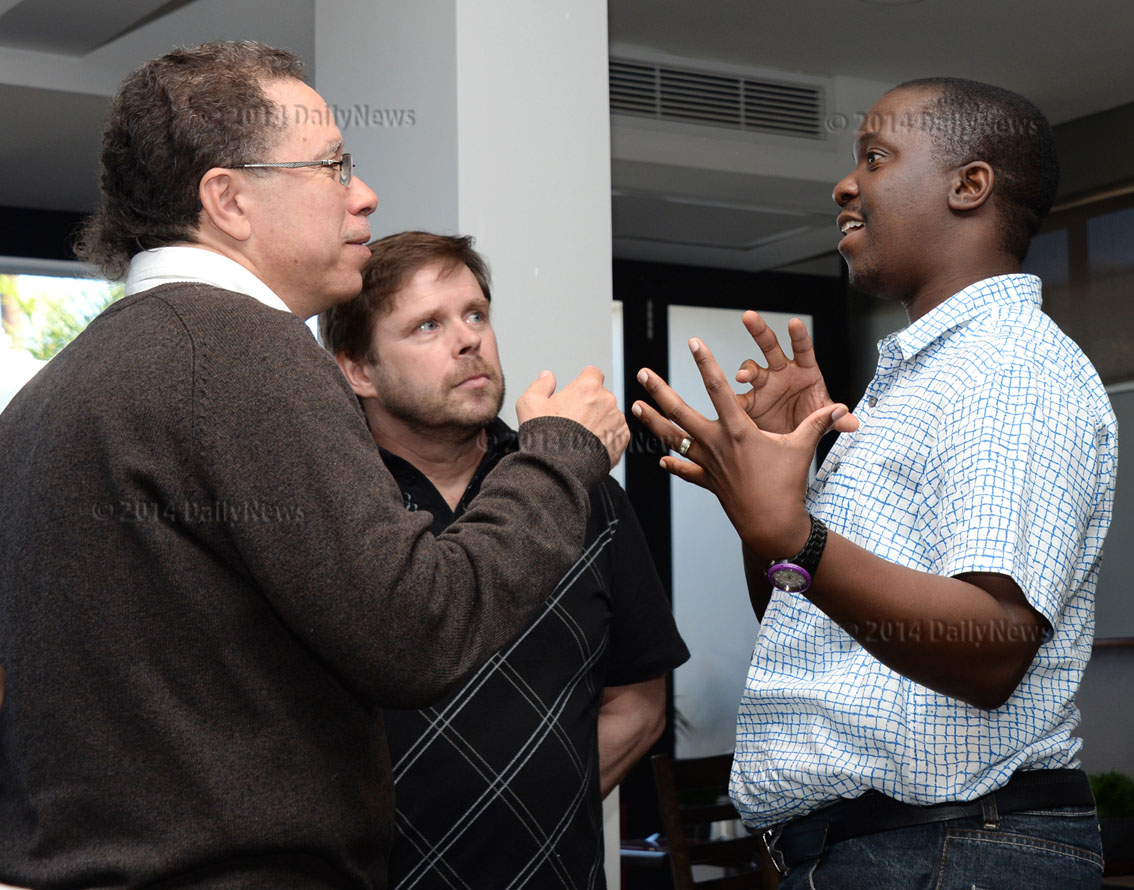 As the President of Zone 4.3 in 2014, Sitale is seen here speaking with Barbados' Allan Herbert of FIDE Development Commission about the challenges of chess development in Africa. Lack of funding and development structures still hamper the chess outreach. Photo by Tebagano Ntshole/Daily News.
DS: Do you see any possibilities of building a more conducive environment for talented Africans to pursue higher levels of play?
TS: Yes! We need to collaborate with various Chess centers around the world and also take advantages that some countries like the US and European countries have their embassies in Africa offering scholarships. If we identify talent early enough and expose them, we could soon have strong players and Grandmasters.
DS: What are your short- and long-range goals for the next four years?
TS: I have outlined this on our Manifesto and will say have a look at the seven agenda points which we want to have as the basis of growing chess in Africa.
DS: Are there any closing comments you want to make about your candidacy?
TS: My ticket is made of men and a woman who are experienced and we offer experience and above all, we are very much for the idea that Africa has to rise and do it ourselves. We can't rely for external forces to help us, we can all come together and pull our resources for the benefit of all. My team and I have proven track records and that should be a strong indicator that we are capable!
See Ticket, Campaign Manifesto!
Please post your questions & comments below!