Anand Arrives in Botswana!
CHESS DRUM EXCLUSIVE!
World Champion Grandmaster Viswanathan Anand lands in Botswana
by Kenneth Boikhutswane

Anand arrives in Gaborone, Botswana.
The reigning World Chess Champion, Grandmaster (GM) Viswanathan Anand of India, touched down this afternoon at 1640hrs local time. The GM was afforded the status befitting of a player of his status, this signified by that he was allowed to use the VIP lounge of the Gaborone International Airport. Present to welcome him at the airport where Botswana Chess Federation president, Tshepo Sitale, NIIT Botswana Managing Director Sheela Raja Ram, Ravindra Nath who is the Acting Indian High Commissioner in Botswana, Masego Ramakgate of the Ministry of Foreign Affairs, as well as chess lovers and members of the press. This visit is a result of the partnership between NIIT Botswana and BCF and the hope is that Botswana will in the not so distant future have a similar version of the Mind Champions Academy which Anand started in India.
GM Anand visit to Botswana represents the first time a World Chess Champion has visited this country, and as such is a historic moment for BCF and Botswana, as well as the African continent. I have searched, and have not found, any information about any champion visiting this vast continent. Therefore, this visit reaffirms the well-known fact that the champion is a humble gentleman, and will do anything possible to promote the game of chess at any opportune moment. Already the champion has scored a lot of points from those he has been in contact with so far, and many parents are going to bring their kids to see the champion and hopefully have his effect rub off on to them.
The President of Botswana Chess Federation Tshepo Sitale
shakes hands with the champion.
While here the champion is set to engage in two simultaneous displays, one on 29th August against students of NIIT, private tertiary institutions, BCF primary school students, as well as a few invited guests. The second simul, hopefully to prove a little tougher than the first, will see him take on the cream of Botswana chess in the national team. Amongst those set to play him are the likes of three times Botswana champion Phemelo Khetho, the current Botswana champion Providence Oatlhotse, Woman Grandmaster Tuduetso Sabure and Woman FIDE Master Boikhutso Mudongo. The likes of Ignatius Njobvu, Gorata Leso who has just come back from Norway, will also be expected to give the champion a run for his money.
Straight from the airport, Vishy Anand was whisked off to the Grand Palm Hotel and International Conference Centre. He did not have much time to rest, as NIIT had arranged a dinner for him same evening. Recalling how the trip was made possible, the MD of NIIT Botswana, Raja Ram said it all started "with a one line email to NIIT India!" According to Sheela evertime she looks out of her office window she sees plenty of students playing chess during their class breaks, and this very act by the student reinforced her conviction to bring over the champion. Raja Ram also mentioned that she was "committing, in front of everyone present that NIIT and Botswana Chess Federation's relationship will go a long way." A thunderous applause followed that statement.
Anand addresses audience at dinner.
The moment that everyone one had been waiting for, a speech by the GM Anand finally arrived. As the champion walked to the podium, the whole hall stood up in a massive show of respect to a man whose title is undisputed following his tournament and match win, thus ensuring the world has only one champion. The champion noted that he had always wanted to visit Botswana, and has been warmly received. In his speech he mentioned that in chess one always has to come with a new plan for every game, as what has been played will be studied by opponents and therefore will be of no use in future. As for his Mind Champions Academy project, GM Anand noted that "studies showed lower levels of delinquency in kids taking up the game of chess, and the game also improved academic performance" and was happy that BCF was planning on a similar initiative.
In a rare gesture, the champion went around all the tables in the hall and shook hands with everyone, an act that left a lasting impression on all those in attendance.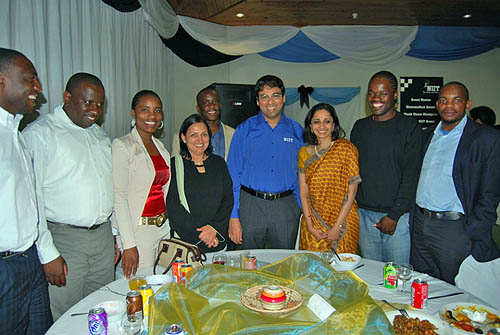 Anand with Botswana chess community and a NIIT representative.
~Kenneth Boikhutswane is Botswana Chess Federation Secretary General, and has written extensively on chess for Mmegi newspaper. All photos are by Booster Galesekegwe.