Zambia's Lewis Ncube touts African Chess Platform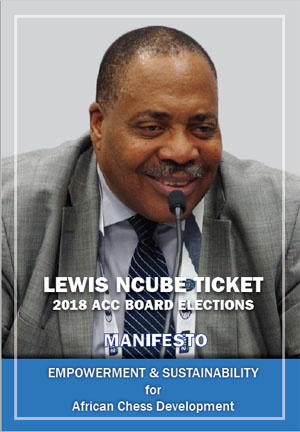 In the last month until the Chess Olympiad begins in Batumi, Georgia, three candidates will be jockeying to lead the Africa Chess Confederation (ACC). Lewis Ncube of Zambia is the incumbent President facing stiff competition by credible opponents Dr. Essoh Essis of the Ivory Coast and Tshepo Sitale of Botswana. All three faced off in a debate hosted by Africa Chess Media last month.
Ncube touts over 40 years of involvement in chess and has spent the last 20 years in chess administration, first as President of Zambian Chess Federation and then for two terms as FIDE Vice President. Last week, The Chess Drum received his platform and it details his background, his ticket, and his platform. The 60-year old engineer has assembled a team that seeks "empowerment" and "sustainability" for African federations. His ticket includes some well-known figures as well as some new-comers.
The term EMPOWERMENT refers to "measures designed to increase the degree of autonomy and self-determination in people and in communities in order to enable them to represent their interests in a responsible and self-determined way, acting on their own authority. SUSTAINABILITY programmes will be to assist each national federation to progress their chosen projects from the conceptual stage to realization without hampering the continuing chess development process and competitive events within the federation."
It is always upon the incumbent to list the accomplishments of the previous term and how those will translate into sustained growth. Four years ago, Ncube proposed an African Grand Prix to increase the competitive spirit of the players. While there was no mention of the progress of realizing an African Grand Prix, there was mention of partnerships with the ROEL Group, Global Commerce Forum, PUN Netherlands, ROMIE Investments Company and SPAR.
In an interview with The Chess Drum in 2014 Chess Olympiad in Tromso, Norway, Ncube made similar pronouncements. 23:03 minutes In a 2015 interview with Nigeria's Akinyele Akinseye, Ncube spoke at length about Chess-in-Schools, a familiar theme in campaigns. The amount of African members in FIDE has increased to 47 and a number of events (including the recent African Youth Championship in Kisumu, Kenya) were successfully hosted.
#AYCC gets a visit by Lewis Ncube@AfricaChessConf President addresses the youth in Kisumu@ChessKenya pic.twitter.com/mmhd8uFmcD

— Stephen Mwangi (@smwngi) August 17, 2018
Despite these highlights, Ncube has had some serious challenges. At the FIDE Presidential Board meeting in April (Minsk, Belarus), he faced accusations about mishandling US$30,000 loan to establish an ACC headquarters in South Africa.
While he has moved forward to address these issues head-on, they still serve as obstacles to his bid for re-election. Ncube denied allegations that his executive committee misappropriated funds for ACC and has made public statements to that effect.
"If there are certain lapses in terms of documentation that is fine, but I am 100 per cent sure that there were no abuse of funds by anyone in the executive. If they want, they can get independent auditors to come and get the accounts, and check the financial statement. Absolutely, there is no abuse of funds," he said.(link)
As far as his endorsements, Ncube was a staunch supporter of Kirsan Ilyumzhinov during his tenure, but now publicly supports Arkady Dvorkovich. The two discussed empowerment models for African chess federations and Mr. Dvorkovich confirmed his full support for this vision.
On Africa, Mr. Dvorkovich wholeheartedly agreed with the business linked approach to towards the empowerment and self-sustainability of African chess as announced during the deliberations of the 2018 Extraordinary Congress of the African Chess Confederation held in Sousse, Tunisia on January 21, 2018.
Lewis Ncube with Arkady Dvorkovich in Kisumu, Kenya
during 2018 African Youth Championship
Photo by Chess Kenya Federation
The FIDE battle will be hot and contentious at the presidential level with candidates (FIDE Deputy President Georgios Makropoulos and GM Nigel Short) throwing constant barbs at each other. To complicate matters, the ACC battle has seemed to draw associations with the candidates. It will be important that Africa can remain independent as a bloc and that there are no "package deals."
The election tore the continent apart in 2014 as Africa could not even rally unified support to get South Africa the Olympiad bid for 2018. Ncube admitted that the election was the "most divisive" he had ever seen and that it would be the ACC's challenge to "heal the rifts." He then offered that, "some of the rifts are still there and will take time to heal." We will certainly see if Africa will come out more united regardless of who wins.
Lewis Ncube with Malawi's Kezzie Msukwa,
a member of the "Empowerment and Sustainability" ticket
See Campaign Manifesto!
Please post your questions & comments below!