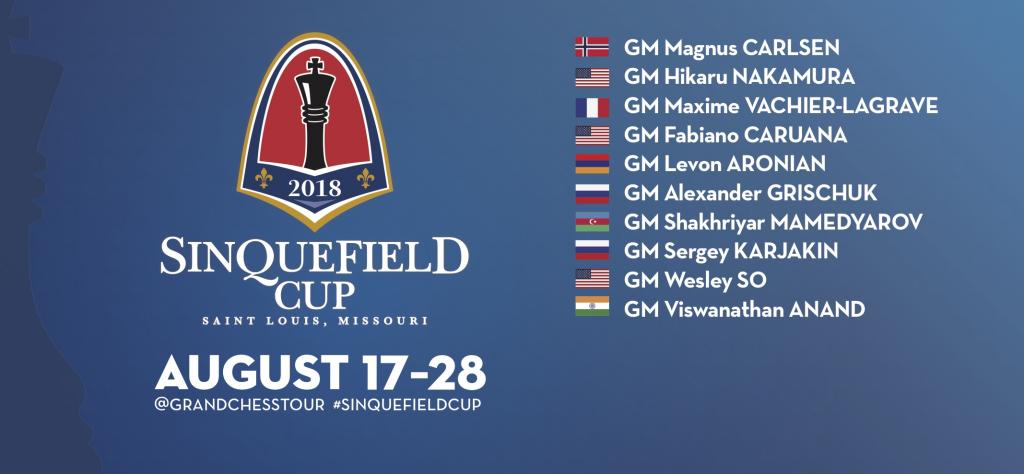 With the Chess Olympiad and the World Championship coming up this fall, the Sinquefield Cup will round out the summer's last Grand Tour event before the London Chess Classic in December. The London event will follow the Championship which is also held in London and will feature two of the GCT participants, World Champion Magnus Carlsen and Challenger Fabiano Caruana. Carlsen will not participate in the Classic, but will certainly be ready to try to win his second Sinquefield Cup. In fact, Carlsen tweeted his inspiration.
Getting inspired before #SinquefieldCup pic.twitter.com/bTPeHwtvBP

— Magnus Carlsen (@MagnusCarlsen) August 17, 2018
The 2018 Sinquefield Cup is not very different from last year's edition with the exception of Alexander Grishcuk's return (from 2015) and the hottest player in the past year Shakriyar Mamedyarov replacing Russians Ian Nepomniachtchi and Peter Svidler.
In addition, the previous four GCT tournament (this included) will serve as qualification events for the finale which will be held in London. The format has been tweaked over time and this year means that players have to fight more vigorously to compete for a lion's share of the prize money.
The Sinquefield Cup sees Magnus Carlsen and 9 more of the world's best players compete in the Saint Louis Chess Club from 18-27 August 2018. The event is the last leg of the 2018 Grand Chess Tour before the final in London, with Carlsen joining the tour regulars as a wild card. In addition to tour points the prize fund is $300,000, with $75,000 for 1st place.

Players receive 100 minutes for 40 moves then 60 minutes for the rest of the game, with a 30-second delay from move 1. A tie for first place will be decided in a 2-game rapid mini-match (10 min + 5 sec delay), only between the top two, and if necessary an Armageddon game (5 vs. 4) on 28 August at 13:00 local time.
Rex Sinquefield presenting some words about the Sinqufield Cup's role as part of the 10-year history of the St. Louis Chess Club. Sitting on the dais from left to right are: Shahkriyar Mamedyarov, Viswanathan Anand, Wesley So (partially hidden), Maxime Vachier-Lagrave, Fabiano Caruana, Sinquefield, Magnus Carlsen, Hikaru Nakamura, Sergey Karjakin, Levon Aronian. Photo by Lennart Ootes
Watch the world's elite #chess players in the only #GrandChessTour classical event, the #SinquefieldCup, LIVE, August 17-28. https://t.co/GNEMHnqu6q #GrandChessTour pic.twitter.com/kzeCeHz28j

— Grand Chess Tour (@GrandChessTour) August 19, 2018
This is the 6th edition of the Sinquefield Cup and since it's start as a four-player tournament has blossomed into a round robin format that includes 10 players. Mamedyarov has vaulted over the 2800-level to join Carlsen and Caruana while the other players have essentially shuffled positions. The same core of players are participating this year with the return of Carlsen. This will be a tuneup for the pending match as he will not compete in the Olympiad.
The venue is the Chess Club and Scholastic Center at 4657 Maryland Avenue, Saint Louis, MO 63108. Full information available at the official web site. Live commentary will be given by an eminent line-up of Maurice Ashley, Jennifer Shahade, Yasser Seirawan with commentary at Kingside Diner by Grandmasters Alejandro Ramirez and Cristian Chirila. Games start at 13:00 local time (14:00 New York, 19:00 London, 20:00 Paris, 21:00 Moscow, 01:00 Mumbai).
For more information, visit www.grandchesstour.com or follow along at @CCSCSL.
2018 Sinquefield Cup
August 17th – August 28th, 2018 (St. Louis, USA)
Chess Club and Scholastic Center of Saint Louis (4657 Maryland Ave.)


Players

Rank
Name
Rating
Country
Flag
Age
No. 1
GM Magnus Carlsen
2842
Norway

27
No. 2
GM Fabiano Caruana
2822
USA

26
No. 3
GM Shakhriyar Mamedyarov
2801
AZE

33
No. 6
GM Wesley So
2780
USA

24
No. 8
GM Maxime Vachier-Lagrave
2779
France

27
No. 9
GM Hikaru Nakamura
2777
USA

30
No. 10
GM Sergey Karjakin
2773
Russia

28
No. 12
GM Viswanathan Anand
2768
India

48
No. 13
GM Levon Aronian
2767
Armenia

35
No. 14
GM Alexander Grischuk
2766
Russia

34
Official Site
One Response to "2018 Sinquefield Cup (St. Louis, USA)"
Wacky three-way tie in Sinquefield 2018!

In a first result of its kind, the 2018 Sinquefield Cup ends in a tie… a three-way tie at that. Fabiano Caruana had led the tournament for several rounds, but was caught at the finish line by Levon Aronian and Magnus Carlsen who both won their games in thrilling fashion. All three ended with 5½/9.

The tournament had a bunch of twists and turns and with the "Confession Booth" there were some light moments. In the 7th round, Carlsen and Caruana battled and the American seemed to be holding, but the champion was confident that he broke the resistance. He went to the "confession booth" and made this brilliant statement!

.@MagnusCarlsen in the confession booth ????. What do you think it means?! pic.twitter.com/KBOoAHhcPD

— Grand Chess Tour (@GrandChessTour) August 25, 2018

Kobe Bryant silenced quite a few crowds, but perhaps Carlsen imitation was a bit presumptuous.

Gesturing of the "silencer" is a very common gesture by NBA players when they hit a winning shot to silence a home crowd. Kobe Bryant is perhaps the most famous NBA practitioner. It is well-known that Carlsen is a big NBA fan and has been seen courtside at games. Unfortunately, for Carlsen, Caruana held the position. In the post-game interview, he laughed and admitted that the optimism had backfired.

Many of the observers were making a big deal about the importance of this matchup given that it is the last game they will play before their November match. In the pre-tournament press conference, there was a bit of banter between Carlsen and Caruana, but mostly there has not been much media buzz about the match which is only two months away. This was a good start to the pre-match buildup. However, Grischuk had an interesting take on Carlsen's gesture!

Grischuk shares his thoughts on Carlsen's visit to confession booth yesterday ???? pic.twitter.com/IZByFm0zMn

— Grand Chess Tour (@GrandChessTour) August 26, 2018

Carlsen flustered after having missed a big opportunity to score the win.
Photo by Lennart Ootes

Fast forward…

The 8th round had five draws so the standings held. Even Carlsen's trebled pawns on the e-file against Shahkriyar Mamedyarov couldn't produce any magical outcomes. Going into the last round, Caruana was holding on to his lead with Carlsen, Aronian, Grischuk and Mamedyarov all 1/2-point behind. Going into the last round, these were the pairings.

Graphics courtesy of Spectrum Studios

Levon Aronian won his final game in style with a 18.Rxf7! rook sacrifice with Alexander Grischuk in zeitnot. In the video broadcast, the Russian jostled in his chair looking for a response with his clock ticking down. Under the mounting pressure, he collapsed. Further analysis showed that he could've held the position, but even with time on the clock it would have been a difficult task.

Levon Aronian's inspired rook sacrifice on f7 underscores how difficult it is to defend flawlessly when under pressure. https://t.co/Ka5QSpwsL9 pic.twitter.com/7O7Z2ruW1l

— Olimpiu G. Urcan (@olimpiuurcan) August 28, 2018

In the Carlsen game against nemesis Hikaru Nakamura, the two battled into the 11th hour as the Norwegian was still fighting for 1st place. Nakamura had already cemented his Grand Tour victory, but wanted to end on a solid note. This battle would go on 97 moves.

Photo by Lennart Ootes

A number of viewers pointed out that this classic 4 vs. 3 position had been played several times including in Grzegorz Gajewski – Maxime Vachier-Lagrave. Incidentally, Gajewski was in St. Louis as Viswanathan Anand's second. It also appeared in Eltaj Safarli – Ilija Golichenko. It is one of those positions found in problem books, but of course each scenario is different.

The current ending in Carlsen-Nakamura was reached between Gajewski and MVL in 2013… and white won! https://t.co/JKZkg5lZuQ#GrandChessTour #SinquefieldCup pic.twitter.com/TKYx2FOYNR

— US Chess (@USChess) August 27, 2018

Neither MVL, nor Golichenko could hold. The same fate fell onto Nakamura.

Nakamura extends his hand in resignation to Carlsen.
Tough loss in a salvagable position.
Photo by Lennart Ootes

With wins by Carlsen and Aronian, there emerged a three-way tie for first. While Caruana had drawn quickly and was not on site, the two other co-leaders had a conference with the Chris Bird and the three players agreed that instead of the playoff, they would simply share the title.

?@MagnusCarlsen? and ?@LevAronian? , brokering a deal to split the #SinquefieldCup title with ?@FabianoCaruana?. pic.twitter.com/bc2XLDGDOn

— Boyd Reed (@eastsideflyer93) August 28, 2018

In fact Caruana, had to play a playoff against Wesley So to see who would qualify in the Grand Chess Tour standings to complete in the London Classic final. It was unlikely that Caruana would have wanted to play two playoffs in a day. So it was…

Graphics courtesy of Spectrum Studios

There were some interesting points in the tournament such as Carlsen's Benko Gambit with …Bf5, Grischuk's 1.f4, Aronian's Rxf7, but there was one move that produced howls and whistles. Perhaps if the sound of gold coins could be made, we would have gotten a good shower. The game… the second playoff game of Caruana-So.

GCT Qualifier for London Classic Final

The next day Fabiano Caruana and Wesley So were poised to play two rapid games. The first two games would be 25 minutes with a 10 second delay. If tied the games would go to 5 minutes and 3 second delay for three iterations until a winner was determined. There has been a very interesting discussion on the delay vs. increment. The delay is less common, but it was noted that the Grandmasters had figured out how to milk the delay all the way down to the 9th second to avoid losing time.

Photo by Mike Klein/chess.com

The first game was relatively quiet Catalan and a rather peaceful handshake occurred after 33 moves. The second rapid game was also a Catalan and started out in similar fashion but quickly veered into murky waters after 15…f5?! This was criticized as "weakening" and soon white had a humongous space advantage.

With black trying to clamp down the dark squares, Maurice Ashley mentioned that the engine was suggesting a very peculiar move. He also reflected on going over games and seeing moves that seemed antithetical only to find (upon further) examination the deadly intent. So what was the move that created a shower of golden coins?

"Slam dunk, baby!" https://t.co/1X0GszNVTz pic.twitter.com/KJhBBEMjHx

— Olimpiu G. Urcan (@olimpiuurcan) August 29, 2018

Venkat Saravanan (@reachvsara) covering live for ChessBase also weighed in…

Really enjoyed watching the game @STLChessClub, and writing about it! 26.Ra2 started the subtle play, but 32.h4! was more impressive! Maybe…@Caruana! #SinquefieldCup #GrandChessTour @Chessbase https://t.co/YmYZPnuJNe pic.twitter.com/eLKqldDpmm

— Venkat Saravanan (@reachvsara) August 29, 2018

The thematic 26.Ra2!! Gold coins indeed and Caruana went on to win with class. He was very humble in his remarks and didn't seem to realize the excitement he caused. So the championship challenger will have an extended stay in London after his match!

Graphics courtesy of Spectrum Studios

Video by CCSCSL
Leave a Reply!