FIDE issues statement on arrears and voting rights

In the latest twist on the FIDE campaign, the organization's Treasurer Dr. Adrian Siegel addressed a July 18th inquiry by Andrey Filatov (Russian Chess Federation) concerning federation debts. Citing a FIDE letter, Filatov wrote Executive Director Nigel Freeman concerning federation debts and their relationship to voting rights. Filatov asserted that federations must cover their financial obligations by July 23rd or they will not be allowed to participate in the FIDE Olympiad and FIDE President elections in Batumi.
FIDE Treasurer Dr. Siegel replied to Filatov's inquiry by stating:
"…In the invoices sent to all federations there is no mention at all that they cannot participate at the General Assembly if they don't pay prior to July 23rd. Thus, even if the arrears are not paid federations can vote at the election. This electoral rule has already been applied in the past election and I don't know why the Russian Chess Federation tries to make up a case against FIDE's administration without any facts…" (link)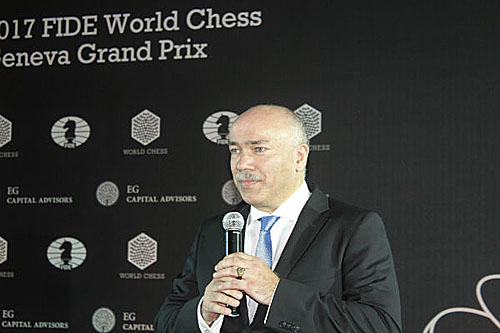 Dr. Adrian Siegel, FIDE Treasurer
Photo by World Chess
On the same day, Arkady Dvorkovich (candidate for FIDE President) had sent the following e-mail to a list of chess officials with the concern that their voting rights would be abrogated if debts were not settled. As mentioned by Filatov, some of the federations receiving the letters were not included on the arrears list.
---
De: Arkady Dvorkovich
Assunto: A letter from Arkady Dvorkovich
Data: 18 de julho de 2018 10:01:58 GMT+2
Dear chess friends!
Yesterday we got an information about some national chess federations receiving letters from the FIDE office. In this letter FIDE informs federations about their debt. The debt that must be covered before July 23 – or the respective federation won't be allowed to participate in FIDE Olympiad and FIDE President elections in Batumi.
Please pay attention that these Federations are not listed in the debt list on the FIDE website (https://ratings.fide.com/arrears.phtml). This sort of non-transparent approach is typical for the current FIDE leadership. It allows to manipulate and press certain federations, creating an advantage for one particular candidate in the forthcoming FIDE President elections. Very important information that must be publicly available is hidden. We consider this situation unacceptable and we will stand against such a policies.
Please check your debts. We believe that coming elections are crucial for the future of FIDE and entire chess world, and we hope that every delegate will be able to cast their vote in Batumi.
All the best,
Arkady Dvorkovich, Candidate for FIDE President (link)
---
…and to Dvorkovich, Siegel replied,
On July 16 and 17, we have sent to all the federations the invoices for the usual charges (event fees, trainers fees, arbiters fee, etc.) of the first six months of 2018 (as we have done in past years). In all these invoices no deadline for payment was given, i.e. we have not said that federations cannot play at the Olympiad or that they cannot participate at the election if they don't pay their debts by a certain date. (link)
The list of federations in arrears has 14/22 being from Africa. Of course there has been a lot of discussion on Africa and their influence on the outcome of the upcoming election (here and here).
It is ironic because this issue came up in 2008 when Freeman (then FIDE Treasurer) threaten to ban three nations (Nigeria, Ethiopia and Uganda) from participating in the Dresden Olympiad due to arrears. After tense negotiations and frantic fundraising efforts, those nations were finally cleared.
Incidentally, the FIDE Handbook under "03. Financial Regulations" (section 6.3) reads,
"On 1st July and 1st January the Treasurer lists on the FIDE website those countries that are deemed to be over six months in arrears. Until the arrears have been paid off, players from these Federations cannot participate in any FIDE events that are under the aegis of

a) the World Championship & Olympiad Commission or Events Commission,
b) Continental competitions that provide qualifiers to any of the aforesaid competitions." (link)
Arkady Dvorkovich, Candidate for FIDE President
Photo by Vladimir Barksy
Could it be that the Dvorkovich campaign is referring to the FIDE regulation listed in the handbook? Perhaps. The Chess Drum contacted Dr. Siegel (with a reference to the regulation) and he indicated,
"You are absolutely right regarding the Financial Regulations. However, in the past years our goal was rather to see teams playing and not sanction them due to late payment. Personally I prefer this procedure. Of course this should mean that teams cannot be banned due to non-payment but prior to an election this would give a very bad spin. Furthermore, some candidates might come up with the idea that they will get the vote of a federation if they pay the arrears."
The last point is an interesting one. It is ironic that Nigel Short made the following tweet on yesterday:
With great hypocrisy, the @makro_chess administration – purveyors of fake news par excellence – ask @advorkovich to stop spreading "fake news" https://t.co/MVahjydo7x. Financial arrears have been routinely used as a means of extorting votes from federations #cleanhands4fide

— Nigel Short (@nigelshortchess) July 24, 2018
Both Siegel and Short may have different political stances, but it is clear that arrears are a strategic point of concern. The issue of federation dues (and arrears) been debated for many years and was part of a stinging debate at the 2004 General Assembly (See 2004 Minutes, section 2.2.1 from 75th Congress – MS-Word – PDF). Indeed, in an election year, that policy will undoubtedly have to be revisited.
FIDE is still grappling with the ability to handle its financial affairs due to sanctions brought on by the U.S. Department of Treasury. FIDE funds were transferred to two fiduciary accounts on May 4th after the closing of its bank accounts by UBS in Switzerland. Just a week ago, FIDE President Kirsan Ilyumzhinov was suspended by the FIDE Ethics Commission on July 18th. It appears that everyone is scrambling to fill the vacuum of a pending post-Kirsan era.