African Nations booted from Chess Olympiad!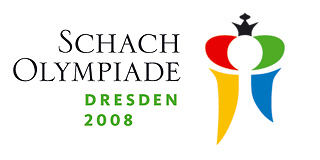 In what appears to be an ongoing impasse between three African nations and FIDE Accounts Office, Bermuda's Nigel Freeman (FIDE Treasurer) has written a letter to Olympiad organizer banning Ethiopia, Uganda and Nigeria from the event in Dresden. In general, nations failing to meet financial obligations to FIDE and have been barred from rating lists and international events. Kebadu Belachew (below right) of Ethiopia had been attempting to settle the matter and was also seeking sponsorship for the 2008 Chess Olympiad. Twenty-four African nations are registered to compete including the three aforementioned.
Back in August Belachew told The Chess Drum that the Ethiopian federation had registered one week after the deadline. In doing so, they were told they could participate, but they would have to pay for their accommodations. Accommodations are generally free for all the federations. With no budget, a strong euro and struggling economy, raising funds has been difficult for the fledgling federation.
After explaining the dilemma to the Dresden organizers, Belachew received a response from Olaf Modrozynski, Managing Operations of the Organizing Committee. According to Belachew, Modrozynski told him that Ethiopia would maintain their accommodations.
Months passed and Belachew's fundraising efforts for transportation, fees and expenses came up short. On October 17th, Freeman sent a short e-mail to Belachew stating that Ethiopia would not be allowed to participate due to past arrears. Two days later, Belachew asked for an extension and stated that he and other officials were in negotiations with sponsors. He got no response. On October 23rd (today), Freeman sent another e-mail to Modrozynski, in terse language, not to accept the three federations for admission and cancel their accommodations.
---
Dear Mr Modrozynski,
Despite repeated requests to the Ethiopian, Ugandan and Nigerian Chess Federations, we have not received payment of their arrears due to FIDE.
I am, therefore, requesting that you do not accept their participation in the Dresden Olympiad and that if they appear at the event they should not be allowed to play and free accommodation should not be given to the teams.
I shall be glad if you will confirm this request to the three federations although I have copied them with this email.
Regards,
Nigel Freeman
Treasurer
---
Belachew had been copying a number of FIDE officials and federation heads in hopes to invoke a response. Taken aback by the turn of events, Belachew responded a few hours later in an e-mail:
---
Dear Mr. Freeman,
I am personally very surprised by the drastic nature of your decision.
I don't believe that such a measure to alienate poor countries goes with the spirit of the Olympiad. I would rather imagine FIDE and the Dresden organizing committee coming up with some solution in order to make the Olympiad inclusive of all countries rich or poor. I am also surprised that such a decision can be made by a single individual instead of some kind of committee consisting of relevant officials.
With respect to Ethiopia, as I mentioned to you in my previous email, we had been looking for sponsoring individuals or organizations to cover the membership fee and transportation cost for the players. We have managed to get a volunteer who is willing to cover the membership fee but we have not been successful yet to get a sponsor to cover the transportation cost. So even after paying the membership fee we may not be able to appear at the tournament. Nevertheless, our sponsor is ready to make the membership fee payment to your office at any time by credit card, personal check, or wire transfer. Please send us the detail payment instruction as soon as possible.
Respectfully,
Kebadu Belachew
Contact person, Ethiopian Chess Federation
---
Up until this point, Belachew has not received a response.
Nigeria's Adekunle Elegbede had contacted Freeman to get an understanding of the situation and is currently discussing the matter with Nigerian officials. Freeman apparently told Elegbede that 22 out of 25 federations have settled their accounts. Ethiopia, Uganda and Nigeria remain as those in arrears, thus demands were made that their participation be cancelled. Nigeria had recently conducted a historic transcontinental qualifier to set the Olympiad team.
This appears to be another unfortunate situation concerning African federations. Each Olympiad, there seems to be an issue concerning visas, dues, expenses or some technical matter. It is unclear whether this letter represents a standard response. Dabilani Buthali, the current FIDE President for Africa, recently made mention of these challenges.
The issue of dues has always been a point of contention with federations from developing countries. At the FIDE Assembly at 2004 Calvia Olympiad, there was an issue of increasing the federation dues, an idea brought by the FIDE Executive Board. Delegates from smaller federations argued against the raising of membership dues. The minutes had the following entries from Steven Doyle (USA) and Dabilani Buthali (Botswana):
Mr. Doyle said that 19% of the FIDE Federations pay 50% of the FIDE budget. He said that during a period of 10 years, your salaries have increased in the same way as your life level has increased. Everybody has to pay their fair share. He understood the situations in small Federations, but everybody gets compensation in real life. He said that an amount of USD 100 cannot be considered a big amount of money.

Mr. Buthali of Botswana said that they do understand the points raised by Mr. Doyle, but in most African countries 100 USD is still quite a lot of money, which they already stated in the meeting of the Executive Board. He said that there are more than ten African countries that at present are excluded from FIDE, and they are certainly not able to raise their subscriptions in order to pay the minimum. He agreed that the minimum is too high.
It was apparent that delegates from larger federations did not understand the financial hardships an increase would bring. After a lengthy debate, the body decided to keep the existing minimum amount of 600 Swiss Francs instead of the proposed increase of 1000 Swiss Francs (See 2004 Minutes, section 2.2.1 from 75th Congress – MS-Word – PDF). The matter of dues is still a question given the worsening financial crisis and changes in economic situation. Belachew said that despite these challenges, nations have always sought to participate in international sporting events such as the Olympics and World Cup as a way to instill national pride and optimism.
FIDE Presidential Council: Nigel Freeman (Treasurer), Ignatius Leong (Secretary), Kirsan Ilyumzhinov (President), Florencio Campomanes (Honorary President), Georgios Makropoulos (Vice President) and David Jarrett (Executive Director). Photo from FIDE.com.
This latest issue shows that FIDE has been challenged to spread the spirit of the motto "gens uma sumus" among the world's federations. Kirsan Ilyumzhinov stated in his campaign speech in 2006, that he was proud to have major events in every continent. Ironically, Ethiopia, Uganda and Nigeria were three of the 86 nations who supported the Chess Fidelity campaign to help re-elect Ilyumzhinov, but have now been barred from competing in Dresden.
It is hopeful that FIDE will find inventive ways to help smaller federations to become a integral part of the chess community. If smaller chess federations are to help chess grow around the world, it is a necessary matter work toward inclusion instead of exclusion. The tone of the letter and subsequent action does not appear to be consistent with the inclusive nature of the Olympiad tournament.

(Note… The African nations registered for the Olympiad are: Algeria, Botswana, Burundi, Egypt, Ethiopia, Gabon, Ghana, Kenya, Libya, Madagascar, Malawi, Mauritius, Morocco, Namibia, Nigeria, Rwanda, Seychelles, Sierra Leone, South Africa, Sudan, Tunisia, Uganda, Zambia and Zimbabwe. Angola is conspicuously absent.)