NM Emmanuel Carter in the news!
Four years ago, Emmanuel Carter accomplished a feat that relatively few chess players are able to do. He earned his National Master's title at the age of 14. Nowadays, the age threshold continues to be lowered as the youngest master has accomplished it at age 9. However, earning the Master's title at any age is to be commended and Carter traveled through an unlikely path.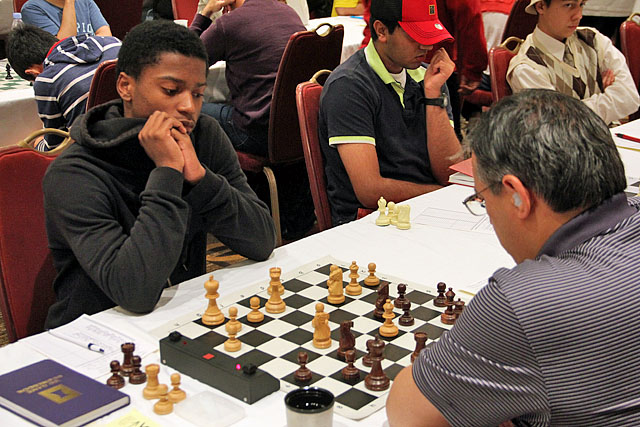 Emmanuel Carter at 2015 World Open
Photo by Daaim Shabazz
The Tennessee-born, Charlotte-bred teen has found a niche as the state's top high school player for the past four years. He is recent graduate of Lee Country High School in Sanford, North Carolina. Recently, he was the subject of an interview recounting his life as a chess player, his inspirations, and his aspirations.
Lesley Boney of North Carolina State University interviewed Carter as part of "First in Future" segment. Reflecting on how he used to cry after losing games, the youngest of three chess-playing siblings, he took the lessons as a point of motivation and begin to improve rapidly. This is despite having no formal training and no coach.
One issue that came up is the assertion that Black people do not have a tradition in chess. We most certainly do and Carter has helped to build on the tradition. There are about 20,000-30,000 pages on this site detailing the highlights. Of course, Carter's modesty in letting his classmates know that he excels at chess may one thing that unknowingly keeps this fact in obscurity. These feats need to be known! Carter will be starting at Central Carolina Community College this fall.