Rodney Thomas awarded UT-Dallas Fellow!
Chess tournaments probably have the greatest diversity of competitors than any activity. In many large events you can find people from various nationalities, ethnicities, educational levels and professions. It is interesting that tournaments tend to be an elitist arena where we judge people by their rating. It may be the only information we have, but a very incomplete assessment.
Rodney J. Thomas III
Photo by UT-Dallas
The irony is many players (even of lower classes) have successful careers and may even be very high-level executives, professors, physicians and lawyers. Imagine finding out that a 1400-rated player you just beat owns a multimillion dollar company… or the 2100-rated player you met is an orthopedic surgeon. There are tons of Ph.D. holders that you'd never suspect. Yet another may be a high-powered lawyer or even a world champion in shogi! Many times we have no idea who we're playing. There are even a few judges who play so we have to be very cautious about what we say!
Rodney Thomas is one of those players you may have seen at a tournament, but not realize that he has enjoyed quite a bit of professional success. An active 1800-rated player, he earned his chess stripes in his native New Orleans before moving to Dallas with his wife Tracey to embark on a long professional career.
During the time he was matriculating at Harvard University, he started at IBM in 1979 as a Systems Engineer and ultimately held a number of executive positions. He has been involved with the University of Texas-Dallas program as President of the Advisory Board and has helped UT-Dallas remain a perennial collegiate power.
Rodney Thomas speaking with GM Maurice Ashley
at St. Louis Chess Club in 2014.
Photo by Daaim Shabazz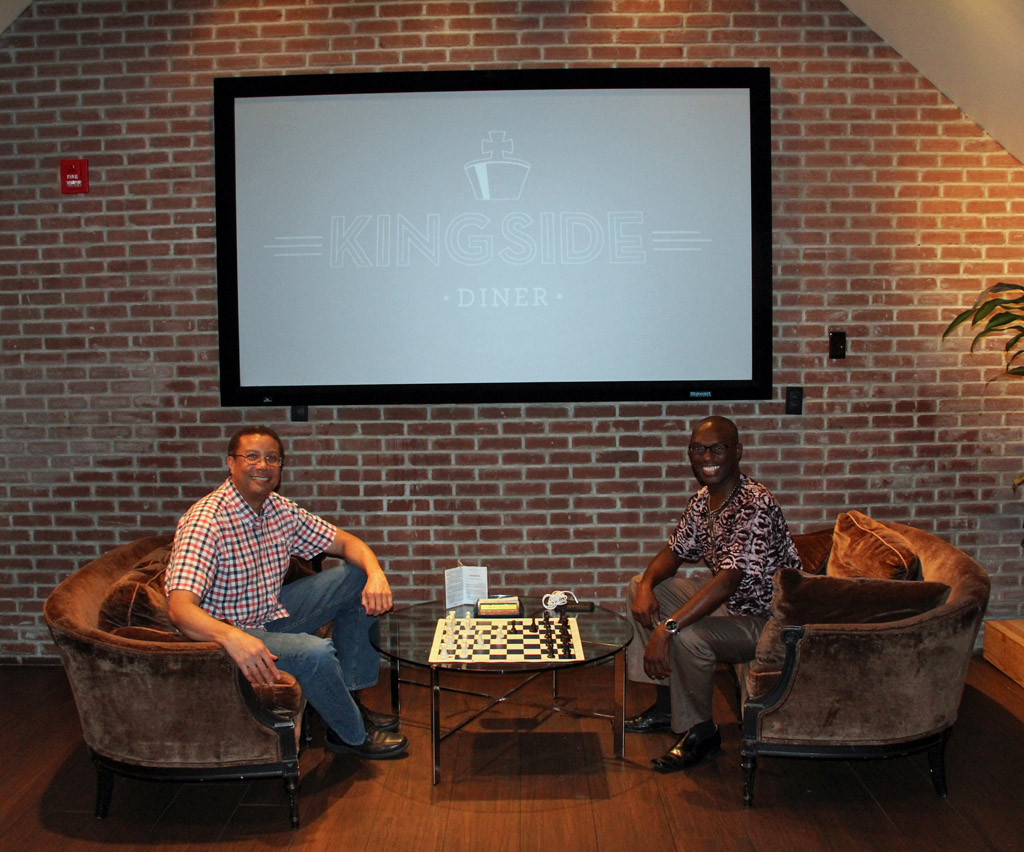 Thomas with Daaim Shabazz at Kingside Diner in St. Louis, 2015
Photo by Daaim Shabazz
After recently retiring from IBM, he has accepted a fellowship from the Naveen Jindal School of Management (UTD) as a fellow of the Center for Finance Strategy Innovation. In this position, he will "promote the visibility of the center and to do that based on how well it's positioned to lead in this world of these emerging digital technologies." As a seasoned professional in the area of technological solutions, this six-month stint seems like a good fit.
As an outstanding chess citizen, we are wishing Mr. Thomas the best as a UTD Fellow!
Link: https://jindal.utdallas.edu/news/jindal-school-announces-fellowship-at-cfsi