Amin wins 5th African Championship!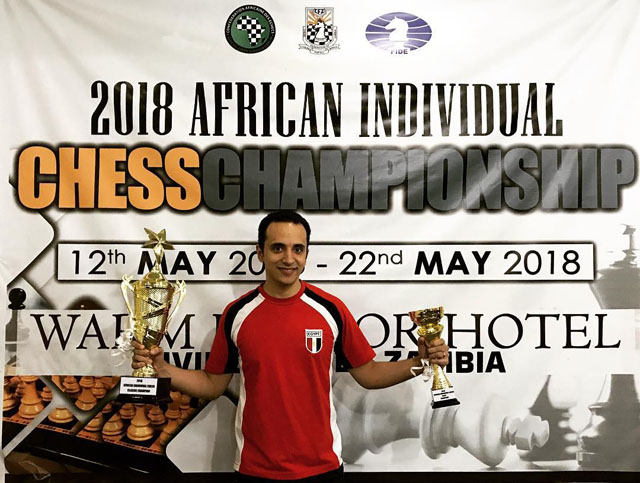 GM Bassem Amin, 2018 African Champion
Egyptians GM Bassem Amin and WGM Shahenda Wafa are 2018 African Champions. The event was held May 12-22 and organized by African Chess Confederation (ACC) and the Chess Federation of Zambia (CZF). It is Amin's 5th continental championship (2009, 2013, 2015 and 2017, 2018) and the second consecutive for Wafa whose sister won the title with Amin in in 2013.
Livingstone, Zambia was the host of the event. The host city is about a seven-hour drive from the capital city of Lusaka and named after David Livingstone, a 19th century British explorer. It is the home of one of the world's wonders, Victoria Falls. Certainly, players would have enjoyed this world wonder as the falls are flowing in peak season in May. This shot was from last summer.
Nevertheless, they were there to play chess. Unfortunately, only 30 players show up in the Open section with Egyptian players sending several of their Olympiad players. Grandmasters Amin, Ahmed Adly, Essam El-Gindy and Hesham Abdelrahman (2016 champion) were all vying for a spot at the World Cup. A strong cadre of 11 International Masters were also was also in the field including five from host Zambia. There were no West African participants this year. This is something that must be addressed in coming years.
In the Women's championship 20 players from 10 federations, practically all holding titles. There were many returning participants including defending champion WGM Shahenda Wafa. Zambian national Lorita Mwango would be defending home turf and the Algerians wanted to add to their medal collection.
In the end, the Egyptian players was able to assert their dominance. Amin blitzed the field with 8½/9 drawing only with Adly who finished clear 2nd with 7/9. Coming in 3rd position was El Gindy with 6 points, edging Kayonde for the bronze. In the women's tournament, Shahenda Wafa scored a sparkling 8/9 followed by Mwango and Latreche, both on 6½/9 points.
WGM Shahenda Wafa, 2018 African Women's Champion
FINAL STANDINGS
Open Section
Standings: https://chess-results.com/tnr352629.aspx?lan=20&art=0&flag=30
Women's Section
Standings: https://chess-results.com/tnr352630.aspx?lan=20&art=0&flag=30