Amin, Wafa… 2013 African Champions!!


WIM Shrook Wafa and GM Bassem Amin
(2013 African Champions)
Home to the "Hannibal of Carthage" lore, the beautiful and historic Tunisia hosted the 2013 African Individual Chess Championships. Players from nine African countries were competing for three qualifying spots for the World Cup in Tromso, Norway this November. After nine rounds of tough battles, GM Bassem Amin and WIM Shrook Wafa took the gold in both the open and women's sections. Both ended on +6 or 7.5/9.
There was some disappointment in that the usual federations failed to send teams, mostly from the sub-Saharan region. Among the most notable teams missing were Zambia, Zimbabwe, Nigeria, Uganda and Kenya.
Each of these countries have sent teams to the Olympiad several times and two have had players compete in the World Cup tournament. Olympiad participants Namibia, Ghana, Malawi, Sierra Leone, Ethiopia and the Sudan also failed to send players. This was a serious drawback and perhaps there were some funding issues as in the case of Zambia.
In the end, Egypt sent the most players (9) outside of the host country. They would be the favorites with the continent's top two players in GM Bassem Amin and GM Ahmed Adly. In addition, GM Essam El-Gindy and IM Khaled Abdel-Razik would compete for medals. However, the Egyptians would not go untested. IM Mohamed Haddouche and IM Adlane Arab would be hunting for GM norms. IM Kenny Solomon was hoping to make an impact since earning his third norm at the 2012 Olympiad. Veteran and Tunisia's top player GM Slim Belkhodja would be defending home court.
Playing Hall… good conditions!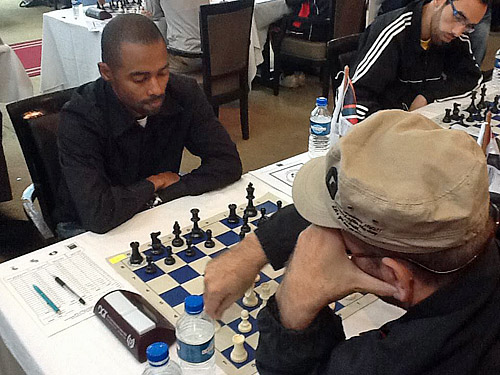 IM Kenny Solomon of South Africa came to Tunisia with three GM norms, but lost momentum with two losses in consecutive rounds.
The tournament was held at the 4th Stars Hotel in Tunis and it offered very good conditions for chess. The room was spacious and each match was played on a separate table. There was a comment about the culture of cigarette smoking during the tournament, but the tournament seemed to be well-conducted.
Heavyweight Battle: GM Bassem Amin vs. GM Ahmed Adly
The Egyptians brought a proud contingent to Tunisia and would benefit from Saharan conditions they were familiar with. Other Saharan players from Morocco, Algeria and Libya would have the same advantage. By the smiles shown on the Egyptians faces during the event appeared that they were not only enjoying themselves, but playing good chess. There is certainly a reason why Egypt has dominated African chess for decades.
The tournament went according to script with the leader holding their positions. There were no major upsets as there had been in past tournaments. In the past, you had a greater variety of unknown players increasing the chances of upsets. Nevertheless, Amin and Adly began smoothly until their inevitable meeting in round four with Amin getting the win.
This was Adly's only loss and it had become known that he is capable of a let up now and then. Back in 2007, he lost an improbable game to Uganda's Ben Magana whom he outrated by 300 ELO points. However, it would be his only blot and he kept pace with Amin. After seven rounds, the first two slots were virtually decided, but the third spot was going to be a scramble.
El-Gindy had lost two in a row and Haddouche was gaining momentum with four consecutive wins. While Amin and Adly coasted to the finish line, El-Gindy won both of his games while Haddouche drew his putting them in a tie. El-Gindy had the better tiebreaks and secured the third slot resulting in an Egyptian sweep in the open section. (Note: IM Samy Shoker of Egypt also qualified for World Cup by winning zone 4.2)
Shrook Wafa had only one loss… perhaps with WIM Tlale Tshepang's smile,
she had a premonition about the result.
In the women's section, Shrook Wafa and Ayah Moaataz defeated the top seed Amina Mezioud early to put her in danger of missing the top three. Wafa and Moaataz bolted ahead of the field with Wafa's only blot being a loss to South Africa's Tshepang Tlale. Tlale finished out of the qualifying spots with a respectable 6/9, but had a breakout performance! Mezioud surged back in contention and ended on 6.5/9 behind Wafa's 7.5/9 and Moaataz's 7/9.
The clear winner would be WIM Shrook Wafa!
One of the most interesting observations one can make about the Egyptian women was their camaraderie and close friendship. Most of the other players never seemed to be enjoying themselves and perhaps the familiar settings and large contingent helped the Egyptian women feel more confident. Algeria, South Africa and Botswana each placed two players in the top ten, but the Egyptians women seem to be the darlings of the event.
The Egyptian photographers made sure their players had the best shots. We can learn a lot from the camaraderie of the Egyptian women. They were always smiling and in good spirits.
WFM Sohayla Abdelmenaem, WIM Ayah Moaataz,
WIM Eman Elnasary, WIM Shrook Wafa
All photos by Hassan Khaled.
There are few opportunities to play for norms and this was a golden opportunity missed for African Masters. Over the years many talents have been borne in the African Championships. The key may be harnessing the talent that is spotted. Egypt seems to have done a reasonable job and receives national support. It is hopeful that in future editions of the African Individual Championships, there will be more inclusive participation from the 20+ active federations in Africa. The next one will be bigger and better!
Congratulations to
WIM Shrook Wafa and GM Bassem Amin
2013 African Champions!!