Chicago vs. NYC blitz will be epic!
Video by Johnny Strapp
New York and Chicago are two iconic cities and compete for top billing for best museums, best basketball players, best pizza, best entertainment and most storied sports history. In sports, both cities have supreme trash-talking pedigree and have brought home multiple championships. The New York Yankees have won 27 Major League Baseball championships and the Jordan-led Chicago Bulls was a 90s dynasty and a New York Knicks' foil. Who can forget that the New York Mets dashed the dreams of the 1969 Chicago Cubs in one of the epic chase downs in history? So… the stage is set for another NYC-CHI battle between NM Shawn Martinez and Expert Daniel X Jones.
Emmanuel Carter blitzing against Shawn Martinez at 2015 World Open.
Photo by Daaim Shabazz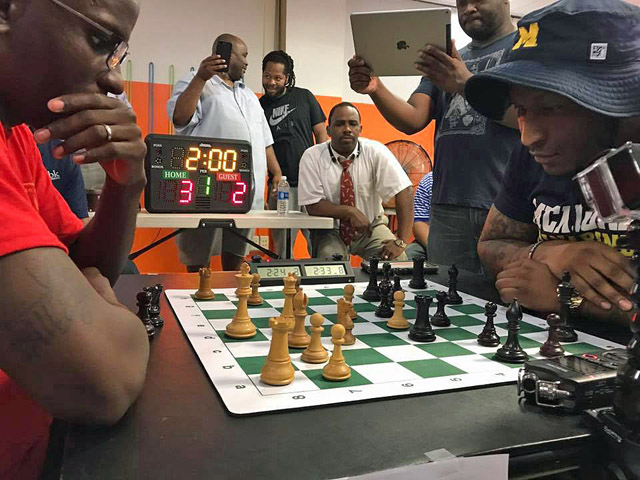 Daniel X Jones battled FM James Canty III in a widely-watched contest!
Photo by Nathan Kelly
After three months of social media banter, a major bout is just a week away when Daniel X Jones travels to Brooklyn, New York take on NM Shawn Martinez of Edward Murrow fame. The Chicago Chess Club has staged a series of matches with different cities (Memphis and Cleveland). The winner of the upcoming Jones-Martinez match will be a 20-game match and the winner will get the choice of home field advantage in the team event.
Promoter Nathan Kelly went to his old stomping grounds to get a pulse of the excitement. Needless, trash-talk was thick and the hype has been ratcheted up a notch. "Jones-Martinez" does have a boxing ring to it. Who will come out on top? Kelly will lead the contingent with Jones and representatives from the Chicago Chess Blitzers to clash at New York Chess & Games on September 9th (Brooklyn, NY). Stay tuned… games will be broadcast.
Nathan Kelly goes to the Lion's Den in Brooklyn…
…SHOTS FIRED!!!