Team Captains: Tichawona Tony Troy (Cleveland) and Daniel X Jones (Chicago). Photo by Tichawona Tony Troy
The "Best in the Midwest" rivalry continues to brew as the Chicago Chess Blitzers travels six hours (one way) to Cleveland to take on the Heavy Hitters at Case Western University. The event was designed to be a 15-players event with each player playing a counterpart twice with each color. There was good cheer before the match as the pregame trashtalk in social media was legendary. Other cities chimed in to speculate on the match and future battles.
Tichawona Tony Troy was the main organizer from the Heavy Hitters and had visited the Chicago Chess Club a couple of weeks earlier to get a feel for the competition. Cleveland was ready. They had new team shirts and had reserved a wonderful venue at Case Western University for the event. After the Chicago Blitzers arrived, they changed into their team shirts and the match was set.
As players milled about acquainting themselves with one another, informal introductions were also given to the live online audience. Cleveland legend IM Calvin Blocker gave encouraging words and described chess as a unifying force. Blocker was once one of the Midwest's strongest players, but had to forgo more serious ambitions in chess to care for an ailing mother. His story is indeed inspiring.
Cleveland vs. Chicago (Introductions)
Video by Nathan Kelly (Chicago Chess Club)
Roger Hickman, the President of the Chicago Chess Club, made some remarks in announcing the opening of the Chicago Chess Club and then declaring the match to start with the UFC charge, "let's get it on!" There was a review of the rules by tournament director Roy-Allen Bumpers and questions were raised and addressed. One in particular was the idea of promoting a pawn to a queen. Famous incidents have involved elite players promoting a pawn without replacing with a piece which counted as an instant loss. However in this tournament, there was a different explanation. After that clarification, the games started!
Video by Nathan Kelly
Chicago jumped out to a commanding lead in the first four rounds winning 18½-11½, 18½-11½, 23½-6½, 18½-11½ (Chicago +38). The 3rd round was particularly decisive as Chicago won 2-0 on nine boards! From the outset, it already appeared that Cleveland would be outgunned.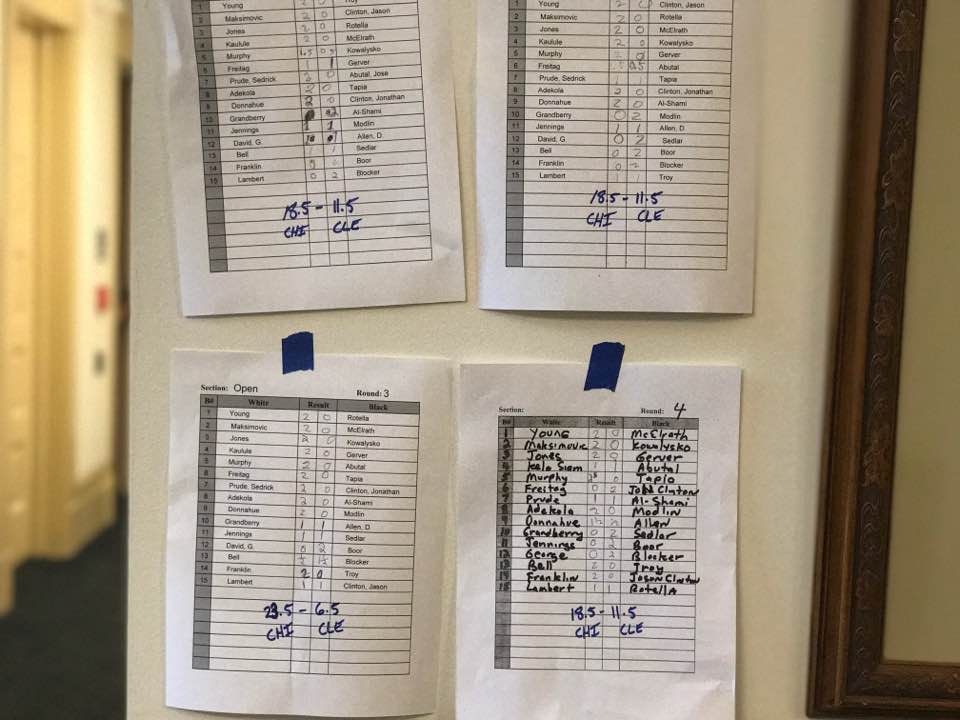 Chicago jumped out to a quick 38-point lead in the first four rounds.
IM Angelo Young started on 12/12 and proceeded to scorch the Cleveland lineup with 26.5/30 (+25 =3 -2).
In the first six rounds, IM Angelo Young, IM Dejan Maksimovic, Tom Murphy had 12-0 while Daniel X Jones, Kela Kaulule and Aderemi Adekola were on 11-1. FM Carl Boor paced Cleveland with 12-0 while IM Calvin Blocker was on 10½-1½ after being upset by A-player Stephen Jennings.
After a couple of more rounds, the trend continued and Chicago had bolted to a 157-83 lead nearly doubling Cleveland. It turns out that round 7 would be the most competitive with Chicago barely edging Cleveland 17-13. For all practical purposes, the match was theoretically over as it would be nearly impossible to make up 74 points in the remaining seven rounds.
Calvin Marshall watching as NM David Allen Sr. rumbles.
Nathan Kelly watching the action and ably representing
the Chicago Chess Club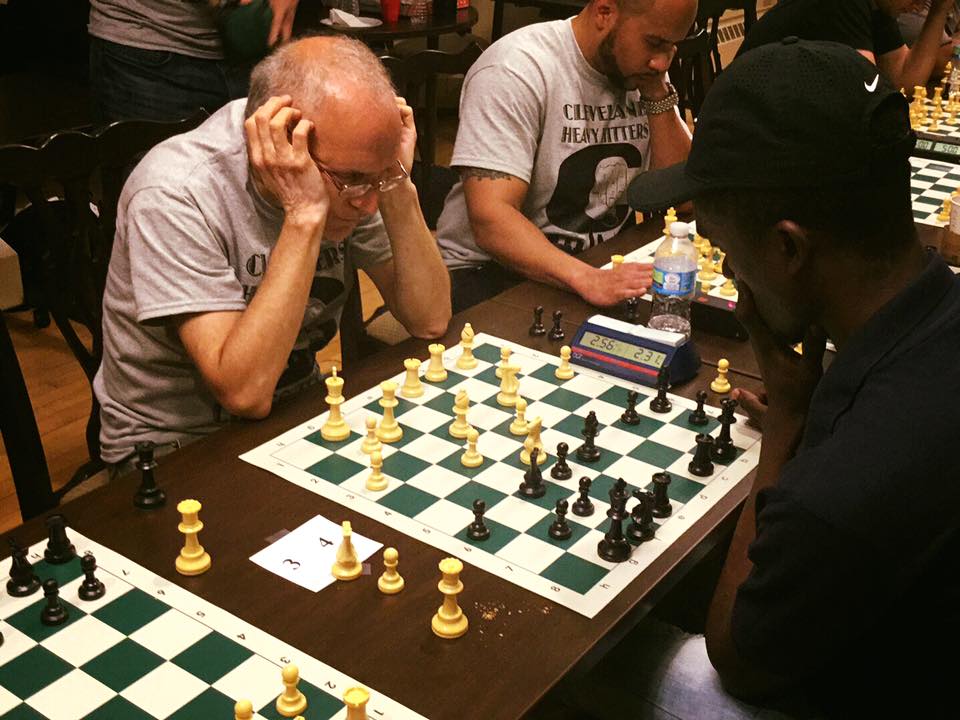 The legendary IM Calvin Blocker blitzing with Zambian Master Kay Kaulule
Nathan Kelly told The Chess Drum that the Cleveland players may have had trouble keeping up the torrid pace of the event and were not used to playing at such intensity. Clearly the new chess club in Chicago has given ample opportunity for the Blitzers to sharpen their skills. Unfortunately for Cleveland, the onslaught continued.
Rounds 9-11 (17½-12½, 22½-7½, 19-11)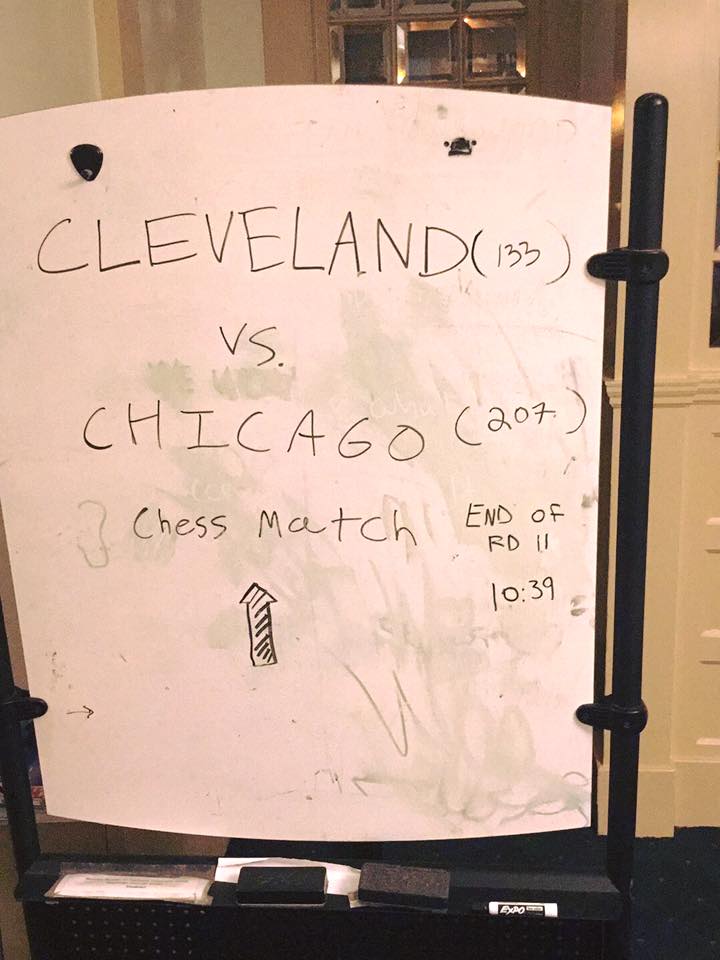 Chicago 207 Cleveland 133 (Should total 330, right?)
Round 12 had a bit of drama with dispute in two of the matches. This dispute between Tony Rotella and Sedrick Prude followed a thrilling battle and came down to a rook ending that appeared headed for a draw. In fact, the position is completely equal. As Rotella's clock winds down near forfeiting, he claims a draw, but more specifically, a "book draw." What that means is that black had no possibilities of winning. However, Rotella had run out of time as his clock hit 0:00 thus rendering any such claim invalid. Watch the action.
Despite the heated debate, Rotella went on Facebook to say,
I am not going to fan the flames, but insufficient loses chances were allowed and announced at the starting of the tournament, and our TD called a very experienced TD from the area who sided with me. I'm still not totally certain about the ruling (I think I'm probably wrong, and mixing it up with the older master/class subjective crap) but there's no question I was correct to at least inquire about it. Who wouldn't? My opponent was great, and either way it was awesome to play him and chill with the dudes from Chicago. And Roman is right, the real argument took place right next door and was far more entertaining for all involved. ????
Aderemi Adekola
What Tony was referring to was the McElrath-Adekola game. If you noticed the next board in the video, you will see Flamando McElrath debating with Remi Adekola about their first game. Apparently Flamando thought Remi resigned. It was a clear misunderstanding as everyone in Chicago knows that Remi never resigns in blitz games. So after Remi also won the second game, they revisited the debate once again. Nevertheless, both games went to the Chicago player. Chicago approaching midnight with three more rounds remaining, was now ahead by more than 80 points.
Fatigue had set in and now the teams were simply trying to complete the schedule. The last three rounds was an indication of how things had gone for Cleveland. Chicago ended the battle in resounding fashion by 293-157 (+136). Leading scorers of the match were IM Angelo Young (26½/30) and Kay Kaulule (26/30) for Chicago; FM Carl Boor (26/30) and IM Calvin Blocker (21½/30) led the charge for Cleveland.
It was a grueling match and both sides were to be commended for fighting in the spirit of chess. New friendships were made and memories were etched in the annals of chess lore. Cleveland did an outstanding job as host and the event was certainly an effort worthy of praise. The Chicago crew drove through the night back to the city with Tichawona Tony Troy already seeking a revenge match.
It is perhaps the beginning of greater things to come as some of the players have already begun discussing league play. It is unclear where Cleveland Heavy Hitters will land next, but Chicago Chess Blitzers are already in negotiations with Detroit for a possible showdown. As Drum readers will know, Detroit will seek poetic justice for FM James Canty who lost a tough match against Daniel X Jones. Nevertheless, the excitement is high and more matches are ahead. Stay tuned!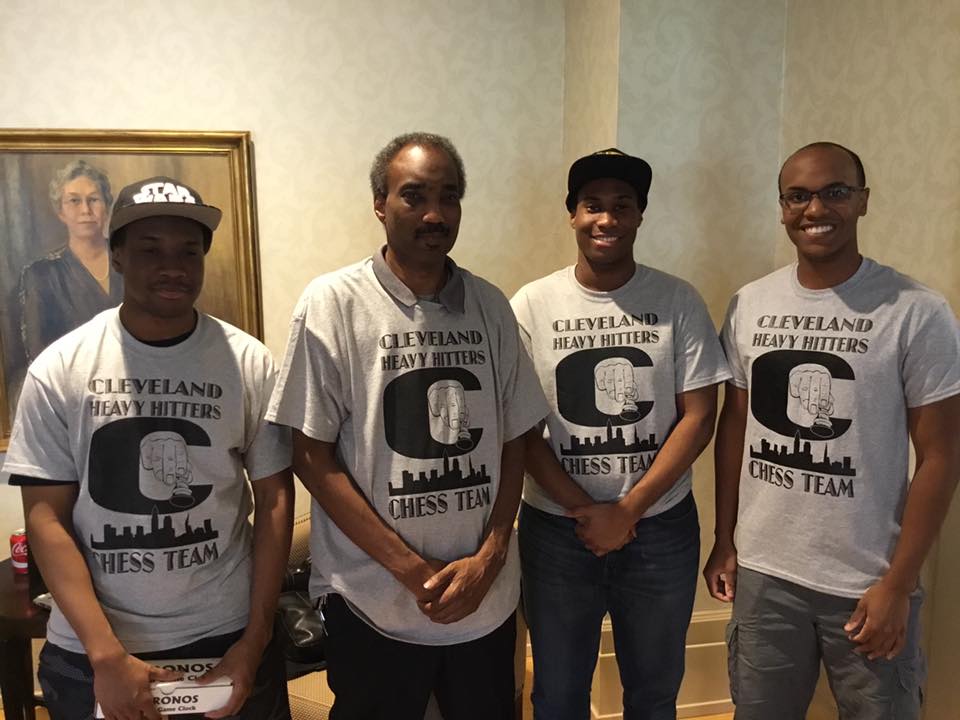 Jonathan Clinton, David Allen Sr., Jason Clinton, Trey Modlin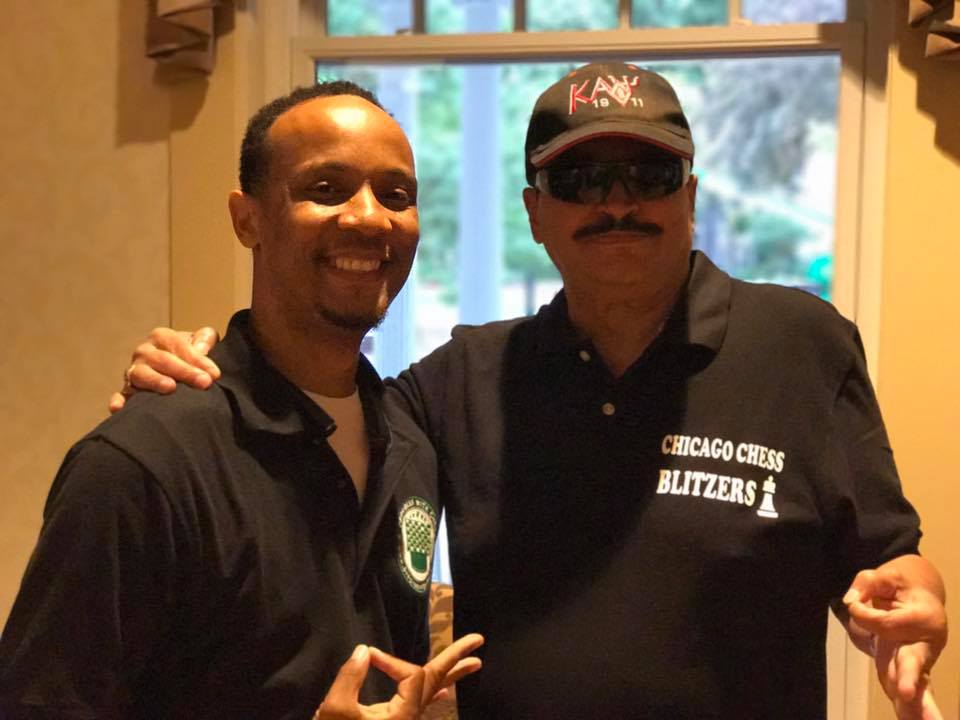 Roy-Allen Bumpers (TD) and George "Permanent Supreme" David
Distinguished men of Kappa Alpha Psi representing chess!
Chicago Chess Blitzers
Cleveland Heavy Hitters
Photos by Nathan Kelly
"Best in the Midwest" Blitz Battle
Cleveland Heavy Hitters vs. Chicago Chess Blitzers


#
Player
Blitz
Team

Flag

pts./30

1
IM Angelo Young
2425
CHI

26.5

2
FM Carl Boor
2475
CLE

26.0

3
NM Kay Kaulule
2232
CHI

26.0

4
IM Dejan Maksimovic
2341
CHI

25.5

5
Aderemi Adekola
2138
CHI

24.5

6
Thomas Murphy
2173
CHI

23.5

7
David Franklin
2185
CHI

23.5

8
Daniel X Jones
2259
CHI

21.5

9
IM Calvin Blocker
2399
CLE

21.5

10
Stephen Jennings
1920
CHI

19.0

11
Tim Donnahue
2037
CHI

18.5

12
William Sedlar
2174
CLE

17.5

13
NM Todd Freitag
2099
CHI

17.5

14
Andrew Bell
1799
CHI

16.0

15
Gwayne Lambert
1900
CHI

15.5

16
Sedrick Prude
1981
CHI

15.0

17
Trey Modlin
2186
CLE

12.5

18
George David
1807
CHI

11.5

19
Will Grandberry, Jr.
1942
CHI

11.0

20
Jonathan Clinton
1807
CLE

10.0

21
Tony Rotella
2043
CLE

8.0

22
Roman Kowalysko
1903
CLE

8.0

23
Jose Abutal
1993
CLE

7.5

24
Adam Gerver
1853
CLE

7.5

25
David Allen, Sr.
2200
CLE

7.5

26
Tichawona Tony Troy
1679
CLE

7.0

27
Benjamin Al-Shami
2109
CLE

6.5

28
Jason Clinton
1853
CLE

6.0

29
Felix Tapia
2091
CLE

5.0

30
Flamando McElrath
1842
CLE

5.0

Score: Chicago 293 – Cleveland 157

Crosstables
Rounds 01-10: https://www.uschess.org/msa/XtblMain.php?201708054872
Rounds 11-20: https://www.uschess.org/msa/XtblMain.php?201708055072
Rounds 21-30: https://www.uschess.org/msa/XtblMain.php?201708055082
6 Responses to "Chicago crushes Cleveland 293-157 in 'Midwest Showdown'"
Leave a Reply!