Malaku Lorne reigns at Jamaica's Millionaire Qualifier!



While seven-time Jamaica champion FM Warren Elliott was the favourite going into the Millionaire Chess Qualifier, Malaku Lorne had to have been in the conversation of who would win the all-expense trip to the Millionaire Chess Open in October. With such high stakes, the Jamaican Chess Federation decided to limit the field to 12 players who had local ratings of 1900+.
Some of the local stars were missing such as Damion Davy and Shreyas Smith, but there were plenty of fire on board in the six round tournament. As expected Elliott ran the top table until he met his nemesis in round three. Lorne won a thrilling encounter which would perhaps be a defining moment. There were not many upsets in the tournament, but tension developed in the round four when Lorne was held by Michael Diedrick… his first blemish in the tournament.
Geoffrey Byfield almost ended Malaku Lorne's hope for Las Vegas.
While Lorne drew, Elliott kept charging with win after win. Elliott matched Lorne's win in round five to keep the pressure. In the last round, Lorne would have a tough matchup against Geoffrey Byfield whose normal gambit play has taken a backseat to the quieter London System. Elliott dispatched Eton Chin while it turns that Lorne was fighting a fierce battle. Losing would be devastating for Lorne. Fortunately for Lorne, the drew the game and would go to blitz tiebreaks.
In the blitz tiebreaks, the first game was draw and perhaps Elliott had the strategy to hold with black and win with white. It is a reasonable strategy often seen, but the tension rose after the draw.
Tense moments! With the first game drawn, the two gladiators shake hands before the second battle. Elliott shows look of confidence while Mala focused on task at hand. Arbiter Dain Dixon looks on. Lorne got the win and took the match 1½-½.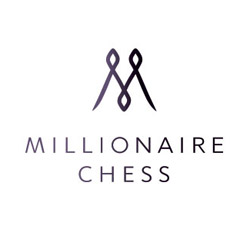 To the surprise of many Lorne emerged victorious in the last game and won the overall prize to the Millionaire Chess Open. With Elliott having such a strong reputation in blitz, few would have predicted the result. Nevertheless, Lorne was undefeated in the tournament and scored a deserved victory. Lorne will get free entry, airfare and accommodation to the Millionaire Open to be held October 8-12 at Planet Hollywood Resort and Casino in Las Vegas, Nevada, USA.
The Qualifier was sponsored by the Millionaire Chess Open, the Kasparov Chess Foundation, the Jamaica Olympic Association and Christar Villas Hotel. This tournament follows three qualifiers in Africa and precedes two to be held in the U.S.
Drum Coverage: https://www.thechessdrum.net/blog/2015/08/05/2015-millionaire-chess-satellite-kingston-jamaica/
Games: https://www.thechessdrum.net/palview7/mcchessjamaica15.pgn
2015 Millionaire Chess Satellite

August 5th-9th 2015
(Christar Villas Hotel, Kingston, Jamaica)

Masters

#

Title

Name

Federation

Flag

Points

1
CM
Ras Malaku Lorne
Jamaica

5
2
FM
Warren Elliott
Jamaica

5
3
Andrew Mellace
Jamaica

4
4
Geoffrey Byfield
Jamaica

3½
5
Michael Diedrick
Jamaica

3
6
CM
Robert Wheeler
Jamaica

3
7
Ian Wilkinson
Jamaica

3
8
Eton Chin
Jamaica

3
9
WIM
Deborah Richards-Porter
Jamaica

2
10
Mark Holness
Jamaica

2
11
Daren Wisdom
Jamaica

1½
12
Markland Douglas
Jamaica

1½

Chess-Results.com